PLDT Inc. has reported record service revenues of an all-time high ₱182.1 billion in 2021, amid a continuing pandemic, continuing to elevate digital lifestyles and delivering world-class customer experience.
Consolidated Service Revenues in the fourth quarter were likewise an historic high at ₱46.2 billion.
PLDT and Smart President and CEO Alfredo S. Panlilio said 2021 proved to be record-breaking year for PLDT "as we delivered all-time highs across the board despite the challenges brought about by the pandemic, calamities and hyper competition."
"This exceptional performance sets the foundation for 2022 and beyond as we continue to build on our strengths as an integrated telco and our commitment to serve our customers in the best way possible. With our strategic transformation initiative in place and our evolving fintech ecosystem, we are well positioned to maintain our growth momentum moving forward," he said.
Consolidated Service Revenues (net of interconnection costs) rose 6% to ₱182.1 billion, the highest full year revenue ever attained, surpassing 2020's ₱171.5 billion, led by data/broadband, which grew by 12% to ₱139.7 billion. In the fourth quarter, Consolidated Service Revenues also hit a historic high of ₱46.2 billion, up 3% or ₱1.3 billion from a year ago.
Consolidated EBITDA also reached an all-time high, growing 8% year-on-year to ₱96.2 billion, excluding Manpower Rightsizing Program expenses of ₱0.3 billion, driven by higher service revenues. The EBITDA margin was at 52% in 2021, up from 51% in 2020.
Telco Core Income, excluding the impact of asset sales and Voyager Innovations, climbed 8% to ₱30.2 billion ahead of earnings guidance of ₱30 billion. Reported Net Income, which includes exceptional costs, jumped by ₱2.1 billion or 9% to ₱26.4 billion.
Consolidated Net Debt as of end December 2021 amounted to US$4,486 million while net-debt-to-EBITDA stood at 2.38x. Following the renegotiation of ₱34.9 billion of selected outstanding peso loans, the reduction in average interest rate on these loans from 5.89% to 4.63% resulted in a ₱1.3 billion gain on debt modification. PLDT maintained its credit ratings from Moody's and S&P Global at investment grade.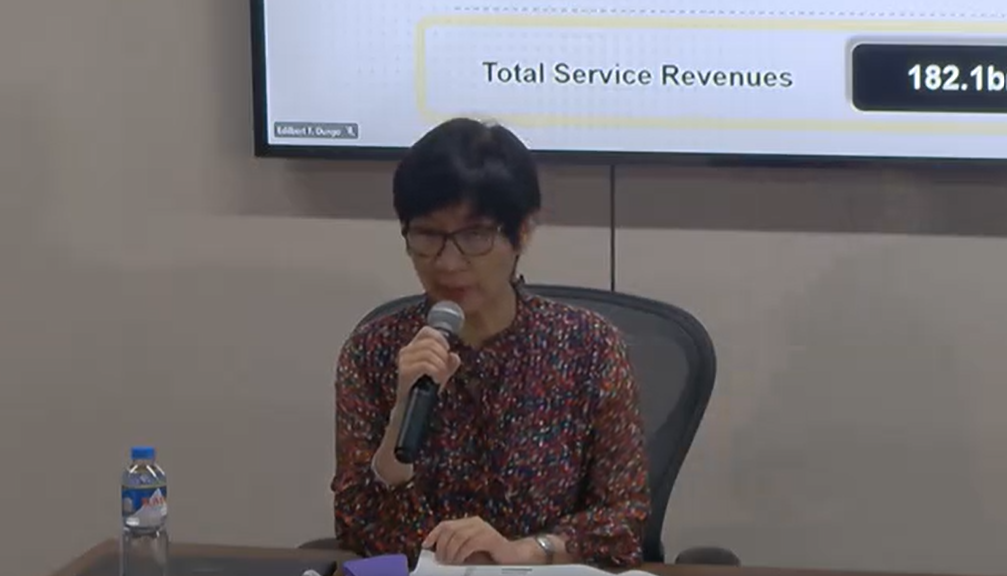 "We are determined to strengthen our financial standing as we focus on generating positive free cash flow. After years of massive spending on infrastructure, we are transitioning to a more deliberate approach to our capital expenditures, having built the country's most extensive networks. We are also renewing efforts to throttle down on operating expenses to further enhance our EBITDA," stated Manuel V Pangilinan, PLDT Chairman.
In line with PLDT's dividend policy of paying out 60% of telco core earnings, a final cash dividend of ₱42 per share will be paid out on April 4, 2022 to shareholders on record as of March 17, 2022. An interim dividend of ₱42 per share was paid in September 2021, bringing total dividends paid for 2021 earnings to ₱84 per share. Based on the closing share price on the last trading day of 2021, dividend yield stood at 5%.
Meanwhile, Home service revenues grew 24% or ₱9.3 billion to ₱47.8 billion, an all-time high. Fueled by strong execution in serving robust market demand, PLDT's fiber-to-the-home business delivered record-breaking growth in 2021. Year-on-year, fiber-only revenues grew 82% or ₱14.9 billion to ₱33 billion. Fiber-only fourth quarter revenues likewise reached a historic level of ₱9.8 billion, 9% higher than the third quarter and 91% higher than a year ago.
Total fiber capacity of PLDT stood at 5.77 million ports, together with the completion of 1.7 million additional fiber ports in 2021. PLDT's fixed broadband service covered nearly 60% of the total 1,634 cities and municipalities nationwide as of end December 2021.