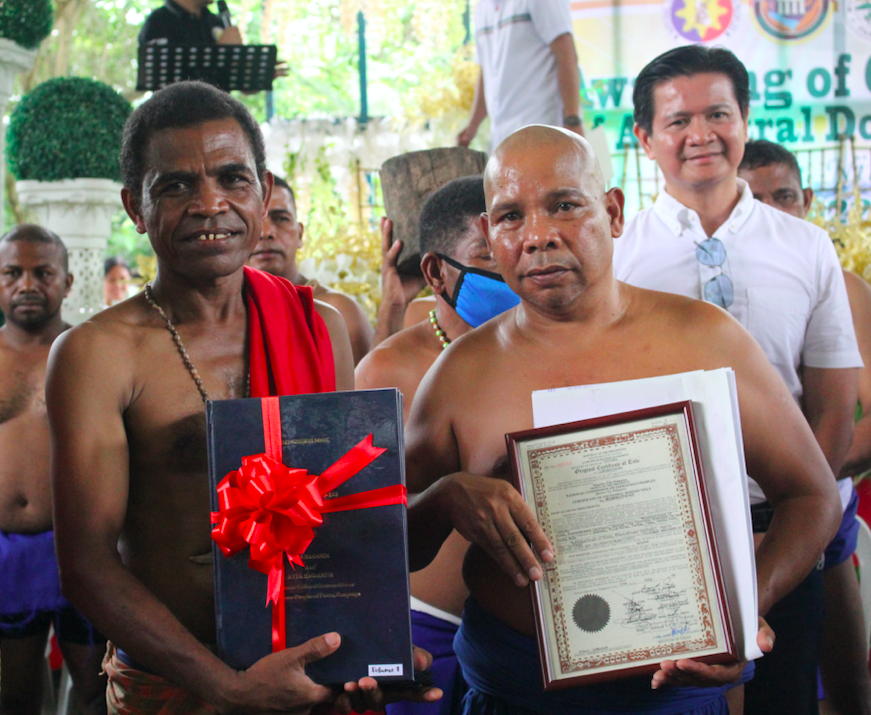 PORAC, Pampanga — Aetas in this town have been awarded their certificate of ancestral domain title (CADT), which covers about 18,660-hectares and home to more than 12,000 indigenous peoples situated in the villages of Camias, Diaz, Inararo, Villa Maria, and Sapang Uwak.
It also spans the area of Sapang Bato in Angeles City and portions of Floridablanca town in the province of Pampanga; and San Marcelino in the province of Zambales.
With this development, Ayta Mag-Indi and Ayta Mag-Antsi tribes in this town will no longer have to contest for their native rights over ancestral lands.
Indigenous People's Organization Chair Roman King underscored that their indigenous cultural community is now harvesting the fruits of their labor, after about 13 years of waiting and finally receiving the CADT that will prove their rights in their ancestral lands.
"All I have ever dreamed of is to see the country's respect for the rights of the indigenous peoples. Through this CADT that we accepted today, we have seen that there is equal recognition of our rights… We could say that this is already ours. It is not about words nor about dreams. This is already documented," he pressed.
It was on July 23, 2009 when the tribe has since waited for the CADT to be registered in the Registry of Deeds after the National Commission on Indigenous Peoples (NCIP) approved their application.
King emphasized that through CADT 123, the Aeta tribe will not feel that they are outsiders in their homeland again – something that should have been in them already given their part in the molding of the country's history.
"To my tribemates, you are the reason why we have always been struggling to create a line—a line that will surely give us hope in­­ the future… We are not fighting for ourselves, but because of small children. The future of these children will be uncertain if we will not have that document [the CADT]," he said.
Republic Act 8371 otherwise known as Indigenous Peoples Rights Act defines ancestral domains as all areas generally belonging to indigenous peoples comprising lands, inland waters, coastal areas, and natural resources held under a claim of ownership, occupied or possessed by themselves or through their ancestors, communally or individually since time immemorial.
Meanwhile, Porac Mayor Jaime Capil stated that the municipal government has been assisting the Aetas in times of need, and will continue to do so in his coming term through the implementation of projects and or programs for them.
"I have always been saying that the direction of this municipality is tourism. Our indigenous peoples will have a very direct participation here. Our ancestral domain will create a direction for our development as a center of tourism," he added.
For his part, NCIP Commissioner Rhodex Valenciano explained that the ownership of CADT will ensure the Aeta tribe the indigenous concept of ownership which gives them the right to stay in their territory, develop natural resources, share in the profit, and regulate the entry of migrants.
"We all know that the indigenous peoples, for so long history will tell, have been experiencing historical injustice… The government formally recognizes your ancestral domain and your rights. But it does not end in formal recognition as it should be respected, protected, honored, and promoted. The struggle of the indigenous peoples does not end here," he stressed.
The issuance of a CADT gives the tribes the right to hold ownership of their ancestral domains twinned with the responsibility that they shall develop, control, manage, and utilize the land subject to the condition that they will not sell, dispose, or destroy the said property or portions of it.