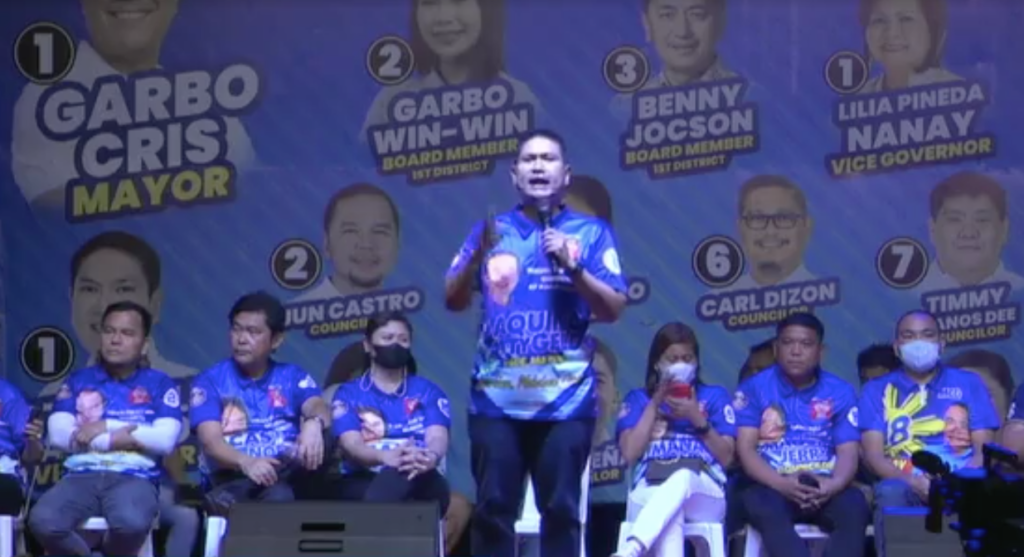 MABALACAT CITY – Re-electionist Vice Mayor Gerald Guttrie "Geld" Aquino has made a rundown of "womb to tomb" projects of the Garbo Administration during the opening salvo of Team MCG.
Speaking before a huge crowd in Barangay Mabiga, Aquino has cited the various projects spearheaded by Mayor Garbo for the past three years.
He enumerated projects delivered by the Garbo Administration from the wedding stage of couples up to the time they send children to schools. He also cited various financial and medical assistance to persons in dire need.
"We have granted the request of Mayor Garbo for funding especially those that would give greater benefit to Mabalaquenos," Aquino said in his speech.
Mabalacat City has been widely reputed among local government units in Pampanga to have effective various social services projects for its citizens. This includes hospitalization and free medicines, education and scholarship, livelihood and training programs for micro enterprise.
"I have been going around also with Mayor Garbo visiting the bedridden. We have also been providing cash for those in crisis as well as burial assistance," Aquino said.
Aquino, a lawyer by profession, is known as "abogado ng masa" where he provides free legal and notarial services. He is up against former vice mayor Christian Halili who is making a comeback for the city's second top post. In 2019, he won overwhelmingly by 21,000 votes against his uncle Marino Morales who is back to challenge Garbo for the mayorship.
During the rally attended by thousands, Governor Dennis Pineda has cited the Garbo Administration for its performance.
"Tingnan nyo po, malayong malayo ang dating administrasyun sa administrasyun ni Mayor Cris," Pineda said in an interview.
"Dito makikita ninyo kung ano ang pagmamahal sa mga kababayan natin sa Mabalacat. Ramdam na ramdam ninyo ang serbisyo ni Mayor Cris," he added.
He also urged voters to remain on the side of the Garbo administration.
"Wag na kayong mag dalawang isip pa. Wag na kayong bumalik sa dati," he said.