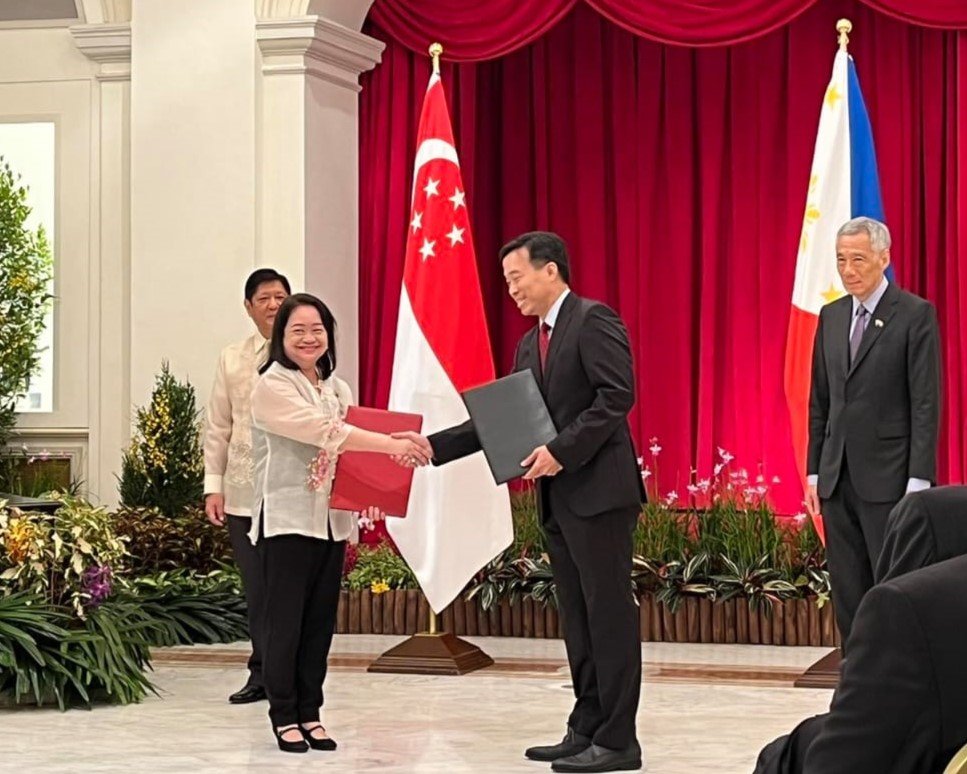 With President Ferdinand Marcos as witness, the Bases Conversion and Development Authority (BCDA) led by Chief Executive Officer (CEO) Aileen R. Zosa recently inked a memorandum of understanding (MOU) with Enterprise Singapore (EnterpriseSG) to foster greater collaboration in the development of the 9,450-hectare New Clark City in Capas, Tarlac.
Signing the agreement with Zosa was EnterpriseSG CEO Png Cheong Boon, held at the Istana in Singapore. Also witnessing the event was Singapore Prime Minister Lee Hsien Loong.
"With Singapore as a global frontrunner in the area of smart city development, we at BCDA are very fortunate to have EnterpriseSG as our partner to facilitate knowledge exchange and link us with Singaporean firms who have the experience and expertise in the field. This MOU will surely be instrumental in achieving our goal of developing New Clark City into a smart, green, sustainable and highly liveable metropolis," Zosa said.
The MOU intends to create a framework that will allow BCDA and EnterpriseSG to explore potential collaborative opportunities in the development of New Clark City, particularly in priority areas, such as affordable housing, estate management, transportation, solid waste management, waste-to-energy technology, smart cities, sustainability, green data centers, and urban development and people-centric programs.
Both parties will participate in knowledge sharing and awareness building activities to increase understanding of emerging technologies and solutions used in urban development, especially in response to the pandemic.
BCDA and EnterpriseSG shall also collaborate to enable business matching and facilitate access for Singapore companies and relevant stakeholders interested to partner in the development of New Clark City.
Towards this end, the two parties shall hold regular meetings to discuss project developments and areas of opportunity.
The parties shall scope and facilitate the suitable mode of partnership between the identified Singapore company and BCDA.
EnterpriseSG is a statutory board established under the Enterprise Singapore Act 2018 to champion Singapore enterprises by strengthening capabilities and accessing global opportunities.
Prior to President Marcos' state visit to Singapore, officials from EnterpriseSG last August 23 conducted a site visit in New Clark City, including the 120-hectare Innovation Park developed by Filinvest Land Inc. in partnership with BCDA.
During the tour, Zosa highlighted the advantages of setting up shop in New Clark City, especially the opening of Clark Airport New Passenger Terminal Building where Changi Airport is a joint venture partner of Luzon International Premier Airport Development Corporation (LIPAD), the operations and maintenance operator of Clark Airport Terminal.
The master plan of New Clark City was crafted by AECOM-Singapore, under the joint venture of BCDA and Japan Overseas Infrastructure Investment Corporation for Transport and Urban Development (JOIN). Giant Singaporean real estate developer and consultant Surbana Jurong later joined the joint venture.