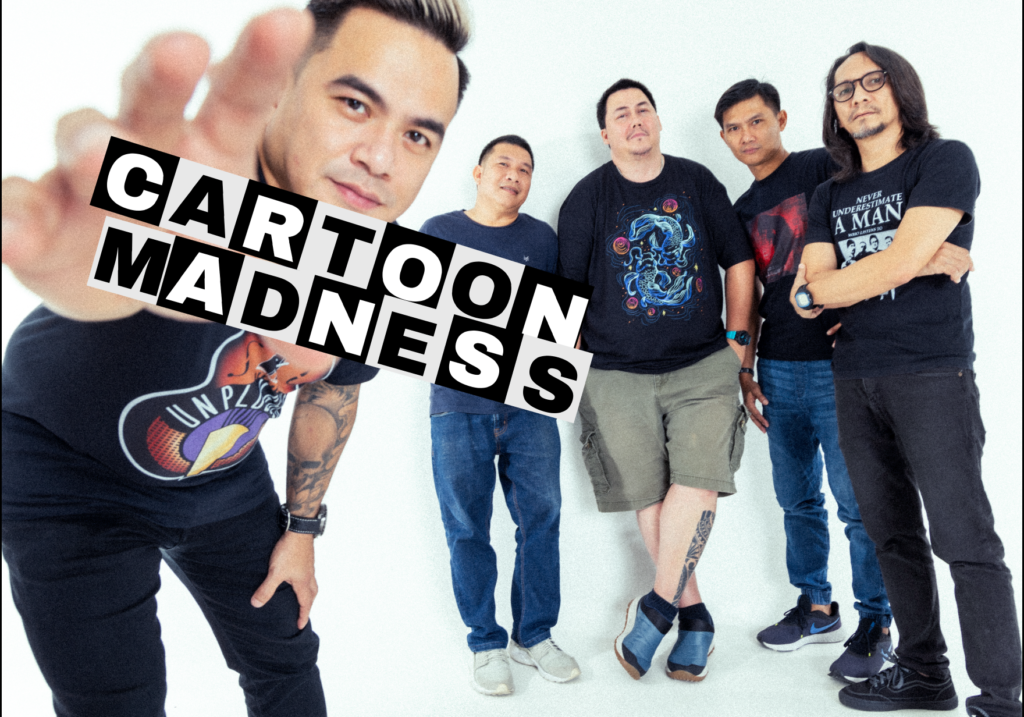 Kapampangans are in for a great treat this coming August 25 as one of the most revered and followed rock bands in the late '90s and early 2000s – Cartoon Madness – hits the stage again for their reunion concert.
Happening at Raphael's Unlimited Balibago in Angeles City, Cartoon Madness will play with other performers like Ramcos Nulud, Sentri, Dumbo's Drop and Banda ni Tinoy.
Cartoon Madness' vocalist John Kelly, an all-time crowd favorite, recently arrived from the United States and will stay in the country for two weeks just in time for the August 25 gig. His bandmates are Michael Gensell Garcia (on bass), Eric Miranda (on guitars), Dindo Castro (on guitars) and Jay Valencia (on drums). Their manager, John Pangilinan, is also a native Angeleno, a known visual artist, events manager and a former member of the Angeles City Tourism Office (ACTO).
"I feel ecstatic. This reunion will bring me back to the stage in front of a big crowd after more than a decade. I am not expecting too much of myself but I will do my best so as not to disappoint our guests on the 25th," Kelly said.
As for Garcia and Valencia, they are confident that the audience will surely relate with their music and will definitely enjoy the gig.
"Those who watched us before are truly appreciative of our music. We are quite nervous and at the same excited. This is the first time that my kids will be watching me play on stage," Valencia said.
Cartoon Madness joined one of the greatest Filipino rock bands – The Dawn – in a tour for the promotion of the latter's album, Prodigal Sun in 2000. During the birthing years of Tigtigan Terakan king Dalan (TTKD), Cartoon Madness was one of the pioneer bands that worked closely with the ACTO. They were also regional champions and national finalists of the well-coveted titles under RedHorse Muziklaban (2000) and San Miguel's Battle of the Bands (1999).
Red Horse Muziklaban is an annual rock band competition in the Philippines since 1999. It features young unsigned bands who compete for the grand prize of Php1,000,000 and a recording contract. It is sponsored by the San Miguel Brewery to promote its Red Horse Beer.
Few of the best performances of the group are their front acts with Putriska (1995), Eraserheads (1995) and The Dawn (2000). The group joined The Eraserheads in promoting the E-Heads' album Caterpillow which was released in December 1995. From 1999 to 2005, Cartoon Madness was signed up as one of the SMB bands doing regular rock tours in Central and North Luzon. It was in 2000 when Cartoon Madness performed on stage with their idols the Dawn, when the band reunited then and released its Prodigal Sun album.
"It was a dream gig for us to do a front act for The Dawn because they are really our idols," Garcia said.
The August 25 event is sponsored by the Angeles City Tourism Office (ACTO), ARAW-ACI, Tandem & Steffen Dev't Co., Inc., Raphael's Unlimited Balibago, Kat's Special (OneWest Clark), J&C Music Studio (Springside-Angeles City) and personal friends of the group – Atty. Willie Rivera, TIEZA GM Mark Lapid, Cesar Reyes, Ryan Tan, Stephanie Seneres, Nicole Pangilinan, Eric Dimabuyu, Joanne Jane David, Vic Enage Jr., Dan Guevarra, Jojo La Madrid and Borj Meneses.
Why Cartoon Madness?
The band started as a merger of two teenage rock bands. All of them are really crazy about cartoons – from the classical Duffy Duck of Looney Tunes and Merrie Melodies to the series of animated characters like Johnny Bravo, Marvin and Sam, Calvin and Hobbes, Gundams, and Neon Genesis Evangelion, among others.
"I am a fan of Calvin and Hobbes. I have a full collection of the comic book," Castro said.
"We love cartoons, I guess. We started as friends then as a band," Kelly added.
It was Garcia and Valencia who first recruited Kelly and one of the pioneer members Andrei "Duday" Sicat during their early college years at the Angeles University Foundation (AUF). But prior to that, they have known each other in high school. They joined the first SMB Battle of the bands for the Tigtigan Terakan keng Dalan (TTKD) in 1995. They were named finalists and landed a gig at the TTKD.
"Every gig is important for us but yung memorable is our audition at San Miguel Battle of the Bands when we only had four songs and they wanted us to play more," Kelly said.
And it was in 1999 when they bagged the first place for the SMB competition to be followed by their RedHorse Muziklaban achievement in 2000. The auditions for the SMB battle is grueling with almost 50 local bands vying to be chosen as finalists. Only 10 bands are chosen to perform at the TTKD. Same with the RedHorse Muziklaban but the group landed as one of the national finalists.
Garcia said he coined the band name Cartoon Madness before they even completed the members of the group.
"The name or the idea of the Cartoon Network and the madness that comes with it has been with me all along. So sabi ko kay Jayson, may name ako ng banda pero wala tayo banda. Then I saw the band of John Kelly and Andrei play and they were really good. So when we decided to join the SMB Battle of the Bands, I told Jayson para makuha natin si Kelly dapat makuha natin si Duday (Andrei)," Garcia said.
Then they were joined by Eric Miranda, Alvin Timbol, Robert "Bob" Angeles (keyboards) and later on Dindo Castro. All the guitarists played one after the other through time as the band went through different challenges. And in early 2000, Sicat already migrated to the US then later, it was Kelly who followed. They officially disbanded in 2005.