ANGELES CITY – Amid the COVID-19 pandemic, Converge ICT Solutions Chief Executive Officer Dennis Uy said the company strives to honor its commitment to its subscribers and provide reliable and affordable internet to more Filipinos nationwide.
Because of this commitment, the Angeles City Council has recognized Converge ICT Solutions on its efforts to introduce technological innovation crucial to nation-building and economic growth.
Uy, in a letter addressed to the Angeles City Council led by Vice Mayor Vicky Vega-Cabigting and members of the Sangguniang Panlungsod, expressed his utmost appreciation for the recognition, saying the company is looking forward to its continued partnership with the Angeles City government.
"Please be assured that we are always ready to help the City Government in its efforts to serve the public better," Uy said in his letter, adding that Converge remains committed to providing world-class broadband services for a better digital experience.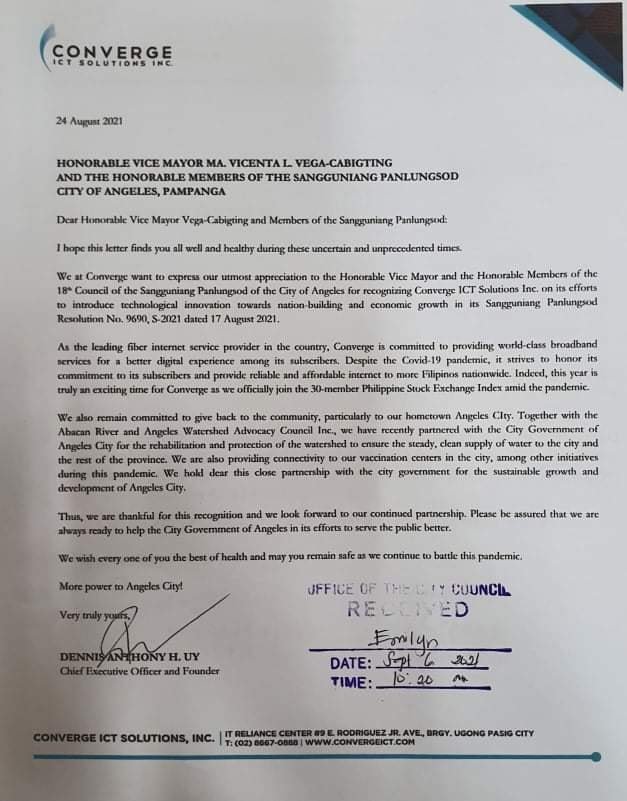 The resolution — Sangguniang Panlungsod Resolution No.9690 — was sponsored by Councilor Jesus "Jay" Sangil, chairman of Committee on Public Works and Engineering, and Clark Freeport Zone.
Co-sponsors were Councilors Alfie Bonifacio, Arvin Suller, Raco Del Rosario, Marino Bañola, Dan Lacson, Joseph Ponce, Jaycee Aguas and Association of Barangay Chairmen President Jerry Alejandrino; seconded by Councilors Thelma Indiongco and Sangguniang Kabataab President Mandani in a session presided by Vega-Cabigting.
The City Council has recognized Uy as "a true dedicated son of Angeles City, now also considered as one of the great minds of Asia, entrepreneur par excellence, a business genius, a stalwart of technological innovation who remains committed to Angeles City's progress."
The resolution also stated that Uy has catapulted Converge into becoming one of the leading pure fiber companies that now covers not just Luzon but also Visayas and Mindanao.
"All these achievements give Angeles City pride, prestige, and honor as Converge continues to strive for excellence," the resolution also stated.
In his letter, Uy also said this year is an exciting time for Converge as it officials joins the 30-member Philippine Stock Exchange Index amid the pandemic.