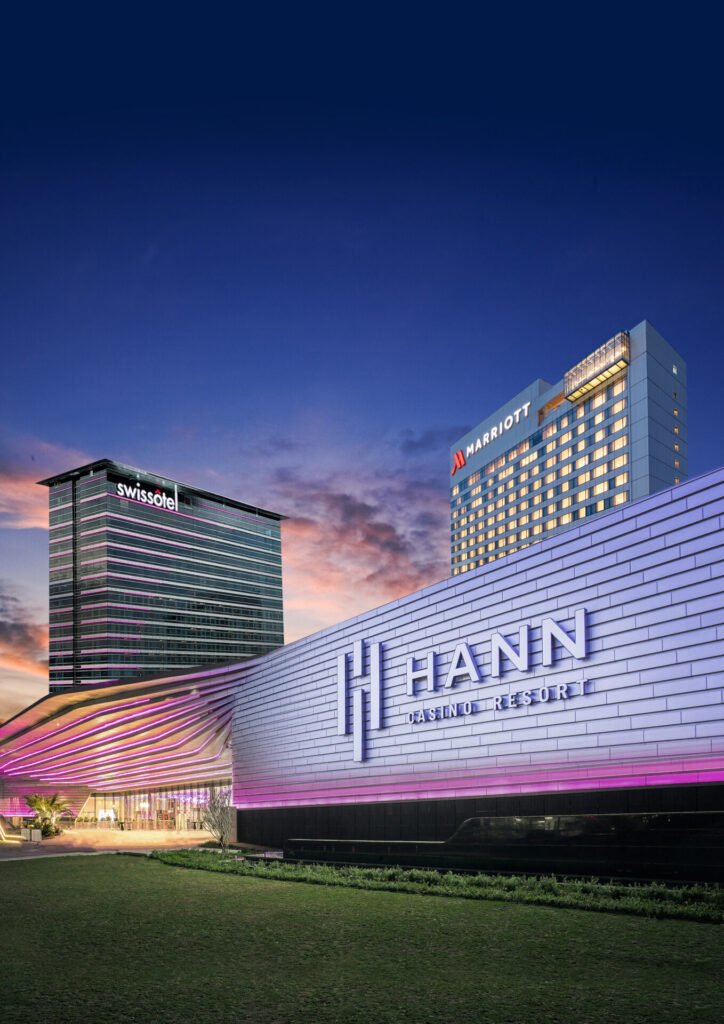 Hann Casino Resort has dominated the Top 10 Best Restaurants List in Clark in the latest ranking of TripAdvisor.
TripAdvisor is a travel research platform that gathers and consolidates reviews and opinions from members regarding destinations, accommodations, restaurants, and activities across the globe.
Hann Casino Resort is home of the first 5-star hotel in Central Luzon, Clark Marriott and the first Swissotel in the Philippines. These well- appointed hotels collectively operate a total of 15 restaurants, cafes and bars.
A must-visit iconic landmark in Clark, Hann is a fully integrated resort that houses a first-rate gaming facility, international hotels and a wide range of casual and specialty restaurants, cafes and bars. Hann has naturally embraced the gastronomic excellence that Pampanga is known for.
Clark's dining landscape has expanded to include a range of international flavors, with establishments serving Korean, Japanese, American, and Italian cuisines plus the sprouting of huge, themed cafes. With an influx of dining options, Clark is now a new culinary destination within a destination.
Now, Clark has the best restaurants under one roof!
SMOKI MOTO: The No. 1 Restaurant in Clark
For diners seeking fine, authentic Korean cuisine, Smoki Moto is the top destination in the region. The restaurant features modern interiors with a dramatic "hanging" nook and an elevated drink menu that includes premium wines, soju, beers, and craft cocktails.
Located on the 17th floor of the Clark Marriott Hotel, Smoki Moto offers a scenic view of Mount Arayat and the Zambales mountain range, making it the perfect spot for a romantic dinner or a night out with friends.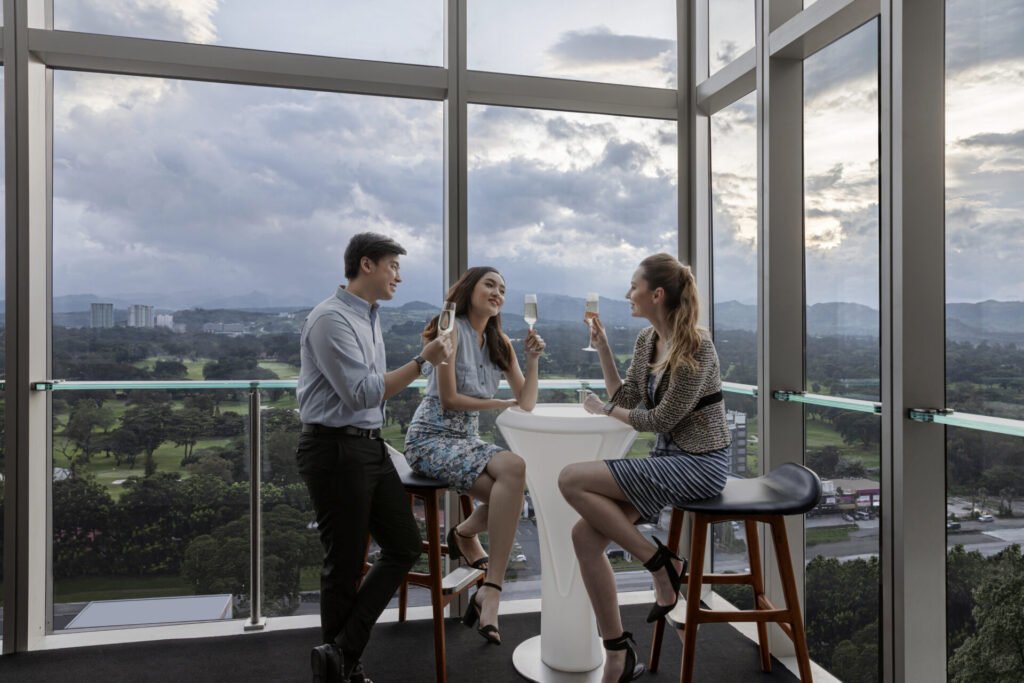 The well-loved restaurant offers a selection of premium, highly-marbled Black Angus Beef, including the unforgettable Tomahawk Steak, which weighs a minimum of 1.6 kg and is infused with roasted garlic olive oil and served with toasted baguette, parmesan whipped potato, grilled asparagus, and port wine jus.
For those seeking lighter fare, Smoki Moto also offers the Bibim Magguksu, a cold noodle salad dish seasoned with a spicy, sweet, and tangy Korean chili dressing, and the Samgyetang, a traditional Korean soup made with a whole young chicken filled with garlic, glutinous rice, jujube, ginko nuts, chestnuts, and ginseng.
With its overall world-class quality standards i.e. delicious food, great views, impressive beverage selection and excellent service, it's no wonder why Smoki Moto is literally and figuratively elevated above the rest!
GOJI KITCHEN+BAR: The No. 1 Buffet Restaurant in Clark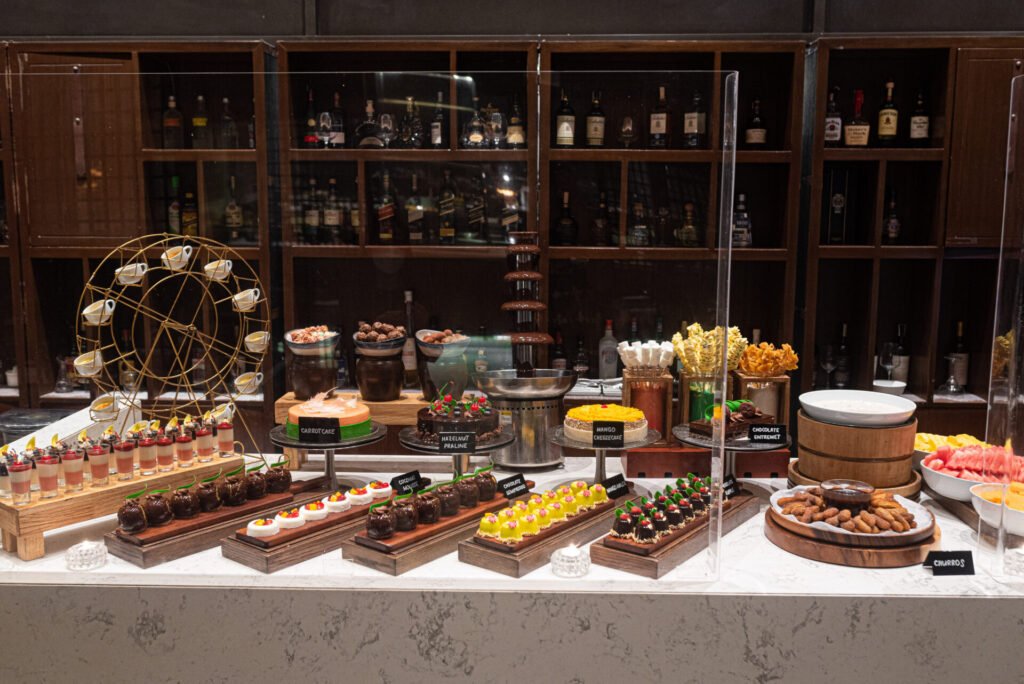 Clark Marriott's innovative all-day buffet restaurant takes everyone around the world – travelling by taste with Asian, Western, Japanese, Italian and Filipino cuisines. Through smart design, bespoke service, and a modern concept, Goji Kitchen+Bar delivers a dynamic, interactive restaurant experience that has earned its place as TripAdvisor's top buffet restaurant in Luzon.
Spearheaded by chef Robert Czeschka, with over 20 years of experience in culinary and hospitality, his innovative concepts and creative menus are definitely rewarding and satisfying.
The dessert station is eye-catching while the noodle bar tucked inside the partitions to your left is a must-visit. The menu changes regularly so there is always something new to try.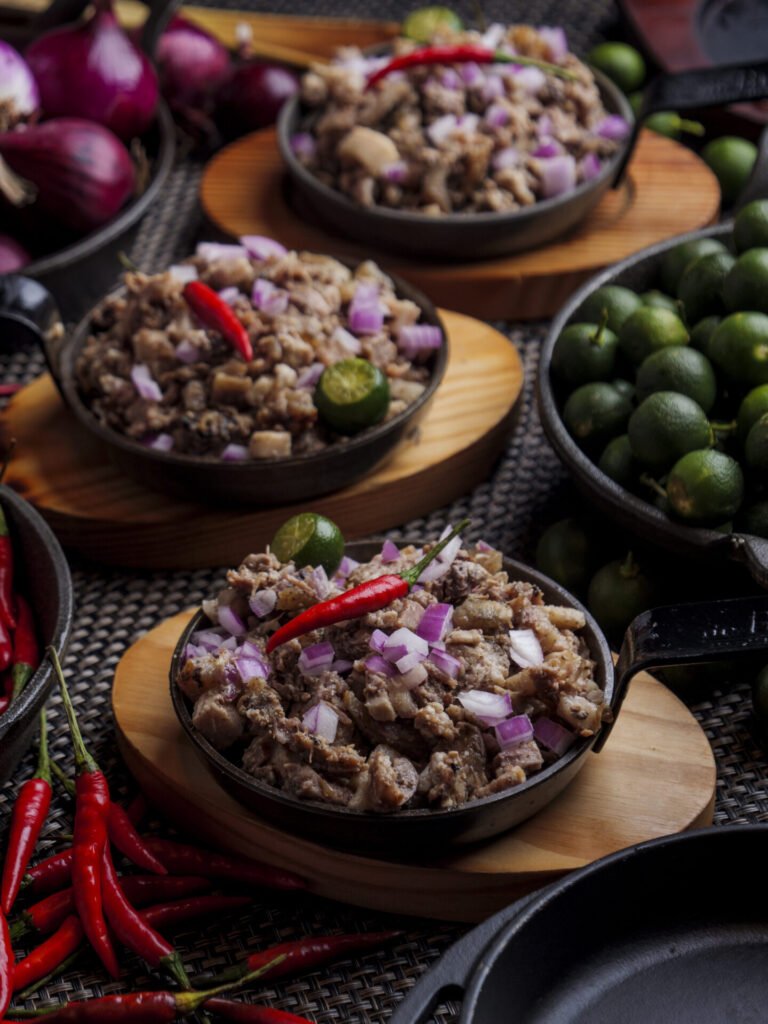 Journey to the Kapampangan station to enjoy the province's signature cuisine, including the world- famous dish – sisig, prepared and cooked the traditional way thanks to a city ordinance declaring the dish as an intangible heritage of Angeles City. In the protected recipe, the pork is boiled to tender, then grilled to achieve that smoky flavor, then served sizzling on a hot plate. Thus, locals skip the eggs, ox brains, or mayonnaise in their sisig, just like how Italians deem pineapple on pizza as blasphemous.
Wash it down with some sour and savory soup of sinigang made more flavorful by natural souring local ingredients tamarind or kamias (tree cucumber). Lastly, brave the burong hipon (fermented shrimp) paired with steamed vegetables for a true Kapampangan dining experience.
WU XING: Chinese Restaurant for Business, Family and Intimate Celebration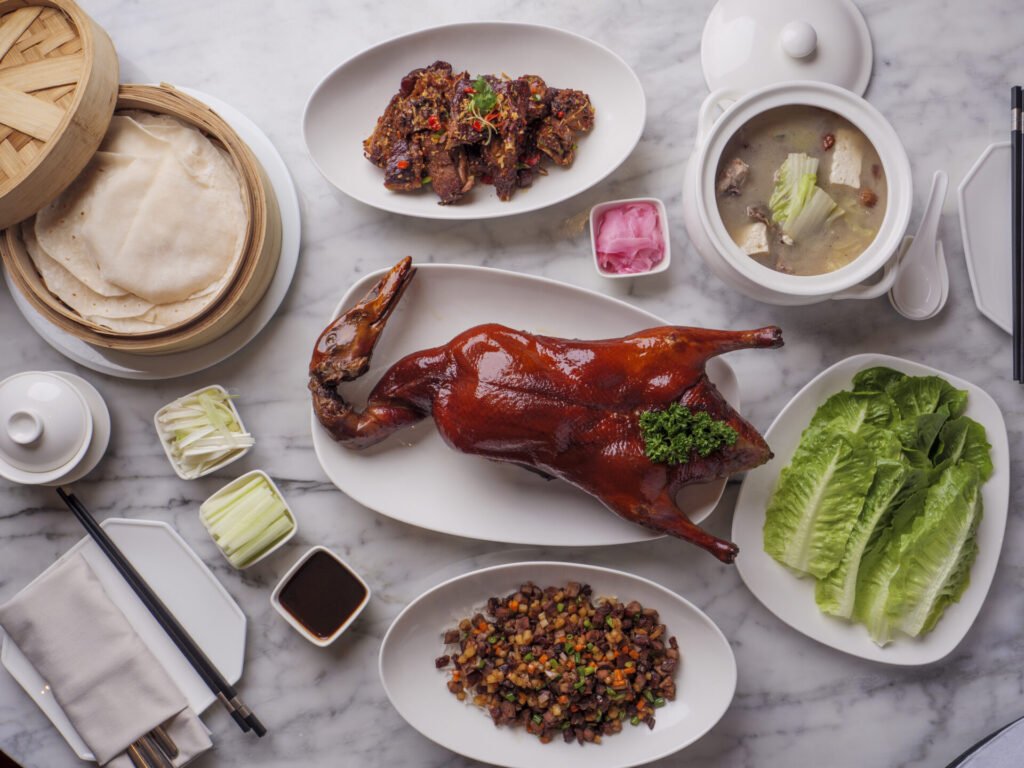 Third-place winner is Hann Casino Resort's Wu Xing located at the ground floor of Clark Marriott. The restaurant's interior exudes Asian elegance and contemporary design with private dining rooms available for intimate gatherings. The menu offers an extensive selection of signature Chinese dishes, accompanied by specialty wines and teas.
Wu Xing is renowned by the locals and tourists for its authentic Peking duck, which is marinated and roasted using locally-sourced star-apple firewood, resulting in a tender and flavorful meat and crispy skin. The duck can be enjoyed in four ways: skin and breast meat with leek and cucumber wrapped in Chinese pancake; duck soup; minced duck wrapped in romaine lettuce; and deep-fried duck with salt and pepper.
Chef Lucas Zhou, the passionate young chef from the Jiangsu Province leading the culinary team of Wu Xing, ensures the menu is a testament to the culinary excellence of Chinese cuisine.
RISTORANTE DI VERONA: Fun Italian Dining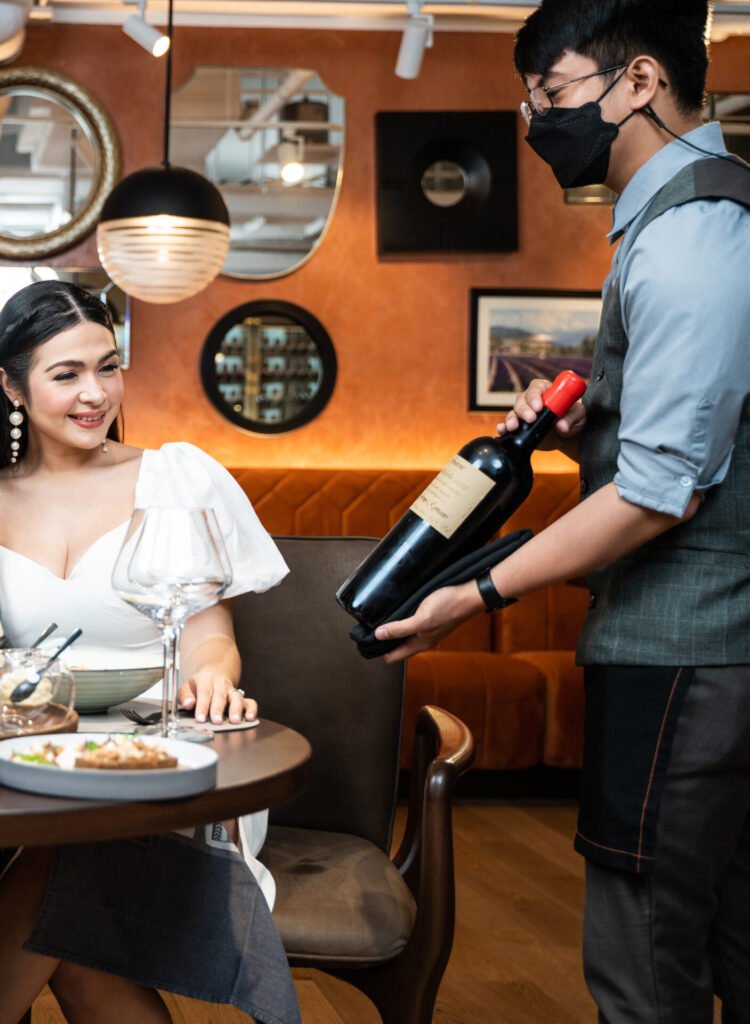 Take another flight within Hann Casino Resort for a wine-filled adventure at Ristorante di Verona located at the 5th floor of Swissotel Clark. The restaurant is inspired by the setting of Shakespeare's "Romeo and Juliet". Its posh interior is a prelude to the equally Instagrammable Italian dishes like the carpaccio di manzo and tortelli di stracotto di manzo. These are best paired with a glass of wine from their extensive wine selections sourced from various regions. With Chef Alessio Loddo at the helm, the authentic Italian food experience guarantees a satisfied stomach and a happy heart.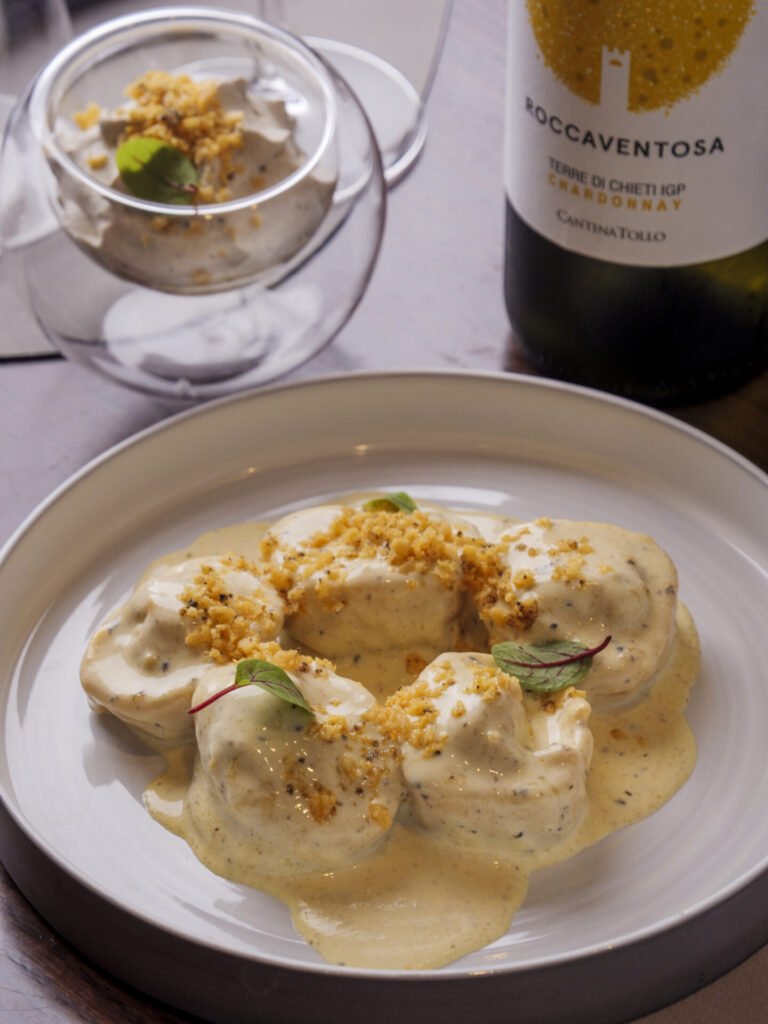 Make sure to leave room for the cannoli siciliani, a tube- shaped shell of fried pastry dough filled with a sweet, creamy filling of ricotta with chocolate chips, fruit candy, and pistachios. Truly ending a meal with chef's al bacio ("as good as a kiss").
The restaurant also prides itself on its "fun-dining" atmosphere where guests are welcome to dress up, enjoy the music, dance with friends, and pass around the microphones during Sunday Brunch. Guests indulge in free-flowing drinks and fine de claire oysters from France.
SPICE: Asian Street Eats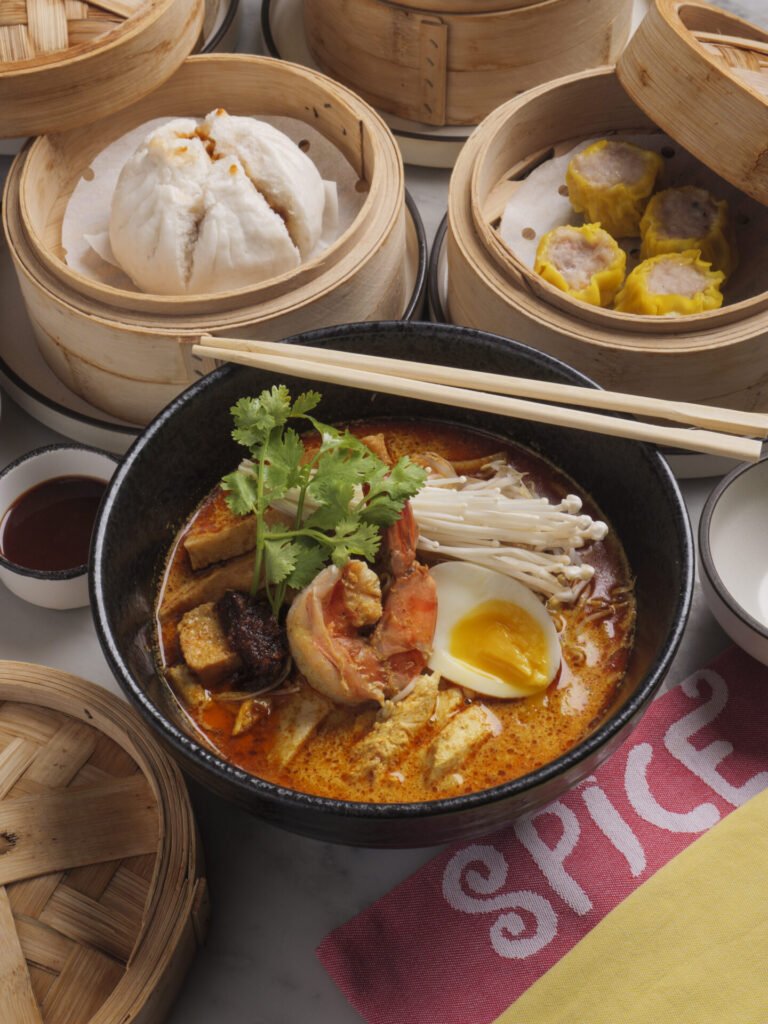 Have a break from gaming and take a quick culinary adventure at Spice, an Asian restaurant offering a mix of Chinese, Thai, Vietnamese, Japanese, and Indonesian street food bursting with flavor and spices.
Situated on the casino floor, Spice is perfect for quick bites. It has a modern yet cozy atmosphere, with warm lighting and a vibrant color scheme. Skilled chefs will whip up your dish with their impressive culinary skills, complete with towering flames and sizzling hot woks – a common sight in the bustling kitchens of Asia.
The menu specialties are classic Pad Thai, Laksa, and Beef Salpicao to homemade steamed buns and dumplings. Don't forget to quench your thirst with their unique and refreshing drinks, artisanal craft beers and iced teas named after the local cities of Pampanga: Angeles C-tea, Mabalacat C-tea and San Fernando C-tea.
Whenever you're in for a quick bite or a sumptuous feast, Spice will not disappoint. With their exceptional service and culinary expertise, Spice has earned its place as one of the top-rated restaurants in Clark.
MARKT: Without an E!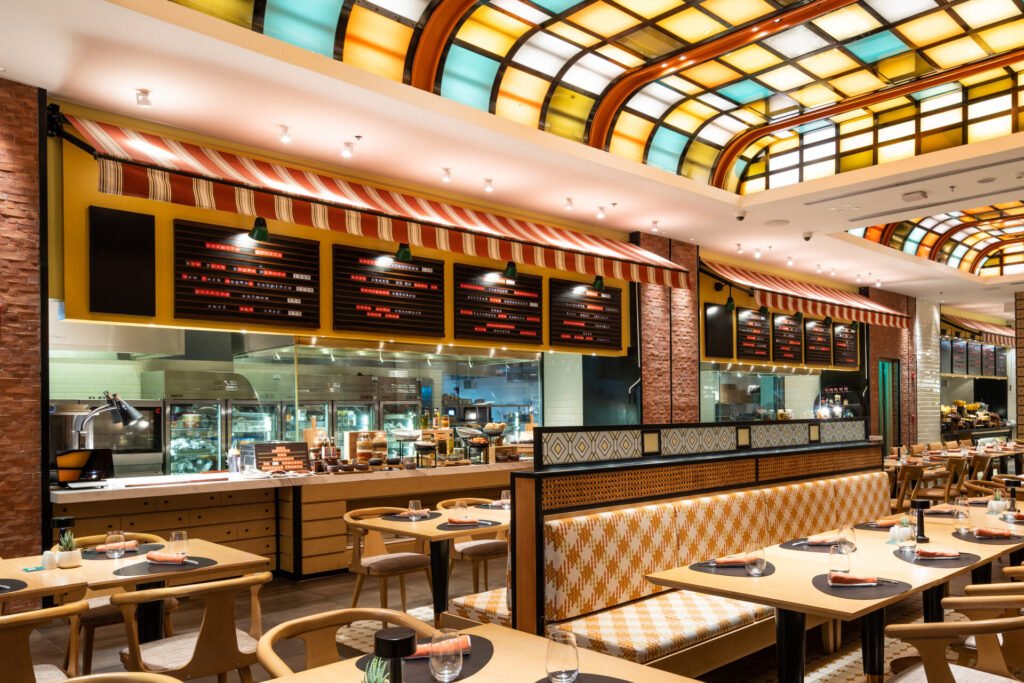 Markt, the all-day dining of Swissotel Clark is paying tribute to its Swiss heritage. The restaurant's concept took inspiration from the bustling marketplaces in Europe. Inspired by the vibrant food markets, Markt combines a signature European dining concept with a diverse range of international cuisine. From healthy salads and freshly cooked meals to irresistible desserts. Markt entices taste buds with its varied menu offerings. Let's explore the delightful atmosphere, dining options, and unparalleled features of this extraordinary restaurant.
As you step into Markt, you are greeted by the friendly and inviting atmosphere reminiscent of classic Swiss food markets. The brick walls, subway tiles, and stained-glass ceiling create a charming setting that sets the stage for a memorable dining experience. This homage to European marketplaces offers a unique blend of nostalgia and contemporary elegance, capturing the essence of European culinary culture.
Markt delights guests with a wide array of food stations offering diverse cuisines and cooking styles. From salads and appetizers to panini, pizza, soups, stews, pasta, fried dishes, grilled meat and fish, waffles, crepes, pastries, cakes, and gelato, the choices are abundant. The menu also includes clearly displayed prices at each food station, ensuring transparency and convenience for guests.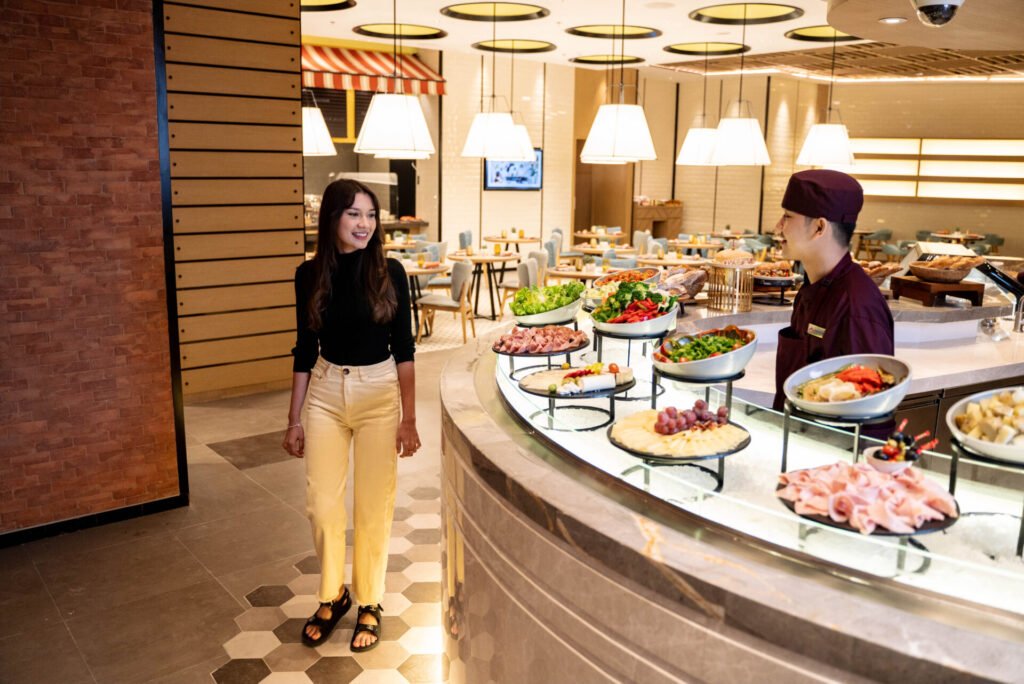 To order, simply approach the desired food station, provide your table number, and your dish will be prepared while you comfortably wait at your table. Once ready, your culinary creation will be promptly served, allowing you to savor the flavors without any unnecessary delays.
Markt caters to various dining preferences throughout the day. Starting from 6:00am to 10:00am, guests can enjoy the lavish buffet breakfast. The morning ambience is perfect for a leisurely meal, and the wooden round tables and bright lighting in the dining area create an inviting space to start the day. After breakfast, Markt transforms into an open-plan, plaza-style dining space, offering an extensive a la carte menus from 10 AM to 10 PM. With choices ranging from Asian, Western, to European fare, there's something to please every palate.
TRAVEL BY TASTE AROUND HANN CASINO RESORT
Korean + Japanese + American: Smoki Moto
Italian: Ristorante di Verona
Chinese: Wu Xing Chinese Restaurant
Asian: Spice
International: Goji Kitchen+Bar, Markt, Salt Resto
Bars: Bar 20, Swisstropic Pool Bar, The Atrium, The Lounge by Clark Marriott, Pool Bar by Clark Marriott
Cafes: Urban Coffee, After Six Lounge, Oma's Dessert Bar