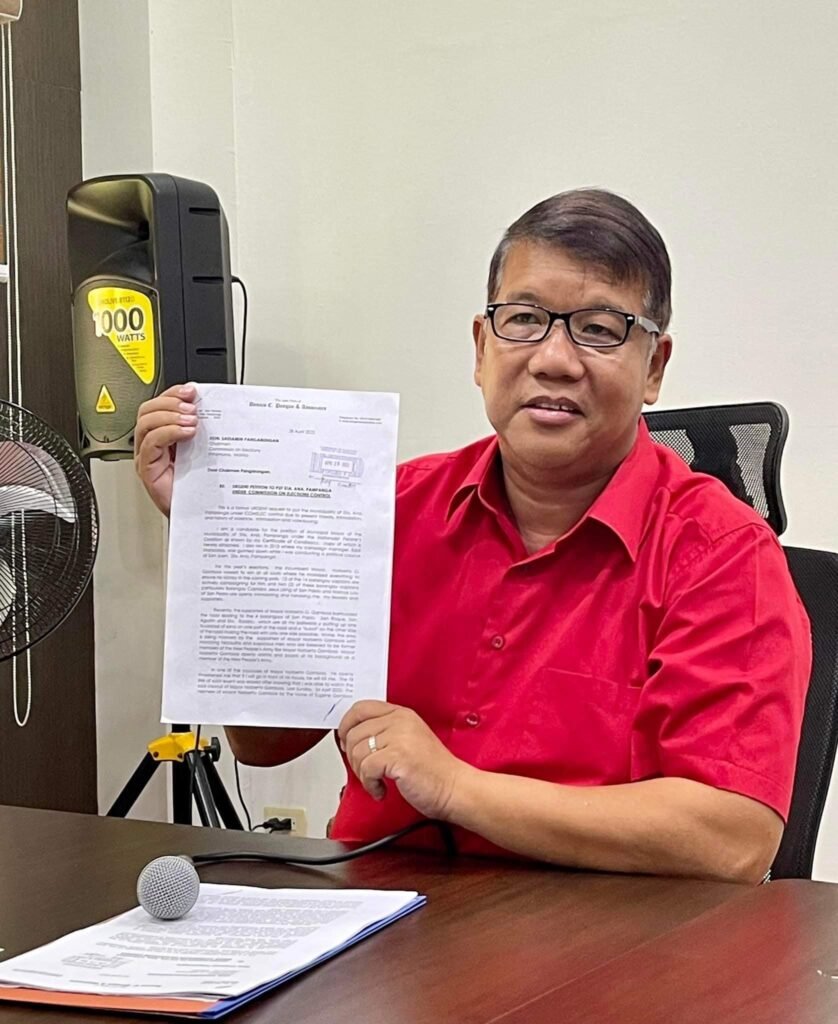 STA. ANA, Pampanga – One of this town's mayoralty bets, Atty. Dennis C. Pangan, has asked the Commission on Elections to place the town under Comelec control due to threats, intimidation, history of violence and vote-buying.
In his urgent petition filed before the Comelec in Intramuros, Manila, Pangan said incumbent Mayor Norberto G. Gamboa "vowed to win at all costs where he mobilized everything to ensure his victory in the coming polls."
Pangan stated in his petition that Mayor Gamboa, in one of his caucuses, openly threatened him that if he went to the latter's house, the latter will kill him.
The Facebook Live of the event, however has been erased, Pangan said, after knowing that he was able to watch it.
Other family members of Gamboa have also made negative comments against him on FB, Pangan said.
Pangan also told media in a press conference that supporters of Gamboa put up barricades leading to 4 barangays – San Pablo, San Roque, San Agustin and Sto. Rosario, which are all the former's bailiwicks.
"Naglagay sila ng truckload ng panambak sa gitna ng kalye. Naging one way ang daan papunta sa 4 na barangay na balwarte natin at lagi syang talo doon," Pangan told the media.
According to Pangan, a "kubol" has also been put up on the other side of the road, manned by supporters of the incumbent mayor.
In his petition, Pangan also mentioned that "13 of the 14 barangay captains are actively campaigning for him."
"Bakit nya ginagawa ito? Napag-alaman natin na noong 2016 at 2019, ginawa nya din yan. Maraming tao ang hindi nakaboto," Pangan claimed.
Pangan also said in his petition that barangay officials allied with Gamboa are allegedly recruiting several supporters, giving them P500 to P1,000, "which is a clear case of vote-buying."
"Ayaw sya ng tao, pero nananalo sya sa ganitong paraan," Pangan said, reiterating his request to the Commission on Elections, and PNP regional and provincial offices to put Sta. Ana under Comelec control.