2 years after COVID-19 pandemic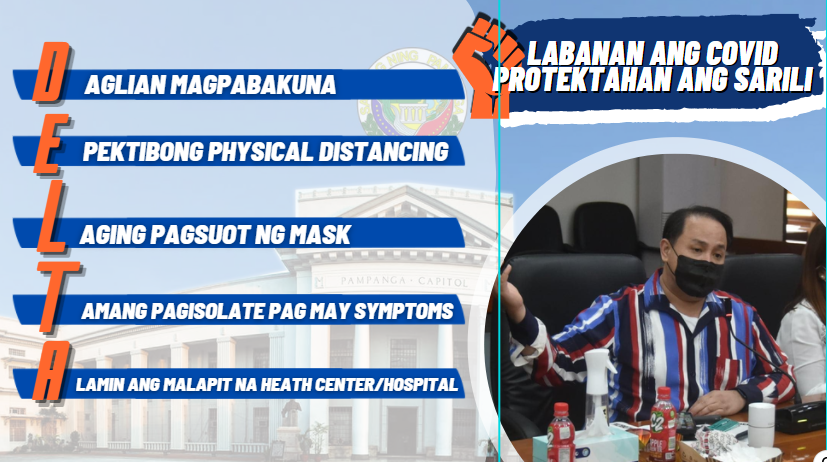 CITY OF SAN FERNANDO – The province of Pampanga is now preparing for the transition to the new normal, almost two years since the COVID-19 pandemic threatened the country. 
Gov. Dennis Pineda on Wednesday signaled the anticipated shift to the new normal in the province after the Department of Health classified Central Luzon including Pampanga as "low epidemic risk" during the Bida Tungo sa New Normal roadshow.
Local Government Secretary Eduardo Año and Presidential Adviser for COVID-19 Response and testing czar Secretary Vivencio Dizon urged local officials to exert efforts to prevent an increase in cases, which is happening in several parts of Asia.
COVID-19 new cases in Pampanga dropped to 83 as of March 5, according to Dr. Renely Tungol, provincial health officer 1. The reduction of cases in Pampanga happened as fully vaccinated residents reach 81.05 percent (1,937,780) are already vaccinated, she said.
The recommended behavior under the new normal is summed up in the acronym DELTA:
Daglian magpabakuna
Epektibong physical distancing
Laging pagsuot ng mask
Tamang pag-isolate pag may sintomas
Alamin ang malapit na health center o hospital. 
Under the new normal, the provincial government will enforce the wearing of face masks, provide facilities for the quarantine or isolation of infected persons, encourage proper ventilation, continue vaccination for primary shots and booster shots, help promote mental care and good health-seeking behavior.
The COVID responses of the Pineda administration consisted of Balik Pampanga that helped returning OFWs, operating quarantine and isolation facilities, setting up treatment centers in the provincial and district hospitals, provision of free medicines for adults and children, fielding mobile swabbing vans, giving free antigen testing, vaccination roll-outs for primary, booster and pediatric shots, multi-sectoral strategy for vaccination, homecare program with nine private hospitals, hiring of additional health professionals.