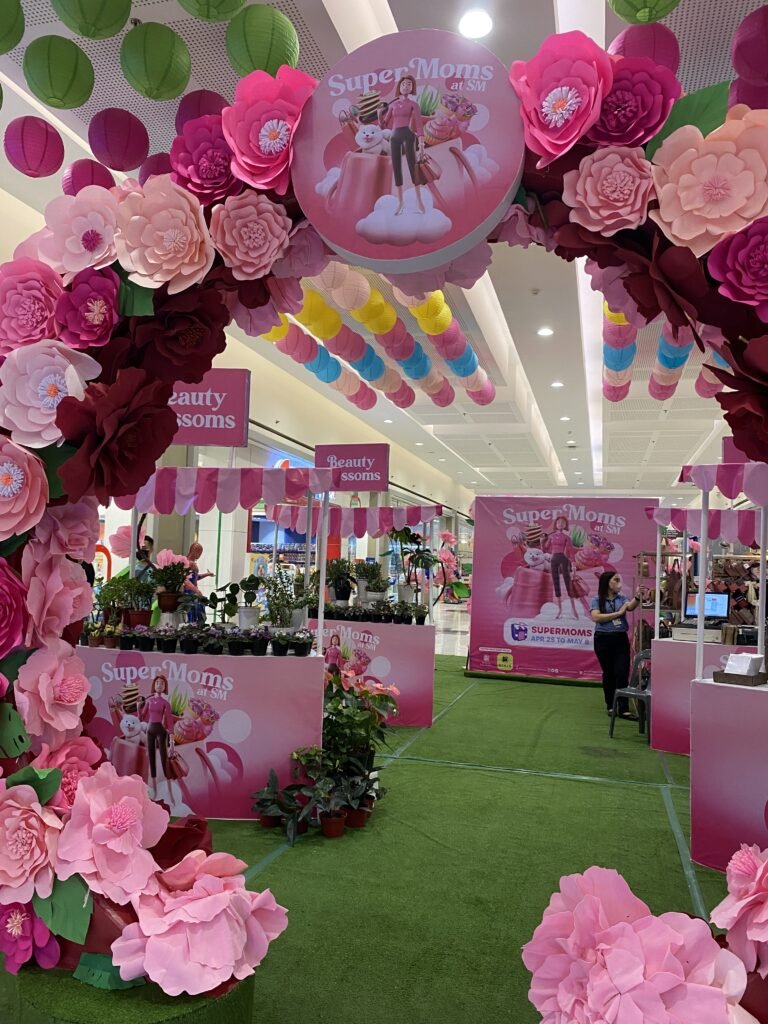 Mother's Day is just around the corner and if there's one thing our queens want most when celebrating, it is spending AweSMFamtime with the entire family.
As the countdown begins, SM malls in Pampanga, Clark, Tarlac, Olongapo and Cabanatuan are all dolled-up for the occasion, perfect for Instagram-worthy photo-ops.
For an aweSM experience, here are some gifting ideas to make mom, grandma, tita, and all other mom figures out there feel extra special this coming May 8.
If you are on the hunt to get a gift for mothers, let SM Supermalls give you fun and creative suggestions to make your date with the most important woman in your life memorable.
Check out these offerings for SuperMom's Day who deserves a little sparkle, blooms, or indulge in a hearty feast from your favorite SM Supermalls!
Make it a blessed SuperMom's Day. Start the day with a special mass dedicated for mothers at select SM malls in Pampanga, Clark, Tarlac. It's a great way to make SuperMom feel blessed and grateful for all the best things she receives in her life.
Give her a feast to remember. With the much relaxed quarantine restrictions, dining out has never looked so appealing.  Enjoy sumptuous meals with the whole family featuring all her favorite dishes. From appetizers to main courses to desserts, you can have them all at SM malls' wide array of casual dining restaurants, buffet concepts and food kiosks. Get discounts as much as 50% off and freebies! Dine in style and check out the Instagram-worthy outdoor dining areas where the whole family can dine safely.
Surprise her with all-day pampering. SuperMoms always love some "me" time, so why not make it a whole-day tour of some of her fave stress-relieving places? Start by booking a Spa day to get her hair and nails done. Next, make a stop at her preferred stores for some exciting retail therapy to match her new 'do and fresh nail polish. On May 2 to 4 and 6 to 8, The SM Store gives P300 off for a minimum P3,000 single-receipt purchase plus 100 lucky moms have a chance to win 10,000 SMAC points on May 8.
Want a lasting pampering gift? Invest on Ogawa, the most innovative massage chair for a stress-relieving experience right in the comfort of your own home. Ogawa is available at SM City Olongapo Central and SM City Clark.
Cater to her sweet tooth. Sweeten mom's day by surprising her with special baked goodies that will surely boost her moods.  Check out homegrown and most loved cakes of Edna's Cakeland with their aesthetic "Paro-Paro" inspired cakes, lip-smacking goodness from Toll House with their Strawberry Jam cake, Sweet & Fancy dark and decadent Dome Mousse Cake and Brownies Unlimited Strawberry Rose cake and I LOVE MOM block brownies – all these are perfect for gifting this Mother's Day.
Edna's Cakeland is available at SM City Cabanatuan; Toll House is available at SM City Clark and City Telabastagan, Sweet & Fancy is available at SM City Pampanga and Brownies Unlimited is available in all SM malls in Central Luzon.
Make her bloom even more. Nothing says "I love you" better than a fresh bouquet of beautiful flowers that would definitely make her grin from ear to ear. Get your lovely bouquets at SM Supermarket's fresh flowers section. Visit SuperMom's Fair bazaar available at all SM malls and indulge Moms with fresh and dried flowers and succulents. Get a gorgeous shot of mom at the blooming set-up for Instagram.
Arrange a special date for SuperFurMom. Fur-moms deserve a bonding date with her fur baby, too. Indulge in a fun and exciting activities together like photo sessions in twinning outfits plus special deals and discounts the SuperFurMom will surely enjoy. Just visit the Paw Park at participating SM malls to experience this paws-ome treat from May 7 to 8.
Go the extra mile for Mom with these great bonding ideas for Mother's Day at her favorite SM malls in Pampanga, Clark, Tarlac, Olongapo and Cabanatuan. Bookmark www.smsupermalls.com or like and follow @smsupermalls on all social media platforms for more information.