Giving a big lift, PLDT Home's dominance is attributed to "sustained rollout of an already expansive network" that bolstered Home's first quarter fiber only service revenue by 74% from the year-earlier period, or by ₱4.7 billion, to a record high ₱11.1 billion. 
This was disclosed today in a First Quarter briefing by PLDT's top executives that included its Chairman Manuel V. Pangilinan, PLDT and Smart President and CEO Alfredo Panlilio. Chief Financial Officer Annabelle Lim Chua, Corporate Communications and Media Group Head Catherine Yap Yang, among others.
"We're moving in lockstep with our customers' shifting needs as COVID-19 restrictions ease. Our superior, reliable integrated network continues to sustain hybrid work and learning set-ups, keep loved ones connected online, deliver entertainment content, as well as support businesses and e-commerce," said Panlilio,.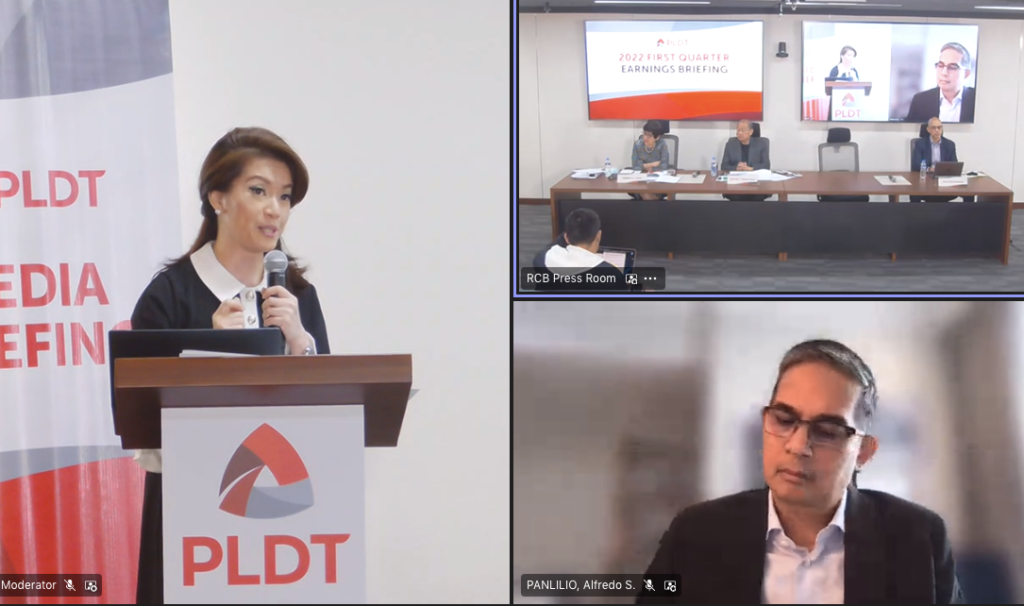 PLDT also reported that aside from Home, its Enterprise also largely contributed to 1Q earnings. Data and broadband, PLDT said grew by 8% or ₱2.8 billion to ₱36.6 billion, contributed 79% to CSRs.
Telco Core income, excluding the impact of asset sales and Voyager Innovations, reached ₱8.2 billion, up 9% or ₱0.7 billion from the same period last year, in line with guidance. Reported Net Income jumped by ₱3.3 billion or 56% to ₱9.1 billion.
Solidly Home
Including other businesses, total Home service revenues increased 25% year-on-year or by ₱2.7 billion to an all-time high ₱13.6 billion. Home pushed total fiber capacity to 6.25 million ports following the completion of 480,000 additional ports for the first quarter of 2022.
This gives Home extra capacity to complete the migration of ADSL within the first half of the year, significantly reduce the remaining subscribers on copper, and sufficiently address the strongly growing demand for faster Internet access. Home ended the first quarter with more than 3.1 million fiber subscribers continuing its momentum this year in spite of the hurdles posed by the Omicron surge and Typhoon Odette.
Fiber-only revenues now account for 82% of total Home revenues, up from 59% from a year ago. Demand for home broadband is expected to remain robust as the Philippine home broadband market remains underpenetrated and as the 'next normal' will continue to be a hybrid model with work- and study-from home set-ups. Given PLDT Home's brand equity and improved installation capability, the PLDT Group anticipates this segment's growth momentum from 2021 to be sustained into 2022.
Other Figures and Investment Returns
Consolidated EBITDA also grew 10% or ₱2.2 billion year-on-year to a record ₱25.5 billion, marking seven (7) consecutive quarters of growth. EBITDA margin was at 53% in the first quarter of 2022, from 51% in the previous year. Normalized for the impact of Typhoon Odette, EBITDA for the first quarter of 2022 would have been higher by 12% year-on-year to ₱26.1 billion.
Consolidated Net Debt as of the first quarter of 2022 amounted to US$4,424 million while net-debt-to-EBITDA stood at 2.33x. Gross Debt was at US$4,997 million, with maturities well spread out. Only 16% of Gross Debt are denominated in US dollars and 4% are unhedged. PLDT maintained its credit ratings from Moody's and S&P Global at investment grade.
Affirming the Company's balanced approach to capital management and consistent returns to shareholders, PLDT has been included in the recently launched PSE Dividend Yield Index (PSE DivY). Out of 20 companies included in the PSE DivY, PLDT shares the top position with a weight of 10%. The PSE DivY focuses on companies that consistently give high-yielding dividends, with the selection criteria including liquidity, free float, financials and the company's three-year average dividend yield performance.
'Groundbreaking Transaction'
The PLDT Group recently announced a ₱77 billion sale and leaseback deal in connection with 5,907 telecom towers and related passive telecom infrastructure–the largest ever acquisition of assets in the Philippines by international investors, representing a strong endorsement of the country's recovery from the pandemic and its long-term growth prospects. PLDT envisions a staggered closing for this transaction due to the quantum of towers to be transferred; the first closing is expected towards the end of May for about half of the towers, with the balance over the third and fourth quarters of the year.
Terms of the lease agreements are in line with running costs for Smart. Proceeds from the transaction are to be deployed largely for debt prepayment and debt avoidance which will translate to reduced financing costs. As a result, we expect earnings accretion of 10% post-completion, in addition to the onetime significant gain on disposal to be recognized.