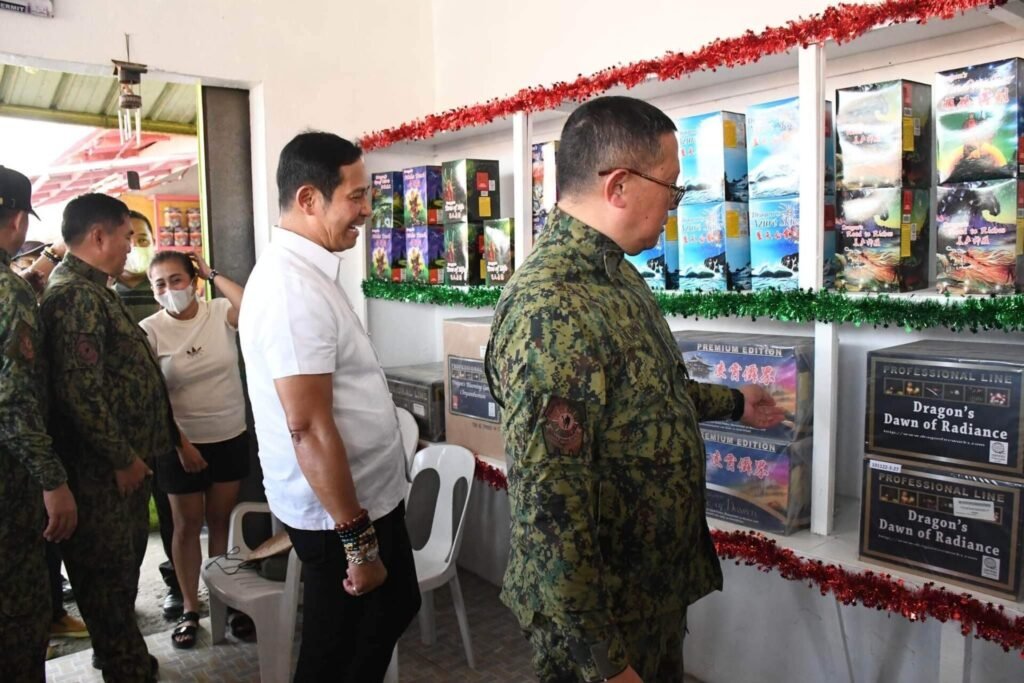 CAMP ALEJO J SANTOS — Two weeks before the holiday season, the Bulacan provincial government on Thursday joined the Philippine National Police (PNP) in inspecting the "Fireworks Capital" in Turo, Bocaue, Bulacan.
The joint inspection led by Philippine National Police chief Gen. Rodolfo Azurin, PRO3 director Brig. Gen. Cesar Pasiwen, Bulacan police director Col. Relly Arnedo,  Bulacan Governor Daniel Fernando along with Bocaue Mayor Eduardo Villanuena Jr. and the Bulacan Pyrotechnics Regulatory Board, was aimed at ensuring the firecracker and pyrotechnic dealers, sellers, and manufacturers comply with the implementing regulations and guidelines stated in Republic Act 7183 and Executive Order 28 as part of the PNP's ongoing crackdown on illegal firecrackers that are hazardous to the general public.
The Bulacan PPO's relentless campaign against illegal firecrackers resulted to the arrest of 21 offenders and the confiscation of a significant quantity of illegal fireworks such as Pla-Pla; Kabasi; Dugong; Sawa; variety of Kwitis; coned Whistle; Whistle Bomb; mini Kwiton; Luces; 5 Star; Higad; variety of Fountains; Pagoding; Rambo Pagoda; different layers of Pagoda; full Rc Close Pagoda; assorted paraphernalia such as cylinder cones, crumpled papers, pale of corn starch paste, small aluminum ladle, improvised concrete cone setter; assorted finished/unfinished firecrackers product; sacks of Sulfur Powder; Potassium Nitrate; Barium Nitrate; Potassium Nitrate; Black Powder; Aluminum Powder; bundle paper materials, bundles of wick (mitsa), and boxes of tubes.
Arnedo said the Bulacan police strictly enforces Executive Order No. 28 on all manufacturers and distributors of pyrotechnics in the province. He added that there are a total of 22 licensed manufacturers and 81 distributors and resellers in the province. Significantly, 60 of the 81 distributors and resellers are based in Bocaue.
The general public is once again reminded of the kinds of firecrackers that may be legally marketed and purchased and is encouraged to refrain from purchasing illegal firecrackers since doing so might threaten people's lives, limbs, and property.
"We urge the public  to adhere to the designated public fireworks display zone in each barangay where they can safely enjoy communal fireworks during the holiday season celebration," Arnedo said.