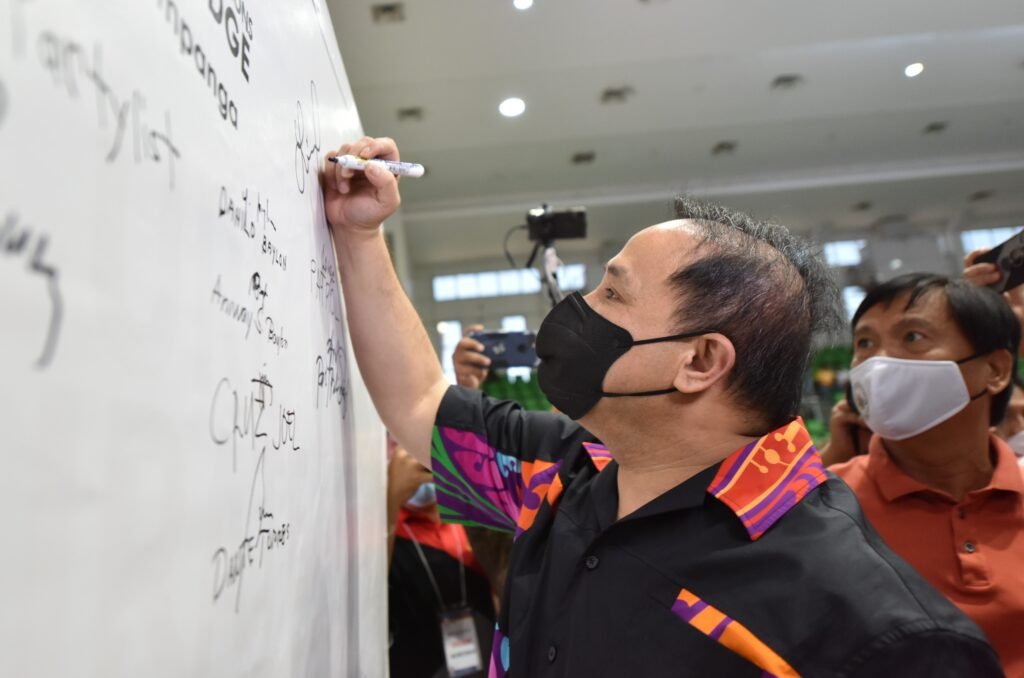 CITY OF SAN FERNANDO – Gov. Dennis "Delta" Pineda on Friday led 336 other candidates in signing a covenant for a Secure, Accurate, Free and Fair Elections (SAFE), expressing hope for peaceful and orderly polls this May 9.
"Ang dasal ko ay maging tahimik ang halalan natin sa Pampanga," the governor said after signing an integrity pledge prepared by the Commission on Elections (Comelec), displayed at the stage of the Bren Z. Guiao Convention Center in this capital.
On December 2021, the governor – who is seeking a second term – had advised voters in Pampanga to "respect choices" and to "be cool-headed."
The event, co-organized by the Department of the Interior and Local Government (DILG), drew in bets running for governor, lawmakers, party list nominees, board members, mayors, vice mayors and councilors in three cities and 19 towns including four districts.
Former President Gloria Macapagal-Arroyo, who is running unopposed for a congressional seat in the 2nd District, signed the covenant earlier.
However, 188 bets were not able to attend the event, according to DILG provincial director Myrvi Fabia.
Atty. Rommel Rama, provincial election director in Pampanga, reported no election hotspots in the province, but assured that the Comelec, police and military are closely monitoring the situation.
Col. Robin Sarmiento, provincial police director, said the national and local elections in Pampanga are expected to be peaceful, as the province has "no communist-terrorist groups, private armed groups or criminal gangs, or intense political rivalries."
Comelec officials briefed the candidates on Comelec Resolution No. 10732 on campaigning, Fair Election Act and calendar of activities.
"The Comelec should be thanked for initiating the signing of the integrity pledge. It is part of efforts to ensure peace and respect for right of voters to choose their candidates," Board Member Rosve Henson, a mayoralty candidate in the City of San Fernando, said.