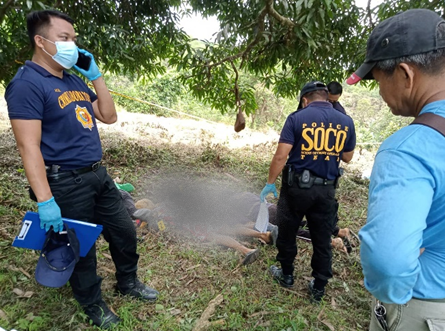 CAMP OLIVAS – Five men were found shot dead in a remote area in Dona Remedios Trinidad in Bulacan on Monday.
In a report submitted to Police Regional 0ffice 3 director Brig. Gen. Matthew Baccay by Dona Remedios Trinidad town police chief Capt. Eugenio de Ramos, the victims were identified as farmers Pampilo Bonaga, 55; Carlito Servano, 48; Pola Servano, Antonio Servano, 45; and Angelo del Castillo, 33, all residents of Sitio Armstrong, Bgy. Camachile, Dona Remedios Trinidad.
All victims sustained gunshot wounds. An investigation showed prior to their death, the victims were hired to cut the cogon grass in a remote and hilly area in Bgy. Camachile in Dona Remedios Trinidad.
The grassy area being cleaned by the victims was allegedly subject of a land dispute.
A companion of the victims, who was delivering lunch for the five, were shocked to see them bloodied and dead at 11:15 am on Monday.
De Ramos said prior to the killing, a witness living nearby heard gunshots at about 10:30 am on the same day. An investigation is ongoing.