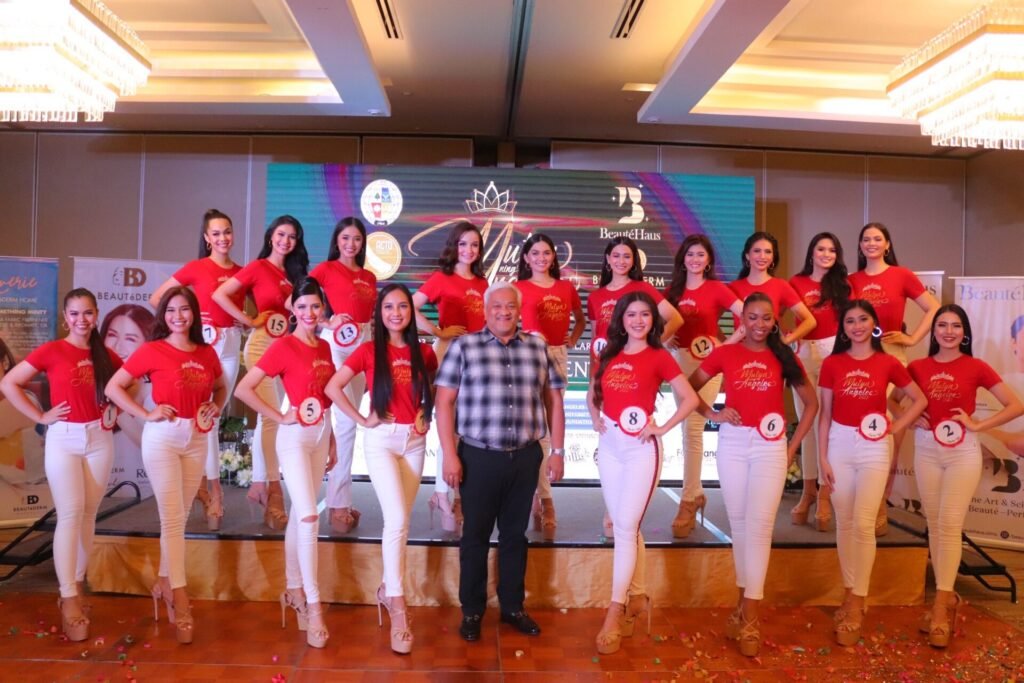 ANGELES CITY — The 18 candidates of the Mutya Ning Angeles 2022 were finally introduced today, Oct. 3, 2022 at the Best Western Hotel during the city government's press conference. 
Mayor Carmelo "Pogi" Lazatin Jr., who led the said press conference, said the city's events are not just about the celebration of beauty and wit and religious festivities but also the resiliency of Angeleños.
The prestigious pageant co-presented by the Beautéderm Corporation will hold its coronation night on Dec. 8, 2022 at the Grand Palazzo Royale.

The candidates are Kassandra Mae Manlutac (Sapalibutad); Eingel A. Lumbang (Sapangbato); Cayle Valerie Galang (Cutcut); Lyn Sharyl Julian (Mining); Allana Kashi Delima (Sta. Teresita); Janet Phoemela David (Lourdes Sur); Danica Malinao (Amsic); Giannine Danielle Batul (Capaya); Anya Bezaleel Balatbat (Claro M. Recto); Maricar C. Tanhueco (Pandan); Dynara Maurer (Balibago); Desielyn Layug (Lourdes Northwest); Marianne Kim Rada (Pulung Cacutud); Genica Cruz (Cutcut); Myrna Esguerra (Anunas); Anna Marie Suarez (Ninoy Aquino); Joanne Marie Thornley (Balibago); and Allyson Hetland (Pandan).
In addition, the pageant will showcase local suppliers and talents, including designers of the candidates' wardrobe and accessories made from beans harvested by the Aeta community in Barangay Sapangbato.

Included in the line-up of couturiers of MNA 2022 are Bhraye Adefuin; Jhune Angeles; Cholo Ayuyao; Clarence Ayuyao; Richard De Jesus; Enji Dobluis; RJ Guevarra; Bryan Henson; Carl John Miranda; Glenn Pablo; Rich Sabinian; Mitch Viray; and Manny Ocampo.

Activities for the upcoming 30th Fiestang Kuliat 2022, dubbed as "Kapagmasusian king Kuliat, Tapang at Tetagan da reng Angeleños", were also revealed, including the Kambal Festival (Oct. 8); significant religious celebrations such as the Triduum (September 29, 6:30 AM); Mass at the Holy Rosary Parish Church for the Feast of the Holy Guardian Angel (Oct. 2, 7 AM); Feast of Our Lady of the Most Holy Rosary of La Naval at HRP Church (Oct. 9); and Fiestang Apung Mamacalulu Mass at Apu Shrine on Oct. 28.

To promote and boost the city's tourism and local business, there will also be a Pamangan Fiesta featuring Kapampangan food on Oct. 8 organized by the Kuliat Foundation Inc. in coordination with the Angeles City Tourism Office; Calesin Tilbury Race at Jake Angeles Boulevard on Oct. 9, 1 PM; and a Trade Fair at Plaza Anghel on Oct. 17 to 26, displaying the One Town One Product store of the city managed by the ACEDIPO supervised by Manuel.

To further showcase talented youth, a Cultural Night at Plaza Angel will be held on Oct.15, a joint event of the KFI and ACTO.
An online Tigtigan Terakan King Dalan (TTKD) is set on Oct. 28; sports activity of Puldak Pulayi will be hosted on Oct. 29; as well as an off-road activity on Oct. 8 and 9, called the First Mayor Carmelo "Pogi" Lazatin, Jr. 4×4 cup at Vista Verde, in coordination with Angeles City 4-Wheelers Club Inc. and Angeles City Sports Office.
The MNA 2022 working committee, led by Executive Assistant IV Reina Manuel and Chief Adviser IC Calaguas, thanked the media for their support to the upcoming significant celebrations.
Other members of the working committee are Angeles City Tourism Officer-in-Charge Anneleen Antonio-Sugui, Angeles City Economic Development Investment and Promotions Head Irish Bonus-Llego, ACTO Consultant Cecille Flores-Sanchez, Frederick Policarpio, Rosette Ramos-Biag, Marlon Tuazon, G.R Esguerra, Poklong Guina, and Marna Dagumboy-Del Rosario.