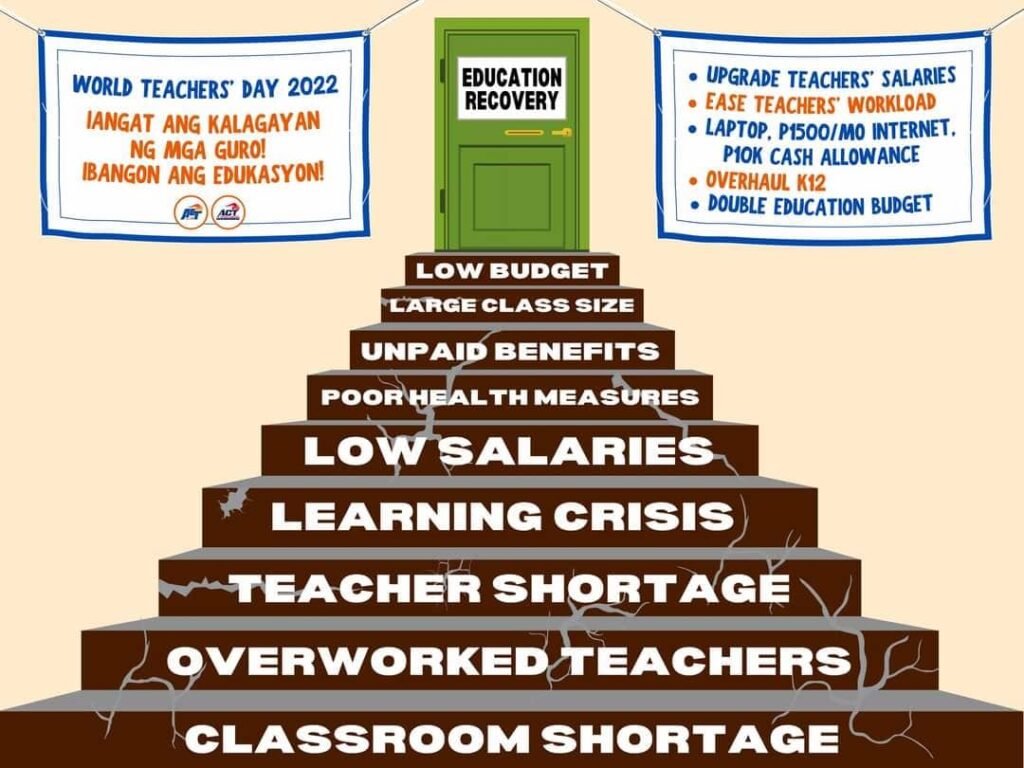 The Alliance of Concerned Teachers – Philippines (ACT), on Oct. 5, 2022, called on the government to once and for address the problems of teachers and of education, as President Ferdinand Marcos promised during his presidential campaign.
In a statement, the ACT said the administration should urgently heed the teachers' demands to upgrade teachers' salaries, ease their workload, and additional compensation for work outside of regular duties.
"We will not be able to propel education recovery without resolving the teachers' problems on overwork, low salaries and lack of government support. We will not be able to negate the impacts of the pandemic to education if the government does not effect bold and game-changing measures that can alter the course of our declining educational system," the ACT said.
The ACT said teachers' salaries should be raised: Salary Grade 15 for Teacher I; SG 16 for Instructor I; P30,000 minimum salaries for private school teachers; and livable national minimum wage for SG I employees and non-teaching personnel in private schools.
Among the other demands of the teachers' group are implementing four hours a day teaching time; junking the 15 days per year limit in granting service credits; provision of laptop, P1,500/month internet allowance, and P10k/year cash allowance to every teacher; implement evidence-based education recovery plan; overhaul K-12; double the education budget, equivalent to 6% of the country's gross domestic product; and fund for a safe school reopening.
"It is in the state of our teachers where the real situation of the educational system is best reflected. For at the end of the day, all troubles of education fall upon the shoulders of our teachers, who, as frontliners of education, are expected to conquer all so that learning can happen inside the classrooms. As such, uplifting the conditions of our teachers is central to education recovery," the group further said.
"Our education system is in the throes of crisis. The government must take care of our teachers who breaths life to it," the ACT said.