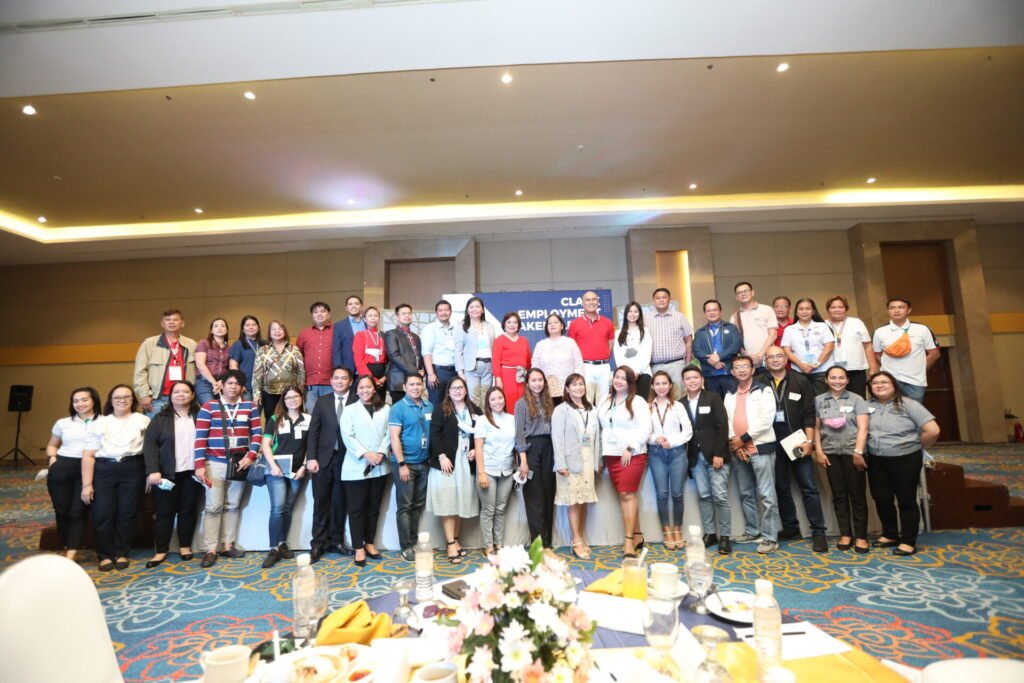 CLARK FREEPORT – Aiming to ease employment facilitation in this Freeport and in the province of Pampanga, the Department of Labor and Employment (DOLE) Region 3 in collaboration with the Clark Development Corporation (CDC) and the Clark Human Resource Council, conducted the first Clark Employment Stakeholders Forum here.
A total of 150 attendees, including human resource officers from various Clark locators and representatives from Local Government Units (LGUs) in Pampanga recently participated in the forum.
CDC President and CEO Atty. Agnes VST Devandera with Pampanga Vice Governor Lilia "Nanay Baby" Pineda, and Department of Labor and Employment (DOLE) Region 3 Director Geraldine Panlilio supported the said event which endeavors to promote strategies that will fast-track and meet the needs of both job seekers and employers in the Freeport and in the province.
"We have to be united in pushing for programs that will support and ensure the welfare of our employees here in Clark. This also goes to show the premium that we give to our workers inside and outside the zone. In approaching and resolving the issues, concerns, and problems faced by our workers, we should have that holistic and whole government approach," Devanadera said in her speech during the event.
Meanwhile, Pineda expressed her full support for the initiative to harmonize processes for workers and provide more job opportunities for Kapampangans.
"Gusto natin talagang bigyan ng priority ang mga workers dahil ang pangarap natin talaga ay yung walang maging problema at maging masaya ang mga workers natin dito sa Clark," Pineda added.
During the activity, participants were given updates on the programs and services offered by the Public Employment Service Office (PESO) of the Provincial Government of Pampanga; Employment Facilitation and Capability Enhancement initiatives of DOLE; as well as the manpower needs, vacancies, and placement services in Clark.
Other key officials who were present during the event are Mabalacat City Mayor Crisostomo Garbo, Angeles City Councilor Alfie Bonifacio, TESDA Provincial Director Eric Ueda, Pampanga 1st District Board Member Krizzanel "Win-Win" Garbo, CHRC President Mikel Leroi Balansag, and CDC Assistant Vice President for External Affairs Rommel Narciso.
Some of the Clark locators who took part in the activity also include Amertron Incorporated, Alpha Aviation Group Philippines, Backroom Offshoring Incorporated, Baynant Inc., Berthaphil Inc., Best Element Industrial Limited Inc., BMG Outsourcing Inc., BW Manufacturing Corporation, CGC Technologies Incorporated, Charterlink Clark Inc., ComClark, Dnata Travel Incorporated, Evertrust Business Solutions Inc., Foton Motor Philippines, Hansa Creation Inc., HMWS Inc., Intertech Marketing Sales and Services Inc., Troycor Philippines Inc., ITM Force Mapower Corp., Jamco Philippines Inc., Jansen International Fashion Co. Limitec Inc., Luenthai International Group Philippines, MDM Systems Inc., Mercedes Benz Group Philippines Inc., Nanox Philippines, O&G Leather Manufacturing Corp., Outback Fivestar Clark Philippines Inc., and PSMC Philippines Inc., Rockport Administrative Support Services.
Also present during the forum are representatives from Shore 360 Inc., Starboard Manpower Services Inc., Sunvalley Clark Corporation, Sutherland Global Services Philippines Inc., Swissotel Clark, Twist Resources Inc., Wyndham Services Asia Pacific Inc., SIA Engineering, Sumidenso Automotive Technologies Asia Corporation, Yokohama Tire Phils. Inc., TRT Shared Services, and Hilton-Clark.