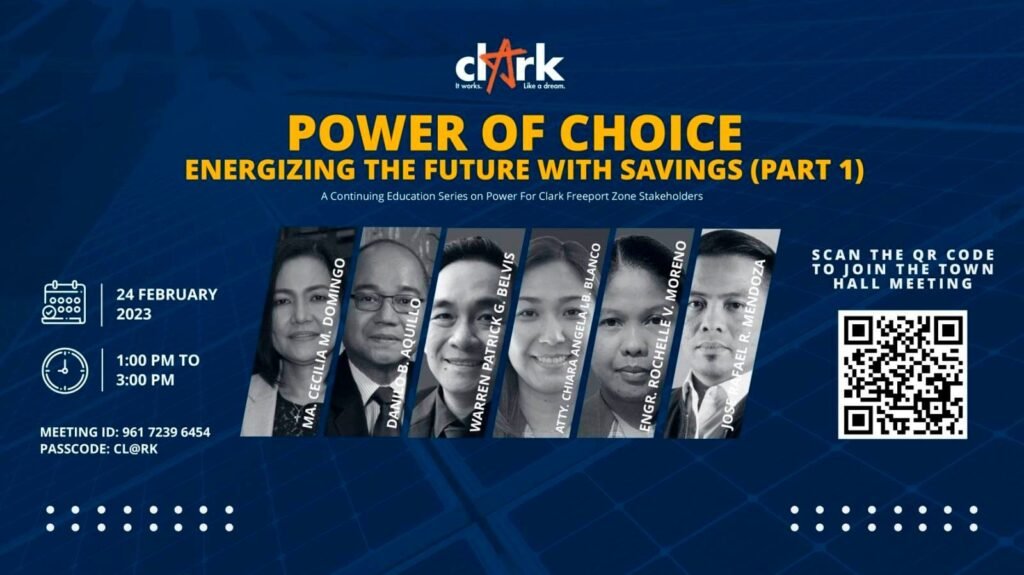 CLARK FREEPORT — The Clark Development Corporation (CDC) will conduct a series of educational forums that are aimed at addressing key issues and concerns of locators, investors, and other stakeholders in this Freeport starting on Feb. 24.
To kick-start the educational series, the first leg of the program dubbed as "Power of Choice: Energizing the Future with Savings Part 1" will be held via virtual conference on the said date from 1 PM to 3 PM.  This activity will focus on the significance of renewable and sustainable energy and its impact to future developments on business, economy, and in the country.
The line-up of speakers includes MERALCO Enterprise and National Government Department Vice President and Head, Ma. Cecilia M. Domingo and MERALCO Enterprise and National Government Department Head of Energy Services, Danilo B. Aquillo.
Domingo and Aquillo will both discuss Demand Side Management while San Miguel Global Power Holdings Corp. Regulatory Department Manager and Compliance Manager Warren Patrick Belvis will share his knowledge on Retail Electricity Suppliers and the Green Energy Option Program.
Meanwhile, Philippine Solar and Storage Energy Alliance (PSSEA) President and Board Member Jose Rafael Mendoza will talk about "Solar Rooftop: Economics and Environment of Renewable Energy." Mendoza also leads the Renewable Energy Business Development of Shell Renewable Generation in Singapore.
Completing the roster of speakers are Chief Energy Regulation Officer Atty. Chiara Angela Blanco from the Contestable Market Division and Chief Energy Regulation Officer of the Licensing and Market Monitoring Division Engineer Rochelle V. Moreno who are both from the Energy Regulatory Commission (ERC) to share their expertise on Pointers for Contracting.
Through this program, CDC aims to provide a platform for stakeholders to enhance their knowledge and understanding of critical issues that affect their businesses and operations in the Freeport. The program also seeks to facilitate productive discussions and engagements among the stakeholders, as well as foster stronger partnerships between the private and public sectors.
The series will be conducted on a regular basis throughout the year with schedules and topics to be announced beforehand. The lectures will also be open to all stakeholders and other interested groups or individuals from the private and the public sectors.
CDC President and CEO Atty. Agnes VST Devanadera encourages Clark stakeholders to take part in the said educational series.
"We believe that by providing our stakeholders with the right information and tools, we can help them make informed decisions that will ultimately benefit their businesses and the CFZ as a whole. Through the Continuing Educational Series, we hope to build a stronger, more vibrant and sustainable business ecosystem in the Clark Freeport Zone (CFZ)," added.
Devanadera believes that it is essential to explore and utilize energy sources that are not only efficient and cost-saving but also sustainable and environmentally friendly. "We hope to contribute to a more informed and sustainable future for all," she said.
Interested participants on the first leg of the educational series may register by visiting the CDC Official Facebook Page or join via the Zoom ID: 961 7239 6454 with the passcode Cl@rk.