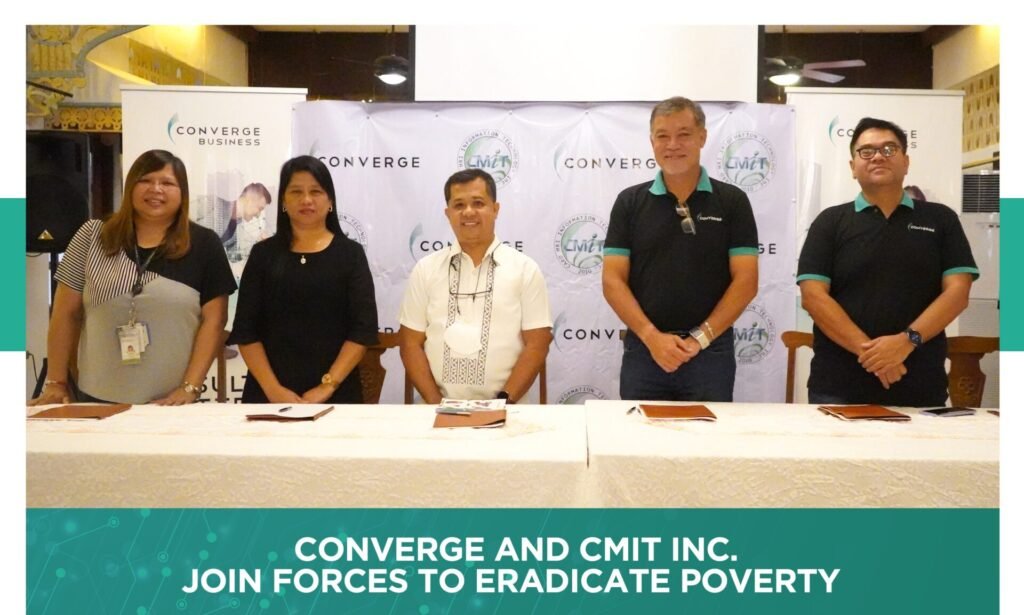 Leading fiber broadband provider Converge ICT Solutions Inc. (PSE:CNVRG) and the primary IT provider for Philippines' largest microfinance and microinsurance CARD MRI Information Technology (CMIT), Inc. cemented a partnership to give more than 8.8 million Filipinos seamless access to financial services.
CMIT Inc. is a member-institution of CARD Mutually Reinforcing Institutions (CARD MRI), a group of 25 organizations that offers financial, non-financial, and community development services in the hardest-to-reach communities in the country. Through the partnership, Converge's high-bandwidth enterprise-grade connectivity solutions will help increase the productivity of CARD MRI's operations and will allow the group of institutions to adapt to a rapidly advancing corporate digital landscape.
"CARD MRI has been around for more than three decades. Throughout time, we have transformed to meet the ever-changing needs of our clients. Now that we are in the digital age, we acknowledge how a reliable partner could make a lot of difference in how we deliver our services to our clients. With Converge, we take a leap forward in providing our programs towards our goal of uplifting the lives of our fellow Filipinos," said CMIT Inc. President Edgar V. Cauyan.
The alliance of the two companies echoes both the goals of Converge CEO and co-founder Dennis Anthony Uy of leaving no one behind through digital democracy and CARD MRI Founder and Chair Emeritus Dr. Jaime Aristotle B. Alip of financial inclusion and poverty eradication. Through Converge's innovative fiber-based broadband solutions, CARD MRI is able to boost its efficiency and effectivity in serving its clients and their families in far-flung areas where access to financial services is much needed.
"We are very happy with our partnership with CMIT because we share the same goal of being of service to all Filipinos. Access to the internet and financial services is much needed to eliminate both the digital divide and poverty in our country. We are honored that they chose us to help them optimize their connectivity," said Converge Chief Operations Officer Jesus C. Romero. "As allies, we are excited to be enablers of societal transformation and progress. We look forward to working together on how to better enrich and empower the unserved and underserved."
Converge and CMIT sealed the partnership through a signing event in San Pablo, Laguna. Also present at the ceremony are Converge National SME Sales Head Eldridge Frederick B. Aldridge, Converge Enterprise Regional Unit Head Erik Santos, CMIT Inc. Vice President for Corporate Governance Leyne G. Galicia, CMIT Inc. Vice President for Business Development Maricar L. Lopez, CMIT Inc. Chief Technology Officer Jigger M. Caneo, and CMIT Inc. Deputy Director for Finance Jinky Luya. Other key officers from Converge and CARD MRI were also present in the event.
Converge has been providing businesses and companies with secure, flexible, and dynamic enterprise-grade fiber solutions to support organizations like CMIT Inc. to ensure their businesses run smoothly. #ExperienceBetter with the fastest-growing fiber internet provider. To learn more about Converge Business Solutions, visit convergeict.com/business.