ANGELES CITY – Billionaire Dennis Anthony Uy gets another prestigious award with his continuing mission to provide pure fiber internet connection to millions of homes, especially during the pandemic.
The founder and CEO of Converge ICT was a recipient of the People of the Year Award 2022 by the People Asia, a member publication of the Stargate. He was cited for his trailblazing feats in information, communication and technology.
People Asia is published by Stargate Media Corporation headed by Philippine Ambassador to the US, Jose Manuel Romualdez.
During the awards, Uy was specifically honored for his IPO of Converge that now has P270.6-billion capitalization as of December last year after 14 months. The organizers also recalled how "he personally installed cables" after Mt. Pinatubo's eruption.
In his speech, Uy said that the award "validates the mission of Converge to connect people in unserved amd underserved areas of our country."
"We are delighted to connect 1.7 million homes, give them a lifeline during the pandemic when homes have become offices, schools and even entertainment centers," Uy added.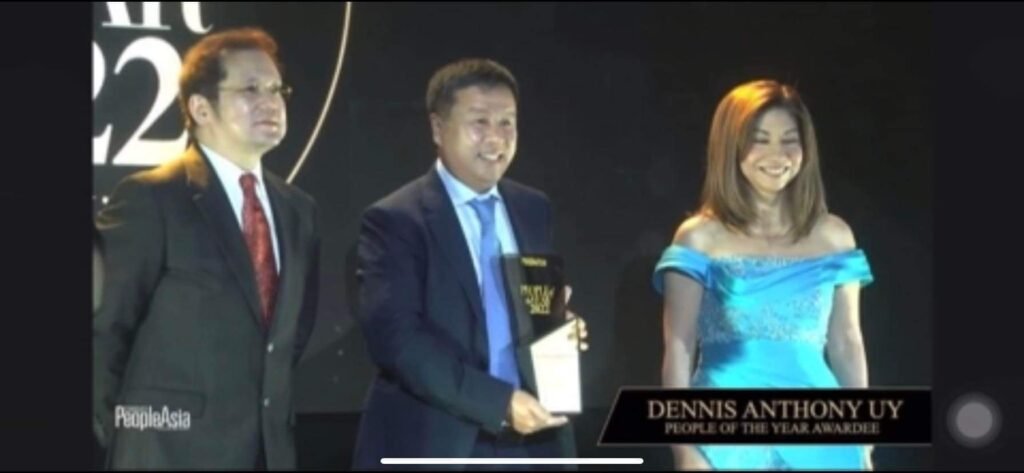 With recurring lockdown periods at the height of the Covid-19 pandemic since 2020, Converge has enabled many households to connect to the internet and conduct home business, class lessons and other forms of entertainment to help keep mental health checked. It has reached 10.9 households as of December 2021.
It has also provided free internet connections to government facilities like quarantine, isolation, testing and vaccination centers
Uy thanked People Asia for "inspiring recognition" as well as his wife Grace, co-founder and CEO of Converge.
"We will continue to reach more Filipinos to give them world-class broadband connectivity. This is our lifelong promise to our mission," he said.
Converge's early beginnings can be traced to the video rental shop of the Uy siblings where Dennis served as shopkeeper in the 1980s. They also pioneered cable television network in Angeles City, Mabalacat, Clark Freeport when no company would dare invest in the area due to Pinatubo's eruptions and lahar flows in the mid 1990s.