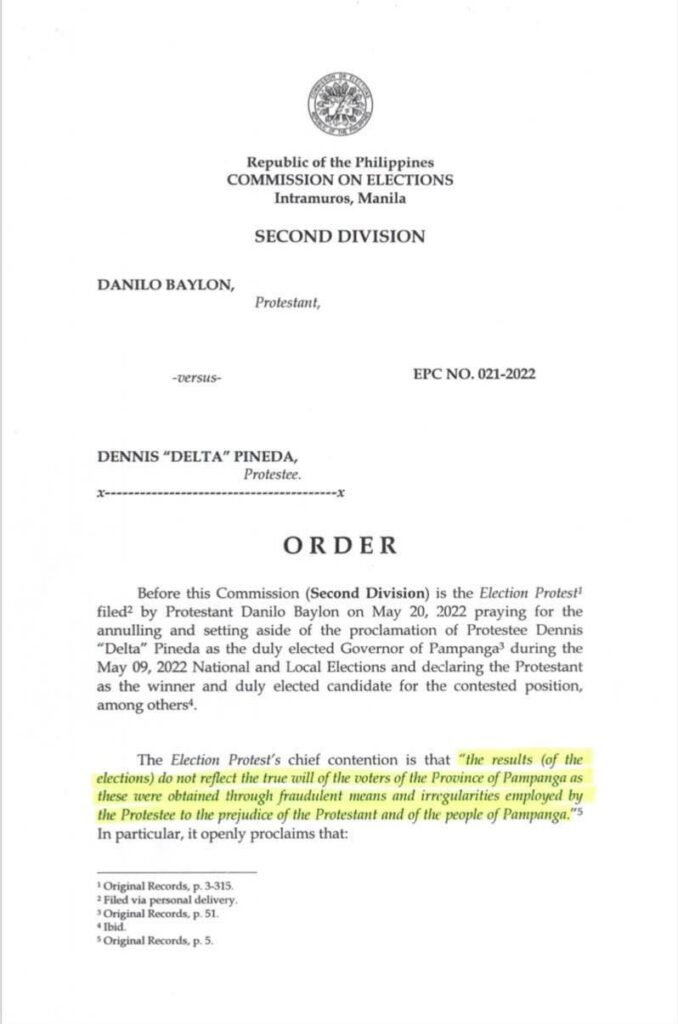 CITY OF SAN FERNANDO — The Commission on Elections' Second Division has dismissed an election protest filed by defeated gubernatorial candidate Danilo Baylon against second-termer Governor Dennis 'Delta' Pineda.
In a 10-page order received by Pineda's office on Aug. 4, the Second Division ruled that the protest of Baylon was "insufficient in form and content as required in Section 7 (g), Rule 6 in relation to Section 9 (b), Rule 6 of COMELEC Resolution No. 8804, as amended."
The order, dated July 15, was signed by Second Division Presiding Commissioner Marlon S. Casquejo and Commissioner Rey E. Bulay.
To Baylon's allegations of irregularities and massive vote-buying, the Second Division stated: "The non-specification of the material facts such as names of the persons involved, the time of occurrence and the precincts where the allegations transpired render these averments blatantly unjustified and groundless."
A part of the order read: "Though defeat in any elections is desolating for the losing candidate, an election protest must not be mused as a vindication of a lost opportunity of the noble cause to serve the public, or worst, as an unjustified assertion of a wounded pride."
Pineda beat Baylon by garnering 668,787 votes in the two-way race, according to a certified true copy of a provincial certificate of canvass.
"Ang order po ng Comelec na i-dismiss ang election protest ay tama at makatarungan kasi po naniniwala po ako na hindi mabibili ang mga Kapampangan," the governor said.