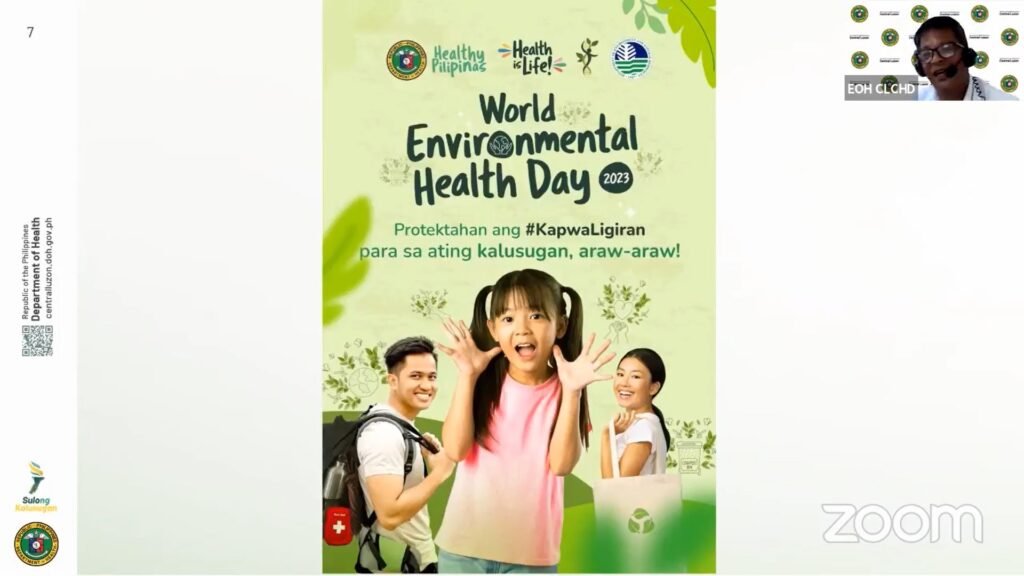 TARLAC CITY — The Department of Health (DOH) Central Luzon Center for Health Development (CLCHD) enjoins the public to maintain a clean and healthy environment for a healthy body, in line with the celebration of World Environmental Health Day on Tuesday, September 26.
In a virtual presser, DOH CLCHD Environmental and Occupational Health Cluster Engineer III Allen Inductivo emphasized that one in every four mortalities worldwide can be claimed as environmental health related. 
"The main objective of World Environmental Health Day is to spread awareness among people across the globe about environmental health. It is all about endorsing the well-being of humans through the well-being of the environment," Inductivo said.
Environmental Health focuses on the aspects of human health and diseases that are determined by environmental factors.
It also refers to the assessment and control of environmental factors that can potentially affect health.
"This is critical because the affected population is not only matured individuals but also children, senior citizens, individuals with compromised immune systems, and individuals with poor nutrition," he added.
Among the diseases or causes of deaths considered are Chronic Obstructive Pulmonary Disease, acute watery diarrhea, tuberculosis, cancer, and accidents.
Apart from the activities of DOH, other national government agencies and local government units, ways to participate in the advocacy include planting trees, conserving water and electricity, practicing proper waste disposal, avoiding open burning, and joining clean-up drives.
Moreover, everyone can contribute by reporting individuals or organizations who go against environmental laws to appropriate authorities for proper guidance, warning, or imposition of penalties.
This year's celebration of World Environmental Health Day carries the theme "Protektahan ang #Kapwaligiran para sa ating kalusugan, araw-araw."