With the resumption of classes and the start of the "ber" months, the EcoWaste Coalition again took the opportunity to warn consumers against the presence of unsafe toys in the market, especially those sold near schools.
As part of its annual toy safety monitoring project ahead of Christmas Day, the group collected 50 assorted toys sold within the immediate vicinity of some public elementary schools in Malabon, Mandaluyong, Manila, Navotas, Pasay, and Quezon Cities, and in Montalban, Rizal.
The toys were purchased from sari-sari stores and street vendors for P5 to P60 each and examined for potential dangers that can put the health and safety of a child at risk.
Out of the 50 toys, not even a single one meets the requirements of Republic Act 10620, or the Toy and Game Safety Labeling Act.
Toy labels should provide the following labeling information as per RA 10620: LTO Number issued by FDA; age grading; cautionary statement/warnings; instructional literature; manufacturer's markings with complete name and address of the local company; and item model or Stock Keeping Unit (SKU) number.
And not even one of the 50 toys has a valid Certificate of Product Notification, which means that the toys being offered for sale to school children lack the required market authorization from the Food and Drug Administration (FDA) and may be unsafe to play with.
Moreover, none of the 50 toys provided information about their chemical composition and toxicity. For example, none of the five clay and slime products are labeled or marked "non-toxic."
Since unauthorized toys have not undergone quality and safety check, the use of such toys, according to the FDA, "may result to health risks including, but not limited to, endocrine disruption and reproductive or development effects, or may result to injury, choking or suffocation due to its small or broken parts."
Based on the physical examination of the toys purchased, at least 20 toys posed a choking hazard for having small components or parts that are not strongly attached, can break or detach easily and be swallowed by a child.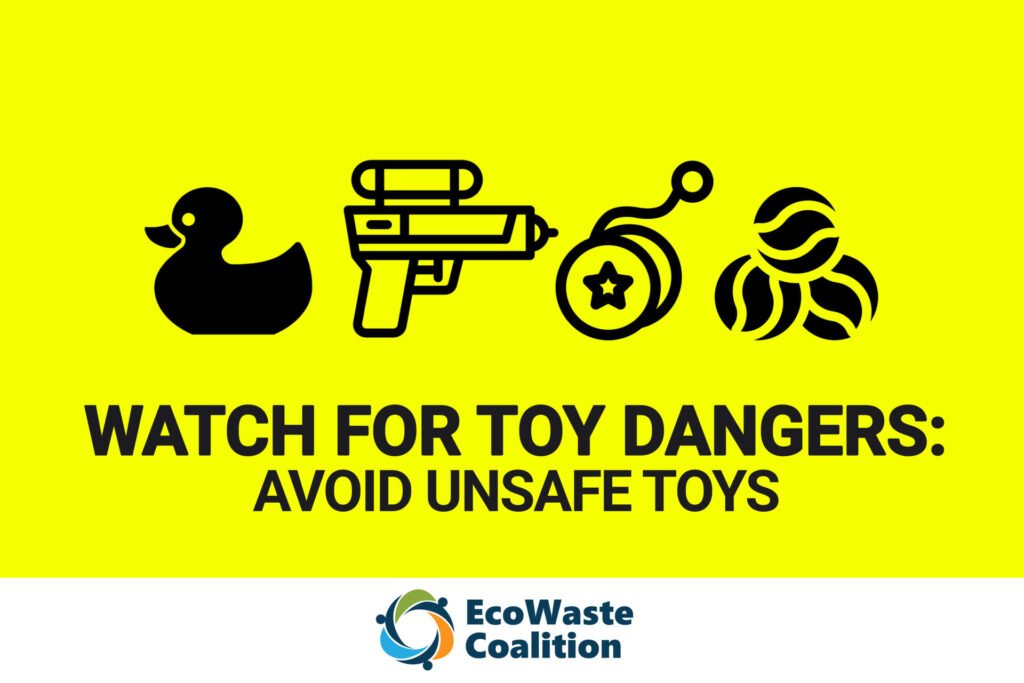 To protect school children from unsafe toys, the EcoWaste Coalition again released its toy safety reminders for the information of all consumers, especially the parents and other toy givers:
1. Choose age-suitable toys.  Check the recommended age on the product label and select the one that is appropriate to your child's age, abilities, habits, and maturity level.
2. Pick toys that are durable and well-made.  A sturdily made toy will last longer and will be safe for parts that could break or fall apart with frequent use. Detached or shattered parts could injure or pose a choking hazard to a curious child.
3.  Shun toys with small parts to reduce the risk of choking.  Marbles, tiny balls and toys with button cell batteries and small components pose a choking risk.  As a general rule, toys and toy parts should be bigger than a child's mouth.
4.  Avoid toys with a cord longer than 12 inches to prevent strangulation incidents.  Toys with a cord or string longer than 12 inches can be deadly as it can wrap around the neck and asphyxiate a child.
5.  Go for injury-free toys.  Refrain from procuring toys that can injure a child's ears, eyes, skin and body such as toys with pointed parts, sharp edges and those that can eject small objects such as toy pellet guns.
6.  Reject lead painted toys.  Refuse painted toys if there is no assurance that the paint used is safe from lead, a neurotoxin.  Lead paint has been banned in children's toys to prevent childhood lead exposure that can result in intellectual impairment, mental retardation and behavioural problems, among other adverse effects.
7. Avoid toys made of polyvinyl chloride (PVC) plastic. PVC plastic toys contain chemicals additives such as toxic phthalates that can leach out when a toy is chewed or sucked.
8. Patronize duly labeled and authorized toy and childcare articles (TCCAs). Notified TCCAs have undergone quality and safety assessment by the FDA.