MABALACAT CITY — Mabalacat City Mayor Crisostomo Garbo emphasized the 12 pillars in his administration in his inaugural speech, after taking his oath together with the elected public officials of the city at the SMX Convention Center on Friday, June 30.
Vice Mayor Atty. Gerald Aquino and city councilors Jun Castro, Noelito Castro, Carlo Dizon, Timothy Paul Llanos Dee, Jerry Magsino, Cherry Manalo, Rox Peña, Liza Pineda, Marjorie Sambo, and Victor Tiglao II also took their oath whom are all under Team MCG.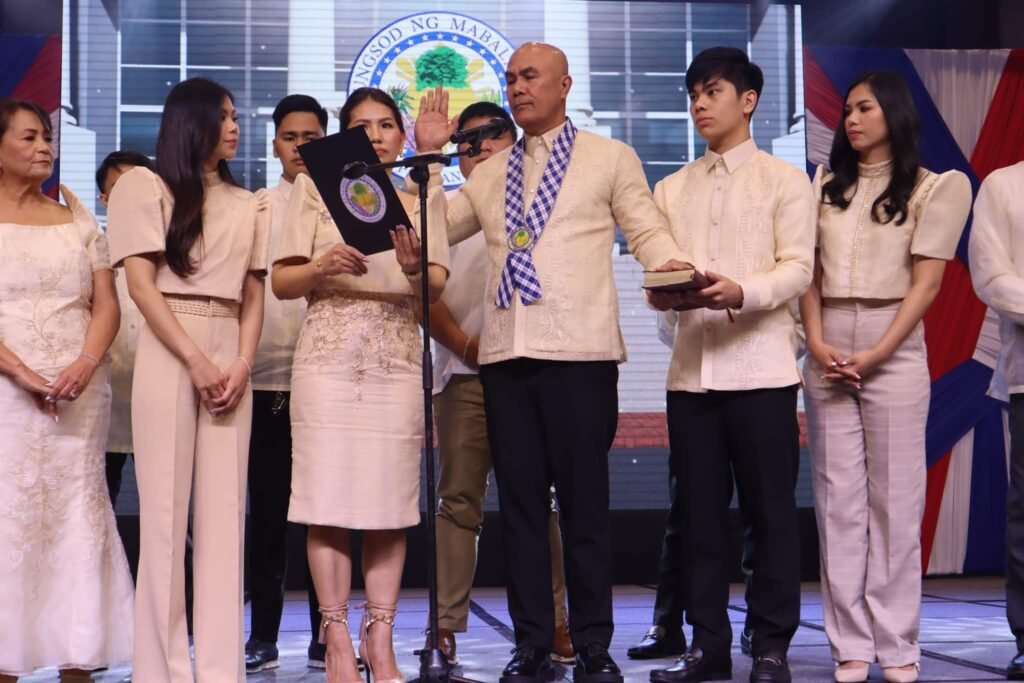 In his inaugural speech, Garbo tackled the 12 pillars in his administration: healthcare, education, economic recovery, job opportunities, tourism, strong moral values of citizenry, digitalization, environment, peace and order, resilience building and crisis mitigation, investment, and poverty reduction.
These 12 pillars will echo Garbo's second term to symbolize their historic win under his leadership.
Giving priority to healthcare, Garbo announced his plan to build a Wellness Center which will provide immediate and supplementary healthcare assistance to every Mabalaqueños.
Garbo also revealed that the Mabalacat City College (MCC) will soon be declared as the city's first university within his first 100 days.
MCC has been recognized by the Commission on Higher Education as one of the local universities and colleges (LUC) in Central Luzon to receive the Gawad Parangal Institutional Recognition in 2021.
Garbo pointed out that the MCC will be the first school in the country to have Huawei smart classroom technology. Five classrooms, he said, will be soundproof and fully equipped with audio, camera, and a digital white board with behavior monitoring for hybrid learning.
A groundbreaking ceremony is also set for a 4-storey building at the Dapdap Campus.
Garbo expressed his optimism for Mabalacat City in leading the race in tertiary education as most achievements are unprecedented in LUC history. He believes that through education, every family's socioeconomic status will improve.
For economic recovery, Garbo said he will continue to provide financial assistance and resources to micro and small businesses to augment the income of families that have been affected by the pandemic. He added that the package will now include business and financial literacy.
Garbo also plans to create opportunities and generate jobs for the Mabalaqueños as part of his fourth pillar. The public employment service office, he said, will remain active in looking for employment opportunities.
At the same time, Garbo revealed that some 200 farmers are already undergoing Korean language training at the MCC as a prerequisite for the Foreign Seasonal Workers program. He said that these farmers will also go to South Korea to join the overseas workforce and eventually come home to bring a better life for their families.
"Hopefully we will be sending more and even tap other industries. Also, in the next 100 days, I will personally go to Korea with my team to seal other opportunities such as this in a different city. Jobs, jobs and jobs are what we will bring whether to upskill the workforce or look for employers," he said.
For tourism, Garbo said, a conversion of the Mabalacat railway station is set to become a function hall for cultural and heritage promotion. With the recent renovation of the Gabaldon and old town hall, he added that these will turn into venues for cultural activities, art exhibits, and other events organized by the Mabalacat City tourism and cultural council.
Garbo also announced that the city acquired a P500,000 grant from the Department of Labor and Employment which will be handed over within the next 100 days to the indigenous peoples in this city to supplement their capital in producing tourism souvenirs.
Under Garbo's leadership, strong moral values of citizenry will be demonstrated amongst all Mabalaqueños including those in public service. All senior citizens will be given a P500 monthly subsidy in recognition of their efforts that may help supplement their current needs.
"These are our elders who were once productive and devoted their time and effort for community-building. It is just but fair to appreciate them during the twilight of their life. E man makanta karagul ing amount pero it's our small way of letting them know that all their efforts in the past are still recognized up to this day," he said.
The seventh pillar is the digitization of information and services in the city. For ease of doing business and increasing efficiency further, an online option will make the process more convenient as it can also streamline all government transactions.
Proper waste disposal is also among Garbo's priority in his second term. Plans to plant more Balacat trees are also set within his first 100 days including monitoring to ensure sustainability.
To date, Mabalacat has 300 Balacat trees which are all protected by environmental policies and markings.
"With the help of the Department of Science and Technology, we are developing a sanctuary for the propagation of this tree that carries our name," he said.
Garbo revealed that a state-of-the-art command center is being worked on to improve the promotion of peace and order in the city. CCTVs will also be installed in major thoroughfares as well as the establishment of an emergency hotline number for immediate emergency response.
As part of the expansion of his initial nine pillars, resilience building and crisis mitigation for the city has been added under priorities. Garbo said an improvement on this field will help the city adapt well to adversities and prepare for significant disasters and the effects of any crisis.
"I can say that generally, Mabalacat City is a peaceful city and we want to keep it that way. Any emergency, this administration is there for you," he assured.
"We've seen how disasters and the pandemic caught us off guard. Yes, we did respond well. Madalas on time tayo pero may mga parte pa rin na nakikita ko that we can improve. We still need to plan and prepare so we can do better," he said.
He also plans to create an investment office to help attract possible investors in the city. The investment office, Garbo said, will help deliver data, statistics, figures, special features and future developments for the investors to help them decide to invest in this component city.
To complete the 12 pillars under Garbo's leadership is the reduction of poverty. Garbo admitted that this has been one of the challenges since the beginning of his administration in 2019. He added that the Mabalacat City government will continue to provide assistance to every Mabalaqueño.
Grateful to every Mabalaqueño for their trust and confidence in this city based on what has transpired from his first term, the mayor also reported that the city was able to fully utilize the budget for its planned progress and development.
To further enhance the symbolic 12-0 win, Mabalacat City will also continue to aim for zero COVID-19 fatal cases and mortality.
"At the end of the year, lahat ng pera natin dapat ginagamit sa mga proyektong naka-plano. That is a great zero to end the first term. We did not underspend or overspend but utilized our budget fully. That kind of report is our goal each year and of course with transparency."