Artist rendition of the very first of its kind $3 billion golf resort complex
Not one, not two, but three world-class golf courses nestled in an upcoming luxury township will emerge at the New Clark City (NCC), ushering in an entirely new landscape not just in host Tarlac province but also in the whole of Central Luzon region.
If plans won't miscarry, Hann Development Corporation (HDC) will complete the three golf courses by 2028 which are all crafted by famous players-turned-designers like Nick Faldo, Jack Nicklaus and Asian golf legend KJ Choi. HDC is a subsidiary of Hann Group of Companies (HGC) which also operates an integrated casino resort inside Clark Freeport that hosts Widus Hotel, Marriott Clark, Swissotel and Hann Casino.
The three 18-hole golf courses, to be completed starting 2026 through 2028, are located at the so-called Hann Reserve, a 450-hectare, US$4-billion ultra luxurious integrated golf resort complex in NCC.
Hann Group of Companies Chairman Dae Sik Han (2nd from left) with BCDA President Aileen Soza, golf course design associate John Cope and Asian golf legend KJ Choi during the media launch of the 18-hole golf course designed by the player designer.
Dae Sik Han, HGC Chairman, said that the three courses are designed to bring in competitive international golf tournaments like those sanctioned by the Professional Golf Association (PGA). He made the announcement during the media launch for the valley course designed by Choi.
(Marna del Rosario)
"I'm pretty certain that his (Choi) experience as player and designer, we can come up with something very nice like a championship golf course which can host even a PGA tour. I think that is one of the most important, unique of these three courses," Han said when asked by this writer about the distinct features of the fairways.
Year to Year Excitement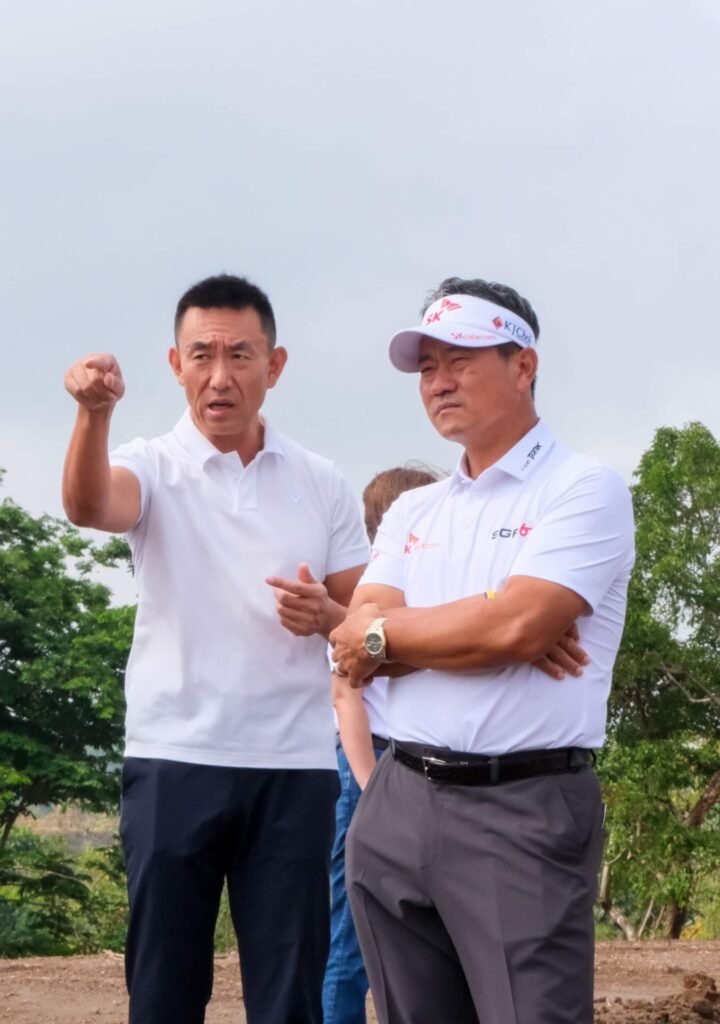 Han and Choi discuss unique features of the 3 world-class golf courses to be built at 450-hectare Hann Reserve in New Clark City
As with Choi's other signature golf courses around the world, players can expect a challenging but enjoyable and rewarding course that is designed with utmost attention to detail, working with the unique lay of the land and highlighting the locale's natural strengths and features.
"It is my utmost pleasure to be a part of this landmark integrated resort development in the Philippines and to offer a memorable golfing experience for Filipino golf enthusiasts and visiting players alike," said Choi.
Han and Choi during the launch (Marna del Rosario)
"We are excited and proud to create a truly world-class golfing experience befitting Clark as an equally world-class leisure and entertainment destination," he added. 
By 2026, the first golf area — a mountain course designed by Jack Nicklaus — will be completed, along with a clubhouse and Banyan Tree hotel and residences.
A year after, the valley course designed by the most successful professional Asian golfer will also be finished while that of Nick Faldo's is slated for completion in the latter part of Hann Reserve's second phase of development by 2028.
Aside from three 18-hole championship golf courses and PGA-affiliated player development facilities, Hann Reserve will also have super luxurious hotels and resorts by Accor and Marriott International, clubhouses, a mixed-use commercial center, premium villas and residences, an international school and a 10-hectare curated public park.
"Hann Reserve is truly envisioned as being one of a kind and a model for sustainability and eco-tourism that celebrates the local environment, culture, heritage and community, explained Hann Philippines Inc. vice president for corporate planning, development and compliance Neki Liwanag.
The Very First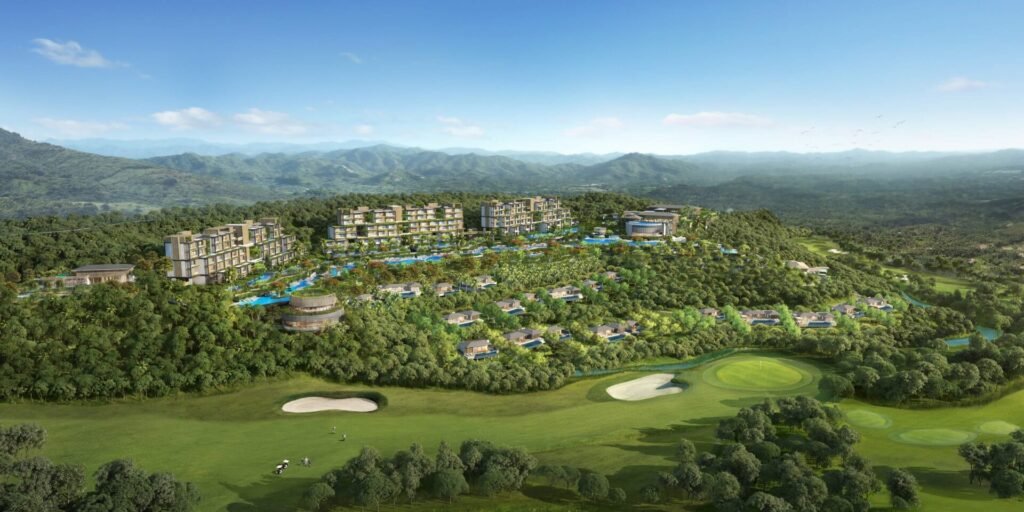 Artist rendition of the very first of its kind $3 billion golf resort complex
Hann Reserve is the first of its kind in Clark and in the Philippines as an integrated leisure lifestyle development with a unique golf resort concept, designed to be the most luxurious and preeminent in the region.
It is complemented with sought-after international luxury hotel brands Banyan Tree and Angsana Resort, Sofitel and Emblems by Accor, and The Luxury Collection and Westin by Marriott International; as well as a mixed-use commercial center and casino, along with exclusive residences supported by establishments such as an international school and a public park.
Bases Conversion and Development Authority President Aileen Soza has commended the Hann Group for bringing in to the NCC a landmark development in the country and the region.
"This is the first of its kind not just in Pampanga, not just in Central Luzon, but also in the Philippines and in the region", Soza said during the media launch.
BCDA is the government administrator of the NCC.
From Small to Integrated
What started as a small hotel 15 years ago with about 30 rooms has flourished into one of the most exciting tourist destinations in Clark today. From its original name Hotel Vida to Widus Hotel, the property inside Clark Freeport is now known as Hann Casino Resort that is highly patronized by local and foreign tourists.
What used to be the location of a bar and night club "Forbidden City" (formerly Bobbit Theater) in the mid 1990s was turned into a family getaway by Dae Sik Han, the visionary behind Widus and Hann resort complex. From a small travelers hotel, he put up one tower after another tower, setting the trend on what has become a symbol not just of Clark's fame as a tourist destination but also its much deserved spot in the integrated resort industry.
(Marna del Rosario)
As the first fully integrated resort in Clark, Pampanga, it is the ultimate luxury playground north of Manila. It offers refined pleasures with its world-class grand casino, diverse entertainment options, excellent facilities and 5-star hospitality brands like Swissotel and Clark Marriott. With 18 restaurants, bars and cafés under one roof, Hann Casino Resort provides a gastronomic journey of indulgence on local flavors and international cuisines.