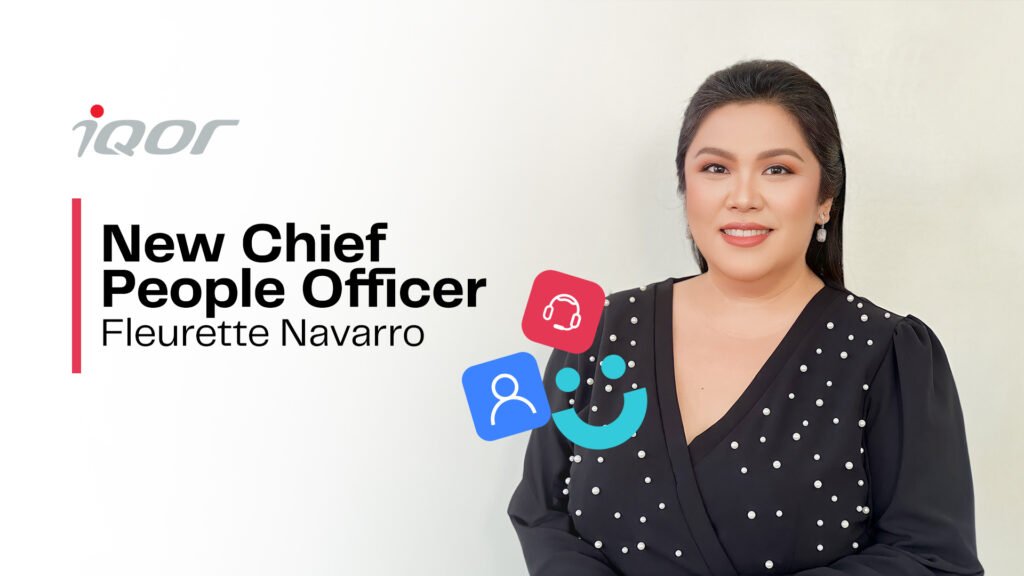 iQor has announced the appointment of its Chief People Officer (CPO), a newly created global position that focuses on guiding best practices for the company's global human resource and recruitment functions.
The promotion and appointment of Fleurette Navarro showcases the company's people-centric approach and commitment to empowering women in key leadership positions, cementing iQor's status as one of the Great Places to Work in the Philippines, and as a company that champions gender equality in the ASEAN region.
It is also a testament of iQor's continued investment in global human resource leadership to meet increased demands and expansion into new territories.
As CPO, Navarro will focus on talent acquisition and retention, employee development, cultivating positive workplace culture, and the strategic globalization of HR programs.
Moreover, Navarro's appointment as CPO upholds global standards of having men and women represented more equally in key leadership positions, which is in line with the UN Sustainable Development Goals of gender equality and empowerment.
iQor believes in fostering an inclusive culture that unlocks innovation and drives meaningful change to benefit employees, stakeholders, and the industry as a whole.
At iQor, women comprise 58% of the workforce and 29% of the executive leadership team. In the past 15 months alone, iQor has attained 52% diversity in leadership hires and promotions. iQor is committed to providing equal opportunities for career growth and development that value the quality of one's work and pave the way for a more equitable future.
With 23 years in the BPO industry, Navarro brings extensive experience and a nuanced perspective to her role as a woman in a leadership position. Navarro has served as head of operations for global companies such as HSBC, CapitalOne, and Tata Consultancy.
"I have developed a deep understanding of the BPO industry through roles in operations, account management, training, quality assurance, and human resources for the past two decades," she shared.
Navarro's aim in this newly created position will be to unify iQor's global human resources, recruiting, compensation, and benefits under her direction and leadership to ensure a consistent, people-centered and integrated experience. "I am excited to begin this new part of my journey with iQor," said Navarro. "I will continue to advance our talent acquisition, employee development, and workplace culture through a strategic lens to ensure iQor remains a great place to work."
Navarro has consistently advanced iQor's human resources initiatives throughout her six-year tenure. She has also managed a high-performing human resources and global recruiting team, where she has demonstrated exceptional leadership skills and the ability to empower those around her. Navarro also played an instrumental role in helping iQor work through the pandemic by building relationships with the government and putting actions in place to safeguard employees and the business.
As a member of the executive team, Navarro will report directly to iQor President and CEO Gary Praznik.
"Flo has been a passionate advocate for all iQorians and has exemplified our shared belief that our strength lies in our diversity and the unique contributions of each team member. I am confident that under her leadership, our human resources and recruiting team will continue to thrive and create valuable employee experiences that make people smile," said Praznik.
According to research done by Grant Thornton International Ltd., in 2021 around 48% of senior management positions, across various industries in the Philippines, were held by women. And in their global 2023 Women in Business Report, women in mid-market companies hold 32.4% of senior management positions around the world. These statistics show that more and more companies around the world, particularly in the Philippines, are continuously committed to gender diversity in key leadership positions — iQor included.
As demonstrated by the numerous initiatives that Navarro has led, her leadership has played — and will continue to play — a vital role in empowering more women leaders in senior management positions at iQor.