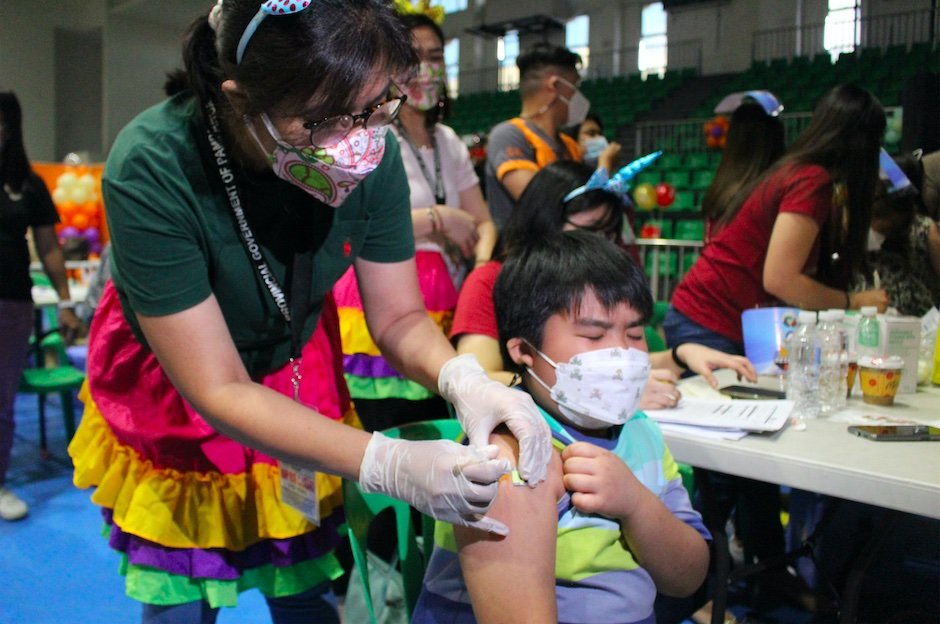 CITY OF SAN FERNANDO — Kapampangan children aged 5 to 11 started receiving the first dose of reformulated Pfizer vaccine, as the province begins the roll-out of the Resbakuna Kids COVID-19 pediatric vaccination drive at Bren Z. Guiao Convention Center.
The kids were treated with entertainment on the balloon-filled vaccination site with the presence of magicians, and mascots of famous superheroes such as Spider-Man, Iron Man, and Captain America to set a cheerful mood.
Governor Dennis Pineda appealed to the parents to not be hesitant in getting their children vaccinated, and trust the program of the national government so that their loved ones could be afforded protection against the disease.
 "To the parents and guardians, do not be afraid. It is unfair for our children if we are vaccinated, and they are not. I know, it will hurt our feelings more if it is them who contracts COVID-19, so let us give them the protection that they need. Let us help the national government in securing the health of our children," he pressed.
The official said that the pediatric vaccination drive is expected to be slower than that of the adult population, given that it is quite challenging to jab the kids, but assured to make the roll out as quick as possible to reach the about 317,095 children of the said age group in the province.
Also, Pineda announced that the provincial government will conduct a massive vaccination roll out for younger children on Saturday and Sunday, February 19 and 20, in select malls in the province.
"We scheduled it on a weekend so that the parents who are working on weekdays will be given the chance to give time to their children and accompany them in the vaccination sites. We target to jab 500 on Saturday in Robinsons Starmills, and another 500 each in Robinsons and SM City Pampanga on Sunday, on a first-come-first-served basis," he detailed.
Parents who opt to have their children vaccinated should bring a photocopy of the birth certificate of the children, and photocopy of the kids' identification card and that of the parent or guardian accompanying them.
Meanwhile, former Pampanga 4th district representative Anna York Bondoc-Sagum said she had her 9-year-old son vaccinated for him to be able to go and play outside, and attend face-to-face classes.
"The pandemic is really difficult for our family, and for all of us as parents. Our children cannot go outside, and what we can only do is accept it with a heavy feeling… My child even got a fever in January during the Omicron surge. I don't want that to happen again that is why we're having him vaccinated," she shared.
Another parent, Angelus Shane Almajar expressed relief that being vaccinated against COVID-19, her son who has autism will be able to go out and mingle with other children to help him in his development.
"My child's movement has been limited in the house only and he cannot play with other children that is why most often, he is sad… I am confident now that he got the first dose. Let us wait for the second dose so that they will be fully-protected," she stressed.
Experts say that young Filipino children have been particularly affected by quarantine measures which kept the schools closed and left them with no choice to stay indoors for about two years now, having negative effects on their mental health and overall development.