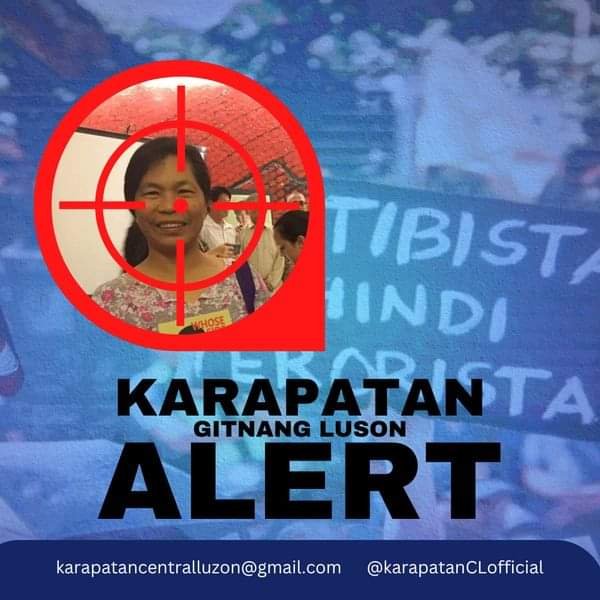 The Karapatan Gitnang Luson is demanding the Department of the Interior and Local Government Region III to fully investigate the alleged harassment of an official of the Bagong Alyansa Makabayan Gitnang Luson (BAYAN GL).
BAYAN GL Secretary General and Regional Coordinator of ACT Central Luzon Au Santiago has reported that she was incessantly being followed and surveilled by men riding a motorcycle.
She observed that the tail followed her from her place of residence in Pampanga early morning today, and did not stop stalking her despite several transfers and changes of transport vehicle.
She also reported that some men looking for her, allegedly identifying themselves as personnel of DILG Region 3, had visited her daughter's residence yesterday evening. In fear, her daughter did not open the door nor accommodate the men.
Later that night, Santiago received a text message asking that she refrain from blocking their number.
Prior to these incidents, Santiago had been receiving messages from these men, identifying themselves as operatives of DILG Region 3, asking her to 'cooperate' with the government. Alongside the message are threats like 'kilala ka namin, alam namin kung sino ka sa CPP-NPA-NDF'.
Santiago had a constant target on her back threatening her life, liberty, and security because of her work as a human rights defender in the region. She was also the life partner of environmental defender Willem Geertman, who was allegedly a victim of extra-judicial killing.
Related incessant attacks on her, specially during the pandemic, are fully documented and submitted to the Commission on Human Rights Region III.
"We condemn these atrocious attacks on progressive activists and human rights defenders perpetuated by the NTF-ELCAC," KARAPATAN said.
"We reiterate our call to end the threats, harassment and attacks against human rights defenders, for perpetrators of such attacks to be made accountable and for the abolition of the NTF-ELCAC," the group added.