Facing life's crises, including the pandemic, pushed her to accomplish more – learning how to paint and eventually becoming a self-made artist.
Heidy Macabenta hurdled the challenges thrown her way – a mild cerebral stroke, COVID and pneumonia. Add in there asthma episodes and other medical conditions too.
Yet, this single mom did not only remain strong but also excelled where she laid her hands (and attention) on.
She is one of the participating artists in the ongoing Pamiaduangan (Cooperation) Visual Arts Exhibit in Mabalacat City in observance of the National Arts Month. The turnaround from being a mere dreamer into a real painter took only less than two years.
Starting to paint only in May 2020 or at the height of lockdowns and restricted movements, Heidy has now created and sold about 50 paintings.
She started doing abstract forms sans details until she got her own distinct style where her contemporary arts got more elaborate if not intricate. Thanks to the work-from-home schedule that their office imposed, she found the time to start the craft and vastly improve it even before she and her co-workers got called to back-to-desk office hours.
HER KIND OF WORK
Drawing inspiration from the works of art masters Picasso, Warhol, Dahli, Heidy's distinct style evolved from the simple abstracts to modern ethnic-based patterns and figures.
They are described as "highly immersive works characterized mostly by her culturally and emotionally charged abstracted portraits imbued with a stunningly original steampunk-cum-art nouveau contemporary vibe."
Some of her works are currently on display also at Limitless Art Exhibit at Clark Museum, the Pamamunla Art Exhibit of Angeles City at SM Clark.
In Mabalacat City, she sold her very first painting in an art exhibit when Mayor Crisostomo Garbo spotted her "Beauty in The Chaos" right at the opening day of the Pamiaduangan Art Exhibit at Mabalacat Elementary School.
FULFILLMENT
"Just to be able to paint is already an accomplishment for me," says the woman painter who made an executive career in the BPO world.
"I never thought that I will be in this (art) industry," says this relatively budding artist but is now on her fourth participation in an art exhibit.
"I visited some galleries and have admired art pieces in the past. In those visits, I remember wishing that I could do the same (create paintings). But who would have thought that I will be able to do that during a pandemic?" she mused.
While she admits and hopes to be able to stage her solo exhibit, she states: "It feels good when people appreciate your work," says Heidy, stating that the fulfillment resides in people recognizing one's artistry.
"Even if the paintings are not bought, the mere fact that they got noticed, especially by other artists, is already enough for me," she adds.
From her own artworks comes valued-added merchandise where she transposes her paintings in shirts and face masks that Heidy also creates. She has a new canvass in "Hydz in Colors" line of clothing and "Mask" where the new face garnishment serves as replica of her paintings. Both products make use of sublimation print process and are sellable online.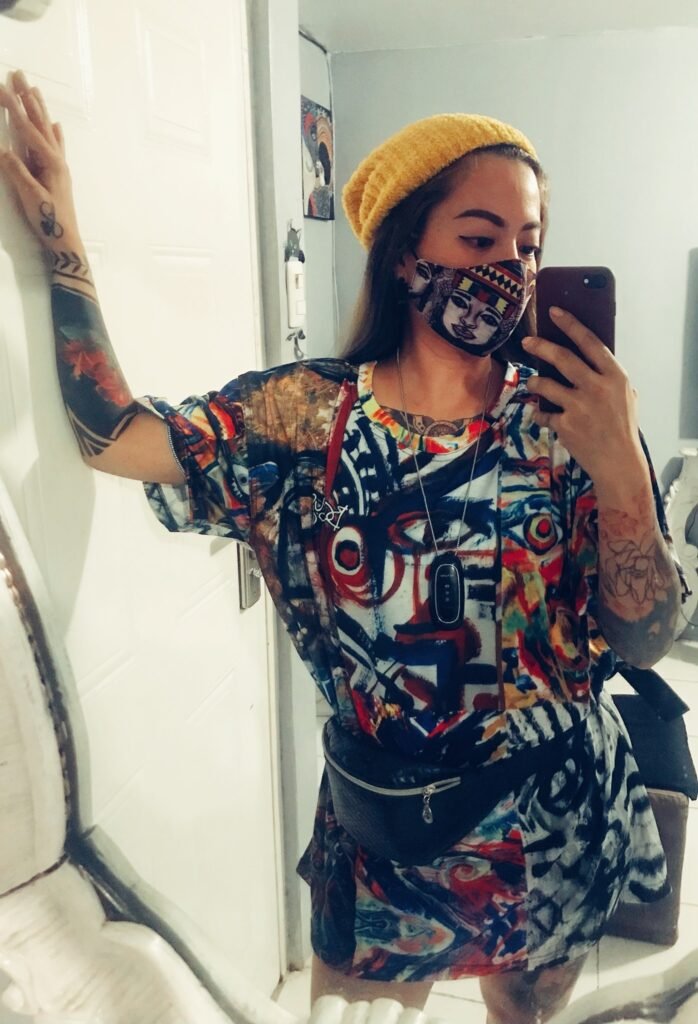 THE CHALLENGE
Being raised (and schooled too) in the US, Heidy is the typical independent woman. Strong-willed at that.
While pandemic, struck, pneumonia and COVID kept her bearings intact, she can only be thankful for learning a new skill, deal in a new trade, excel in craftsmanship.
But all that entails increasing demand – for more designs, for more art pieces, for participation in exhibits. This also translates to paint commissions, deadlines and even anxieties.
Would she just concentrate on painting for a living?
"I wish I can do full time but I also need to work. I am trying to finish some work for an upcoming exhibit but I have limited time. I also need to rest," says Heidy.
If she could earn a living out of painting that would take care of bills (and probably her own self) then she could probably leave office work and focus on her creations.
While still deciding what to pursue, one thing is sure for her – life's joys and frailty.
"I thought life is too short. We should enjoy it and do what makes us happy.  That is why I'm more encouraged to paint. To paint more," she beams.