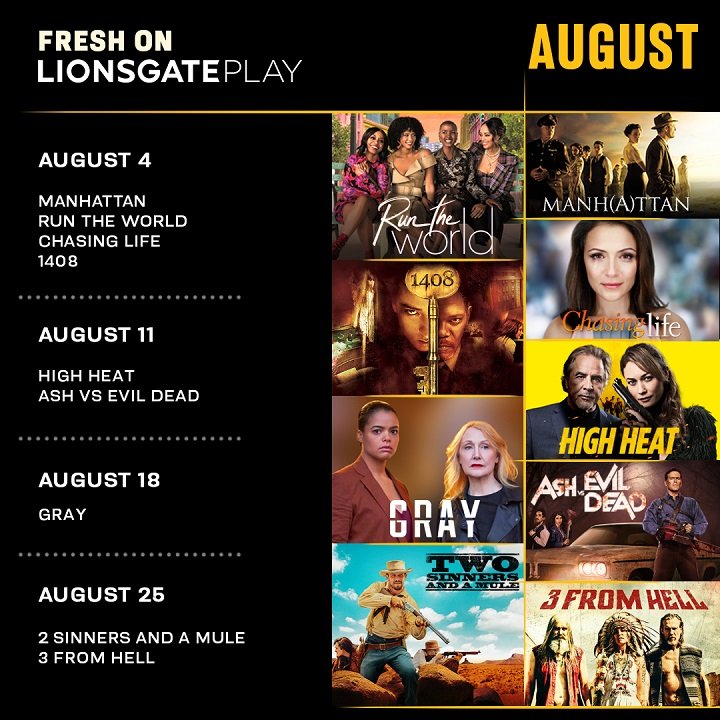 Making plans for August? Whether you're a drama enthusiast, a thrill-seeker, or simply a lover of cinematic brilliance, Lionsgate Play has got you covered. With an impressive roster of exclusive blockbusters and engaging series at your fingertips, you're set to experience a rollercoaster of emotions right from your living room. So, gear up and get ready to immerse yourself in a world of incredible entertainment!
Exclusive to Lionsgate Play
Movie Premieres
High Heat – Release Date: 11th August 2023
In this action-packed crime thriller, Ana (Olga Kurylenko), an ex-KGB operative turned chef, finds herself targeted by the local mafia, who are hell-bent on collecting on her husband's (Don Johnson) debt by targeting her new restaurant. Now, Ana must rely on her lethal skills as she embarks on a deadly rampage to eliminate the entire crime syndicate one by one to save her restaurant and survive the night.
Two Sinners and a Mule – Release Date: 25th August 2023
After being kicked out of their small town due to their sinful behavior, Alice (Chantelle Albers) and Nora (Hannah James) journey to Virginia City to make their dreams come true and open a restaurant. Along the way, they stumble upon an injured bounty hunter named Elden (Cam Gigandet). Seizing an opportunity for a share of the reward, they nurse Elden back to health and join forces to track down their target, Grimes (Cord Newman). However, things get complicated when both Nora and Alice develop romantic feelings for Elden. And unbeknownst to them, Grimes is hot on their trail, turning the hunters into the hunted. Will they be able to survive this dangerous pursuit and fulfill their dreams? Find out in this thrilling tale of love, adventure, and survival in the Wild West.
Series Premieres
Run the World Season 2 – Release Date: 4th August 2023
A vibrant series set in Harlem, Run the World follows the lives of a group of ambitious and dynamic lifelong best friends with Southern roots. In Season 2, Whitney (Amber Stevens West), Renee (Bresha Webb), and Sondi (Corbin Reid) continue navigating their careers, relationships, and personal growth while striving for world domination. With wardrobes ready for any occasion, these women epitomize the perfect blend of aspirational glamour, relatable authenticity, and the power of thriving together.
Gray – Release Date: 18th August 2023
In the thrilling espionage film Gray, CIA spy Cornelia Gray (Patricia Clarkson) emerges from two decades of hiding, evading government agents who believed she was a traitor. Returning to her former life, Gray discovers that there is now a new mole within her old spy network. As she navigates the dangerous world of espionage, Gray must uncover the identity of the mole and protect her own life in a high-stakes game of trust and betrayal.
More exciting content this month
Manhattan (Seasons 1 & 2) – Release Date: 4th August 2023
Step into the secretive world of World War II's Manhattan Project and experience the emotional journey of the scientists and their families as they navigate love, loyalty, and the weight of their groundbreaking work. Starring Rachel Brosnahan, Michael Chernus, and Christopher Denham, Manhattan offers a unique blend of historical inspiration and fictional storytelling, providing a gripping and thought-provoking exploration of this pivotal moment in history.
Ash vs. Evil Dead – Release Date: 11th August 2023
In this thrilling film, Bruce Campbell reprises his iconic role as Ash Williams, the chainsaw-handed monster fighter from the Evil Dead films. After three decades of avoiding responsibility and evil forces, Ash finds himself facing a new deadite threat. When Ash's careless actions unleash a deadly plague of supernatural creatures, he must once again battle against the forces of darkness to save mankind. Accompanied by his loyal sidekick Pablo (Ray Santiago), enigmatic Ruby (Lucy Lawless), and moody wild child Kelly (Dana DeLorenzo), Ash embarks on an epic quest to stop the impending destruction. With humor, horror, and non-stop action, Ash vs. Evil Dead delivers a thrilling and nostalgic continuation of the beloved franchise.
Tune into Lionsgate Play on PLDT Home to watch all these exciting premieres.