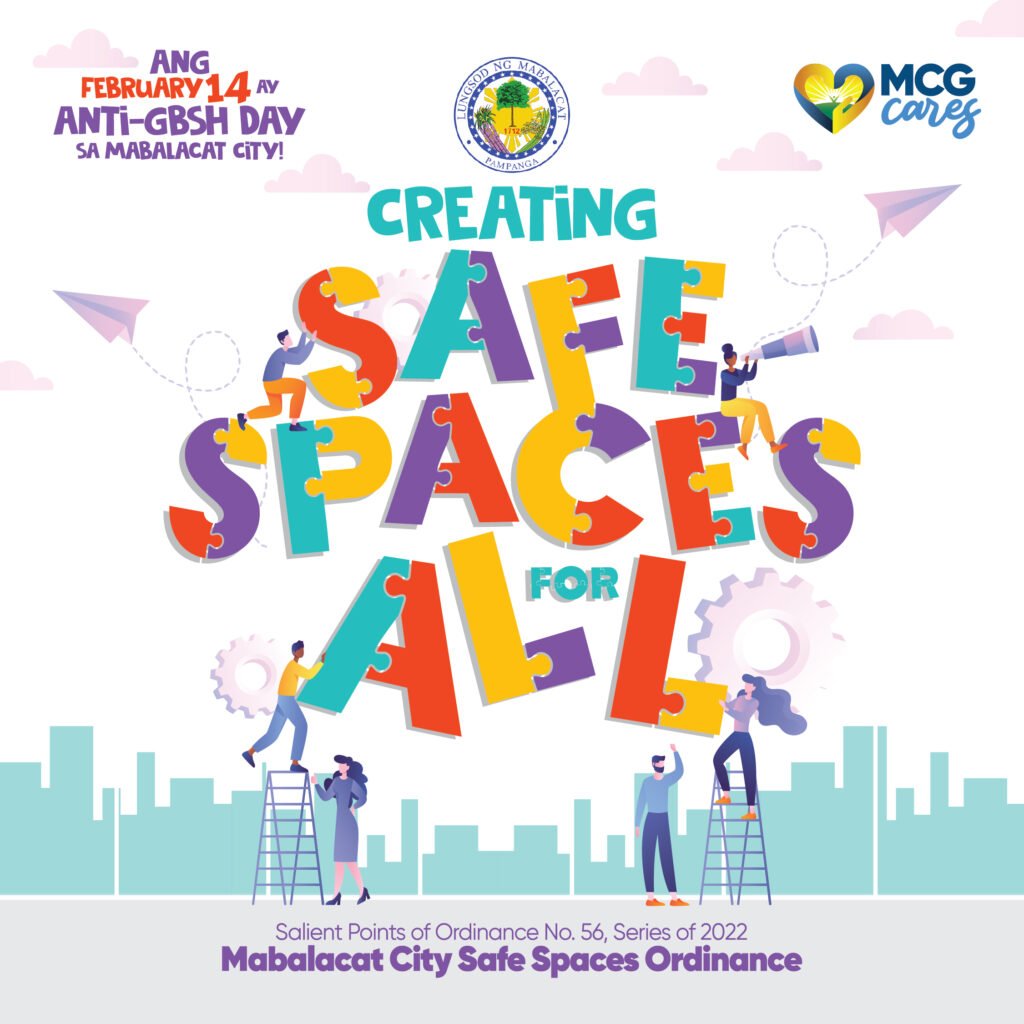 MABALACAT CITY – Ordinance No. 56, Series of 2022 or the Safe Spaces Ordinance (SSO) of Mabalacat City, has been passed by the Sangguniang Panlungsod led by Vice Mayor Gerald Guttrie Aquino, on final reading.
The SSO localizes the provisions of Republic Act 11313 or the Safe Spaces Act, echoing Mabalacat City Government's commitment to uphold and value the dignity of every human person and guarantee full respect for human rights.
This means putting an end to gender-based sexual harassment (GBSH) in various community set-up such as in streets, public spaces and transportation, workplaces, educational and training institutions, and even in cyberspace.
"The offenses of GBSH are committed through unwanted, unsolicited, unwelcome actions of a sexual nature or remarks referring to a person's sex, gender, and/or sexuality regardless of the motive for committing such actions or remarks," the ordinance states.
GBSH in public places, under the Mabalacat SSO, include catcalling, wolf-whistling, misogynistic, transphobic, homophobic, and sexist slurs; persistent uninvited comments or gestures on a person's appearance; relentless requests for personal details; statement of sexual comments and suggestions; public masturbation or flashing of private parts, groping, making offensive body gestures at someone, and other similar lewd sexual actions.
Any advances, whether verbal or physical, that is unwanted and has threatened one's sense of personal space and physical safety which may include cursing, leering and intrusive gazing, and taunting; persistent telling of sexual jokes, use of sexual names; and stalking, are also considered GBSH.
Meanwhile, offenses in cyberspace include physical, psychological, and emotional threats, unwanted sexual misogynistic, transphobic, homophobic, and sexist remarks and comments online whether publicly or through direct and private messages; invasion of the victim's privacy through cyberstalking and incessant messaging; uploading and sharing without the consent of the victim any form of media that contains photos, voice, or video with sexual content.
Any unauthorized recording and sharing of any of the victim's photos, videos, or any information online; impersonating identities of victims online or posting lies about victims to harm their reputation, or filing false abuse reports to online platforms to silence victims, are also considered GBSH.
In workplaces, educational and training institutions, GBSH may be committed through an act or series of acts involving any unwelcome sexual advances, requests, or demands for sexual favors or any act of sexual nature, whether done verbally, physically, or through the use of technology such as text messaging or electronic mail or through any other forms of information and communications systems that create a hostile environment affecting an individual's employment, education, training, job performance and/or opportunities, regardless of whether the sexual advances, requests or demands for sexual favors be accepted or not.
Ordinance No. 56 also establishes mechanisms on how barangays, institutions, and establishments may address cases related to GBSH such as the establishment of Barangay Anti-Sexual Harassment Enforcer and Responder (BASHER) and Committee on Anti-Sexual Harassment (CASH), and the mobilization of Mabalacat City Police, the PNP Anti-Cybercrime Unit, and the Mabalacat City Traffic Enforcement Group (MCTEG) as an added force to monitor and apprehend GBSH crimes.
Private establishments are also urged to designate GBSH personnel and security personnel to apprehend GBSH offenders.
The city also expects the full cooperation of workplaces and educational institutions by establishing their own Committee on Decorum and Investigation (CODI), and the regular holding of Anti-GBSH seminars, training, growth sessions, and curricular and co-curricular activities.
Furthermore, public utility vehicles (PUVs) are urged to distribute and/or display GBSH education and information materials on conspicuous areas inside their PUV units.
Individuals who violate the ordinance may be fined from P1,000 to P5,000, and render community service from one to 15 days depending on the repetition of the offense.
For PUV operators, employers, and school heads who violate the ordinance will be fined P500 to P5,000 including the suspension of business permit and license to operate for at least 3 to 6 months, or even revocation at the discretion of the court.
The penalties do not supersede those that are enlisted in RA11313.
Meanwhile, the city council designates February 14 of every year as Anti-GBSH Day in Mabalacat City to intensify the campaign and the promotion of the provisions of the said ordinance.