CITY OF SAN FERNANDO — The Civil Service Commission has once again bestowed upon Mayor Edwin "EdSa" Santiago the Presidential Lingkod Bayan Award, one of the most coveted titles given by the CSC to outstanding government workers.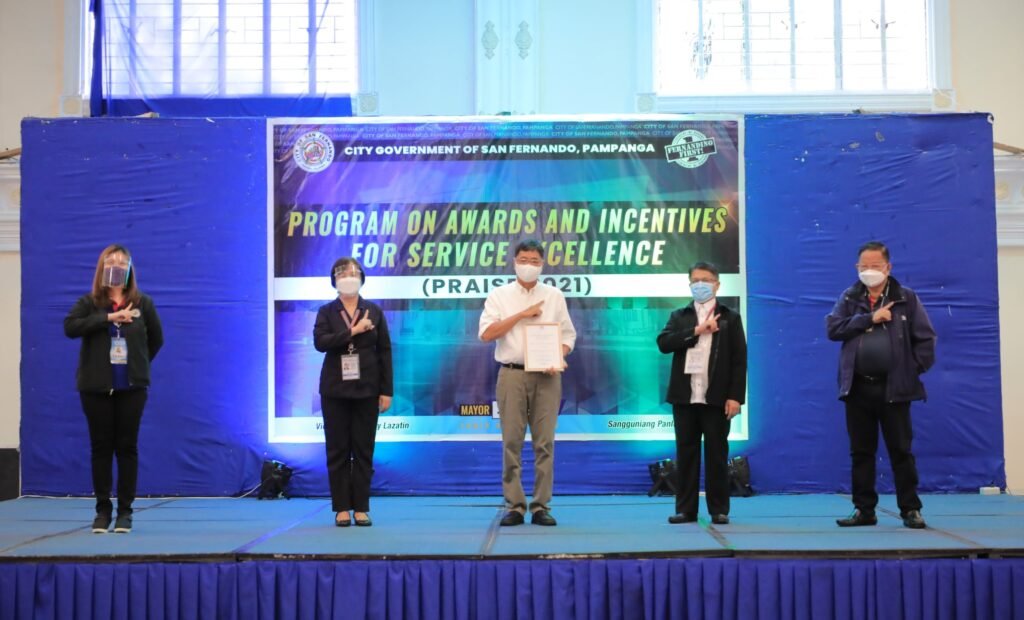 This was the third time the CSC conferred Santiago under its Honor Awards Program (HAP). The first two conferments were through the Presidential Lingkod Bayan Award in 2016 and Top Partner Individual in 2018.

For the Central Luzon region, only three civil servants received the award for 2021 under the individual category. These were Santiago, Dr. Claro Mingala of the Nueva Ecija Philippine Carabao Center, and Mayor Mario Salvador of San Jose, City Nueva Ecija.

"The CSC Presidential Lingkod Bayan Award is given to individuals or group of individuals performing exceptional or extraordinary contributions resulting from an idea or performance that had nationwide impact on public interest, security and patrimony," explained the agency during the virtual awarding ceremony on September 30, 2021.

"The CSC tapped select officials of several national government agencies to become members of the HAP Regional Screening Committee, who worked hard and provided time to screen the nominees," it added.

The award was personally handed to the City Mayor on October 4, 2021 at Heroes Hall by CSC Region 3 Director Fernando Mendoza and CSC Pampanga Field Office Director Emily Reyes. It was witnessed by City Administrator Atty. Atlee Viray and City Human Resource Management Officer Rachelle Yusi.

The CSC also awarded a plaque of appreciation to the frontliners of the City Government, who, according to the agency, have "done unrelenting efforts and rendered extraordinary services in fighting COVID-19 pandemic."

Highlights of Santiago's entry to the HAP included his administration's notable accomplishments from 2017-2020 to address the uprising problems of the society in many aspects.

Guided by this 10-point development agenda, the entry contained highlights of accomplishments in the following: Education (increased graduation rates and school buildings built); Employment (creation of job and livelihood opportunities impacting economy); Environment (high waste diversion rate); Health (health and nutrition programs and COVID-19 response); and, Peace and order (consistent decrease of crime rates).

Accomplishments for Family (monitoring of families' well-being and food security); Infrastructure (critical support infrastructures and Civic Center); Investment Promotion (fostering of local industries and lanterns); Tourism and Culture (increased rate of visitor arrivals due to cultural and heritage events); and, Government Efficiency (implementation of transparent policies) were also presented.

"Malaki ang pasasalamat ko, at ng pamahalaang lokal sa panibagong pagkilala na ito ng Civil Service Commission. Gaya ng lagi kong sinasabi, ang mga parangal ay batayan lamang sa kung nasaan na tayo. Marami man tayong nagawa nitong nakaraang tatlong taon, dinadagdgaan pa natin ito dahil ang serbisyo sa publiko, hindi dapat itigil 'yan," said Santiago.

Apart from the accomplishments, "Fernandino First" slogan of his administration and his "natural affection to the masses" was also featured by the agency, noting these paved the way for the lives of the underprivileged communities to be uplifted.

The HAP, annually held by the CSC, apart from its main aim of recognizing outstanding work performances by civil servants, is also staged to "motivate and inspire employees" improve the quality of their performances in public service.