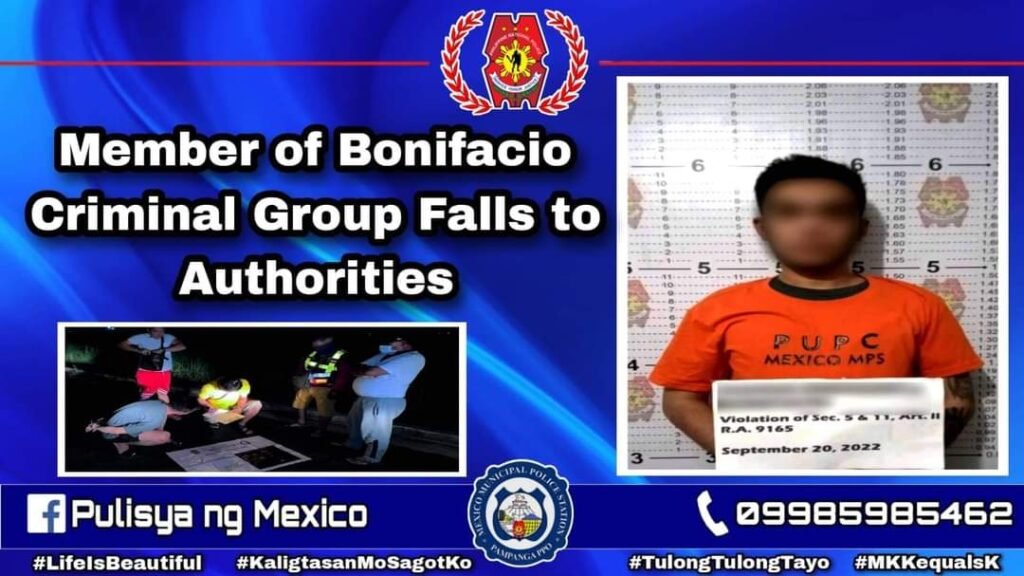 MEXICO, Pampanga — An alleged member of the notorious Bonifacio Criminal Group was arrested in a buy-bust operation in Brgy. Lagundi this town, reports said.
PLtCol Elias Laleo Tait, acting Chief of Police, identified the suspect as Joshua Bonifacio Enriquez, 22, single, of El Grande Subd., Brgy Lagundi here.
Enriquez is listed as a high-value individual involved in robbery/hold-up incidents and peddling of illegal drugs in Mexico, Macabebe, Minalin, Bacolor and Masantol, all of Pampanga.
Conducting the anti-illegal drugs operation were joint elements of Mexico Municipal Police Station Drug Enforcement Unit, together with 1st PMFC, Pampanga PPO, PIU Pampanga PPO, SOU3 PNP DEG and Masantol MPS.
The suspect was arrested after he sold one (1) heat sealed transparent plastic sachet containing suspected shabu to the operatives of Mexico MPS DEU. A body search then yielded another five (5) heat-sealed transparent plastic sachets containing suspected shabu.
"The arrest of this member of the Bonifacio Criminal Group is a testament that we are committed to making our community safer and more convenient for our people to live, work and do business. Our intensive efforts with the help of the responsive community proves that our police operations will be more successful and effective," Tait said.