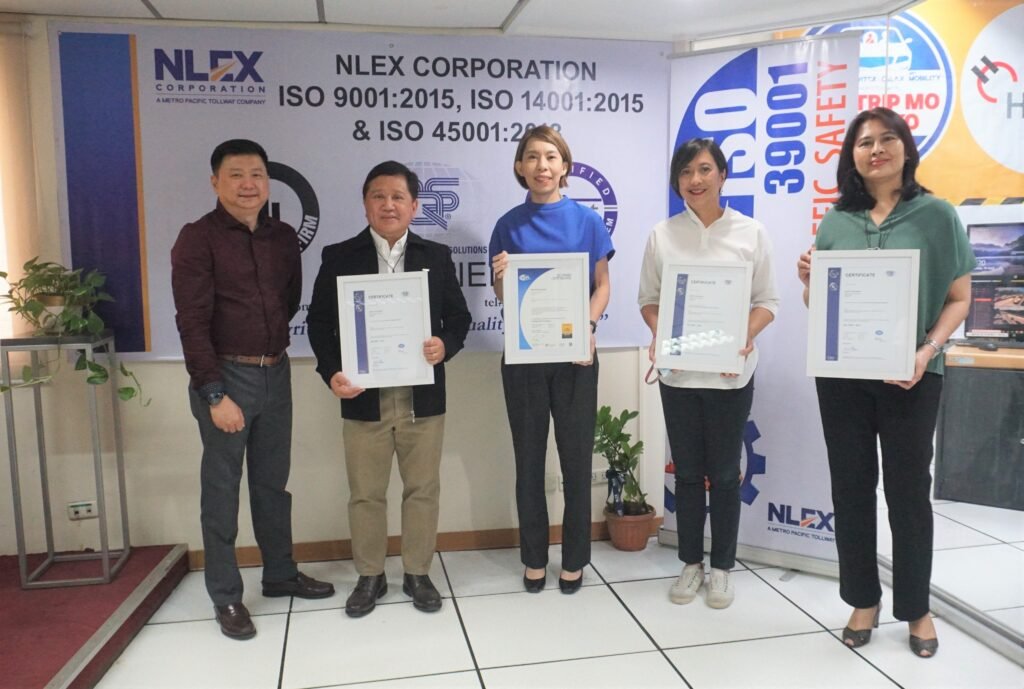 NLEX Corporation President and General Manager J. Luigi Bautista (2nd from left), Vice President for Operations West Dionisio, Vice President for Asset Management Jennifer Jane Go, and Chief Finance Officer Ma. Theresa Wells (3rd, 4th, and 5th from left, respectively) show the four new certificates that signify NLEX's compliance with international standards. With them is Romeo Zamora, managing director of DQS Certification Philippines Inc., one of the leading certification bodies for management systems.
The tollway company achieved another milestone as it received the latest versions of ISO 9001:2015 (Quality Management System), ISO 14001:2015 (Environmental Management System), ISO 45001: 2018 (Occupational Health and Safety Management System) and the first tollway firm in the country to be certified for ISO 39001:2012 Road Traffic Safety Management System (RTSMS). Bautista said the ISO certification affirms the company's commitment to efficiency, reliability, responsibility, and customer satisfaction.
In spite of the ongoing pandemic, NLEX Corp. has continued to be resilient and has been able to sustain its quality operations with the safety and convenience of both motorists and employees as top of mind.