MABALACAT CITY – The Philippine Commission on Women (PCW) has a re-certified this city as a Gender and Development (GAD) Local Learning Hub (LLH) and Early Childhood Care and Development (ECCD) as a GAD LLH for the years 2023-2026.
City officials led by Mayor Crisostomo Garbo received the plaque and marker from PCW on May 15, 2023.
Mabalacat City is the first local government unit in Central Luzon to be awarded and re-certified by PCW, in connection to its outstanding promotion and implementation of GAD practices, significantly developing the lives of women and every gender preference in any age.
The city's Early Childhood Care and Development program, meamwhile, has notably contributed to building a strong foundation for gender-sensitive Mabalaquenian Kindergarten girls and boys, officials said.
"This award is a testament of the LGU's consistent efforts to be a gender-responsive city. I assure my kabalens that my support in keeping up with this goal will remain strong," Mayor Garbo said, as he received the award and motivated the government officials in his progressive plan.
Mabalacat City has been assessed last January 27, 2022, by the Technical Services and Regional Coordination Division (TSRCD) of the PCW, and it was determined that the city met the requirements for recertification.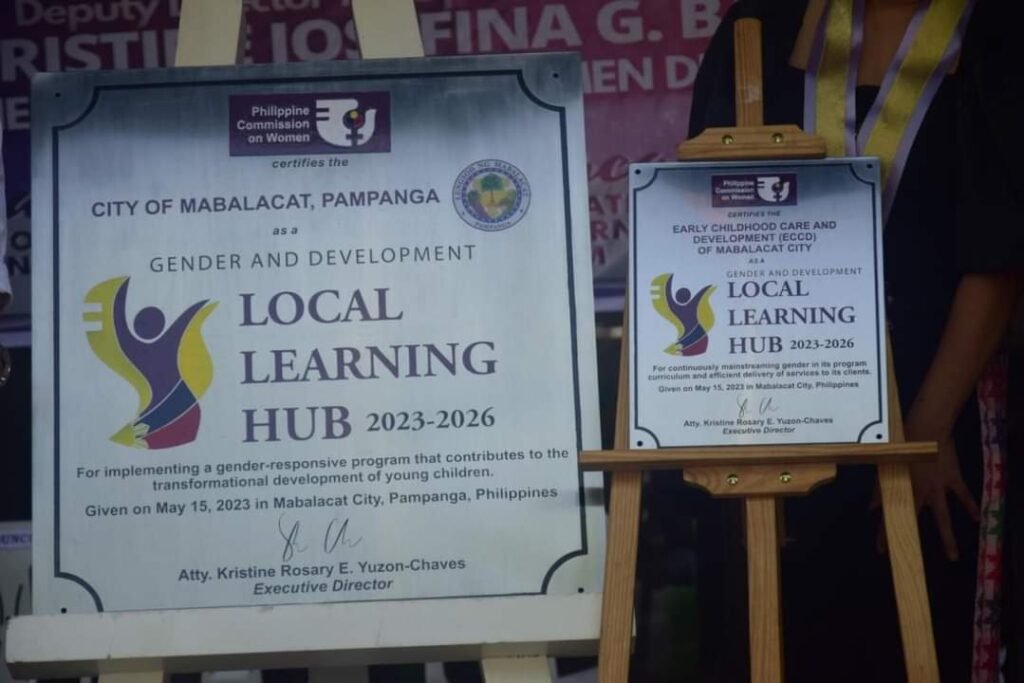 Along with Mayor Garbo are Vice Mayor Gerald Aquino, City Councilors Rox Peña, Jerry Magsino, Noel Castro, Cherry Manalo, Doc Cocoy Tiglao, and city administrator Franco Alejo Madlangbayan, department and unit heads, and government employees.
Also present are Maria Kristina Josefina G. Balmes – Deputy Executive Director for Operations of the PCW, and PCW delegates: Chief GAD Specialist – Nharleen Santos-Millar, Supervising GAD Specialist – Kim Harold Peji, and Regine Carmelli F. Reyes – GAD Specialist for the Ceremonial and Recertification and Awarding of GAD-Local Learning Hub Makers: ECCD Program.