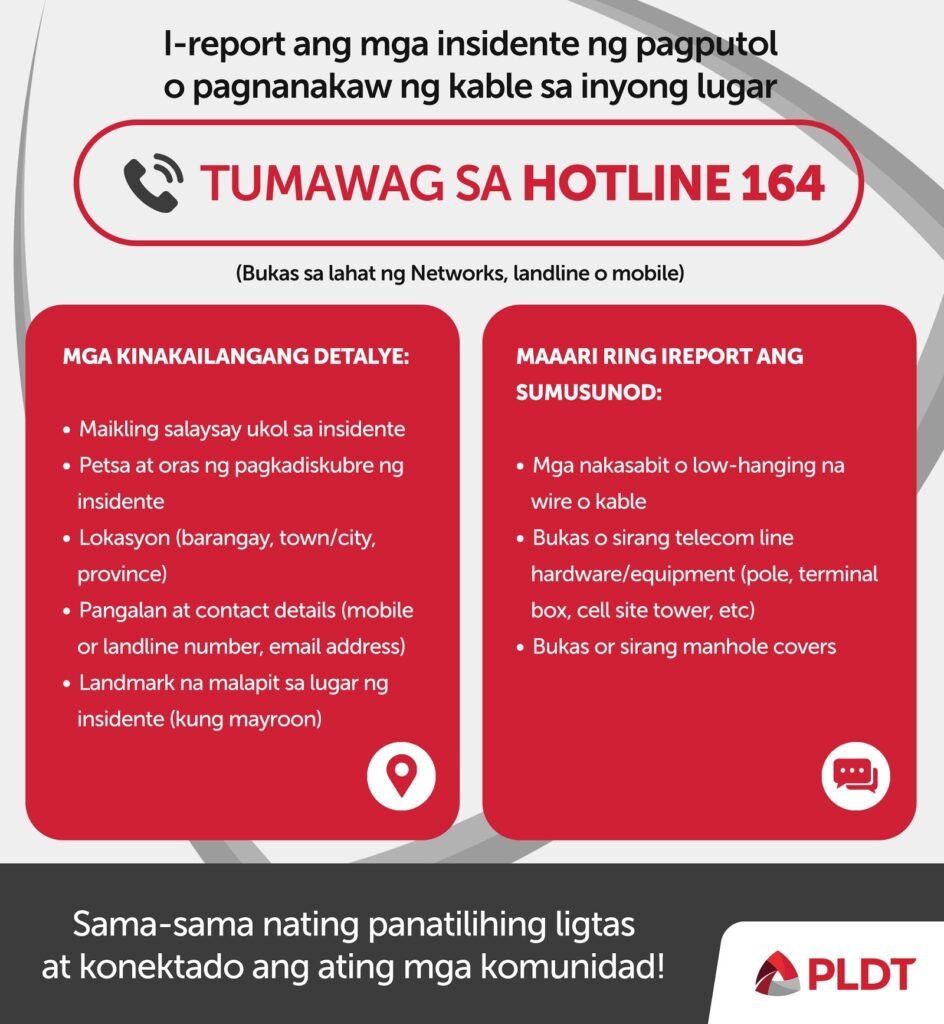 PLDT Inc. (PLDT) has activated a hotline where citizens nationwide can report cable theft, cable breakage and other related incidents that often lead to service disruption.
This, as PLDT and its wireless unit, Smart Communications, Inc. continues to beef up its initiatives to protect its physical assets, actively stepping up their asset protection efforts as part of a broader program to elevate the quality of their customer experience.
Persons who would like to report such incidents can now do so by dialing "164" on their landline or mobile phone, regardless of network.
When reporting theft, cable breakage or other incidents, customers are requested to provide the following information, a brief description of the incident, date and time of discovery, and exact location (barangay, town/city, province), and their name and contact details (mobile or landline number, email address). A landmark or photo indicating the place of incident will also be helpful. Other relevant information may be asked when necessary in the course of the investigation.
Customers can also help improve PLDT services by reporting low hanging wires and cables, exposed or damaged telecom line hardware / equipment (pole, terminal box, cell site tower, etc.) and open or broken manhole cover. Such reports do not only prevent severe disruptions to telecommunication services but also help avoid accidents that may cause harm and injury to the public.
"PLDT's intensified asset protection initiatives also include teaming up with 'force multipliers' to help us safeguard our physical infrastructure. This includes not just the authorities from local government and police, but residents of communities that we serve as well," said Atty. Oliver Carlos Odulio, head of PLDT's Asset Protection and Security Risk Governance (APSRG).
PLDT is also spearheading the National Telecommunications Security Council (NTSC), an industry-wide informal alliance for the mutual protection of telecommunications infrastructure nationwide. The NTSC is composed of corporate security professionals from the different telecommunications companies in the country.
These initiatives are part of PLDT's continuing effort to further improve customer experience nationwide. PLDT operates the country's most extensive fiber infrastructure, which was at 837,900 kilometers as of end-June 2022. This fiber infrastructure also supports Smart's mobile network, which provides 3G, 4G/LTE and 5G to customers from Batanes to Tawi-Tawi.