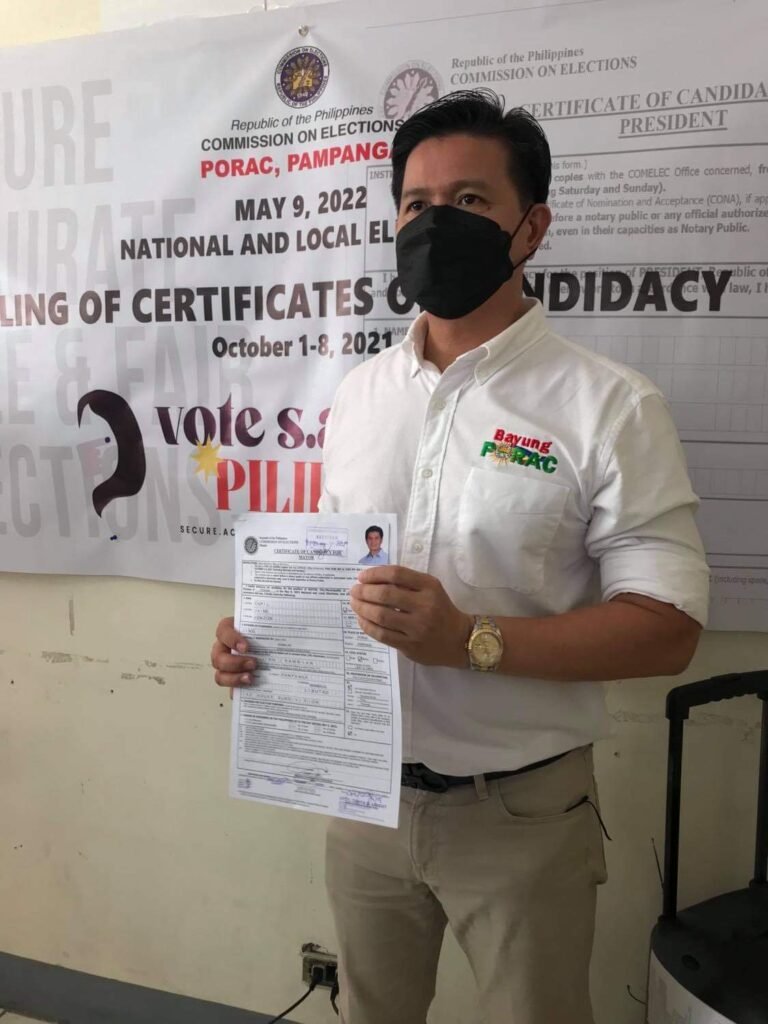 PORAC, Pampanga — Incumbent Mayor Jaime "Jing" Capil is seeking for reelection as he formally filed his Certificate of Candidacy (COC) before the local Commission on Elections, Friday.
Capil, who ran as an independent candidate in 2019, is now running under Pampanga Governor Dennis "Delta" Pineda's Kapanalig at Kambilan ding Memalen Pampanga (Kambilan) local political party.
Prior to his filing, Capil attended a concelebrated mass which, according to him, is his thanksgiving for the success of his 1st term of office.
Capil's "Team Bayung Porac" with campaign slogan, "Isundu ing Pamagbayu para king asensung Poraqueño" will continue to push for his administration thrusts in the promotion of eco-tourism; health care; economic development; education and continuation of existing programs.
Existing programs of the local government unit includes programs on infrastructure development, eco-tourism, health care including efforts against Covid-19, and education.
Capil was joined by his runningmate for Vice Mayor, incumbent Councilor Francis "Budoy" Tamayo, along with councilorables Michelle Bengco; Barangay Palat Captain Bong Buan; Barangay Manibaug Libutad Captain Joel Capil; Barangay Manibaug Paralaya Captain Adrian "Papay" Carreon; Barangay Pio and Model Community Captain Ayot Dimalanta; Barangay Pias Captain Noel Manalo; neophyte Engineer Joy David; and former Sangguniang Kabataan Chairman Jovy Venzon.
Capil's slate vowed to work together with him for a better Porac.