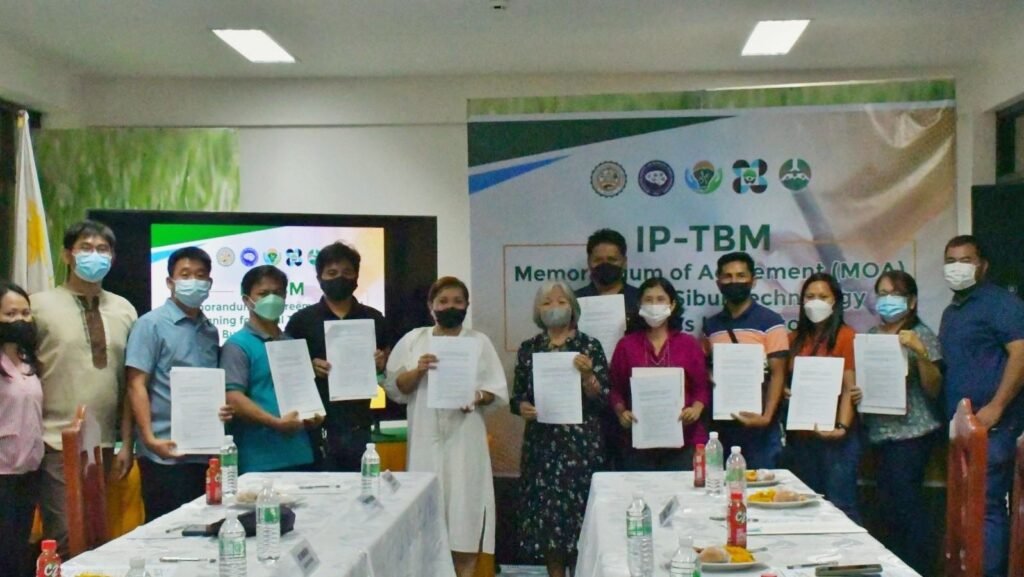 MAGALANG, Pampanga – The Síbul Technology Business Incubator of the Pampanga State Agricultural University recently forged a Memorandum of Agreement with eight Pampanga farmers and agripreneurs, now formally called "incubatees", in the university.
PSAU Officer-in-charge, concurrent Vice President for Academic Affairs Dr. Anita G. David, emphasized, "This momentous MOA signing officially marks the start of the incubatees' journey towards sustainable agribusiness development through our incubation program."
David explained that incubation is an all-encompassing term for services and resources relevant in running an enterprise such as, but not limited to, entrepreneurship and skills development, technology innovation and commercialization, technical support, and access to facilities, among others.
David added, "We hope that through this program, we would be able to see more agribusinesses thrive in the mainstream market in the next few years and prove that we are a valuable asset of our business landscape in Pampanga and the whole of Central Luzon."
On behalf of the incubatees, Maricon Arcega of the Florida-Lubao Organic Farmers' Association said, "This incubation program is a good opportunity for us, farmers, in gaining more knowledge in terms of crop production and product development… also, in operating our [would-be] businesses."
Richard Sarmiento, PSAU fisheries student specializing on catfish production, moreover said, "This opportunity means a lot to me as I will be more trained and guided in becoming an agripreneur."
Along with Arcega and Sarmiento as incubatees are Emmanuel Dela Cruz of 4RES Agri-Trading, Benson Gapuz of Xcell Boar Stud Services, Amor Mallari of Planas Agricultural Cooperative, Fernando Alvaro of Pio Farmers' Association, and Clara Ortega and Analyn Caasi of Vizal Sto. Niño Rice and Livestock Farmers' Association.
Aside from said incubatees, Jerry Guese of Nagkakaisang Magpapatubig ng Paroba Matamo, Arayat, Inc., Anjali Vi Lupera of Pinatubo Farm, Kim Aron Timbol of Infinite Mushroom, and Reynaldo Lapat of Nueva Ecija Rice, Corn, Vegetable, and Livestock Raisers Multi-Purpose Cooperative have committed themselves to the incubation program, with another MOA signing ceremony to follow.
Also present during the MOA signing were Vice President for Administration, Business and Finance Myrna B. Lorenzo and Intellectual Property and Technology Business Management Director Walter L. Pacunana, who served as witnesses.
About Síbul TBI
Established in October 2021 through the funding of the Department of Agriculture – Bureau of Agricultural Research (DA-BAR) and the Department of Science and Technology – Philippine Council for Agriculture, Aquatic and Natural Resources Research and Development (DOST-PCAARRD), the Síbul TBI aims to empower farmers, fisherfolk, agripreneurs, technology innovators, and other clients in starting or scaling up their agri-based micro, small, and medium enterprises (MSMEs).
According to IP-TBM Director Pacunana, "Our TBI's main goal is to help our clients [called incubatees] in hatching an egg – a metaphor for a business idea – into an agri-based MSME."
"It is our mandate to assist them in taking their agri-based MSMEs to the next level through research and innovation," Pacunana added.
"This is also our way to improve the market readiness of DA- and DOST-funded technologies for commercialization," he furthered.
The Síbul TBI's areas of focus, said Pacunana, are primarily agriculture and fisheries; however, the incubator is opening its doors to incubatees who would like to explore agribusinesses on digital technology, logistics, education, food, or other areas as long as they are related to the formerly mentioned ones.
Application
The Síbul TBI is still accepting applicants for the incubation program.
Filipino citizens of legal age, preferably farmers, fisherfolk, or agripreneurs, are qualified to become incubatees. They must also have initial capital and resources, the willingness to learn technical expertise on PSAU's agri-based technologies, and commitment to start or scale up their own agribusinesses.
Those who are interested to avail the program must submit a letter of intent to PSAU OIC and VPAA Dr. Anita G. David, curriculum vitae, business brief (for existing agribusinesses) or business idea brief, and pre-incubation application forms (to be provided after submission of the first three).
For additional queries and concerns, interested applicants may email sibul@psau.edu.ph or contact 0917-325-2452.