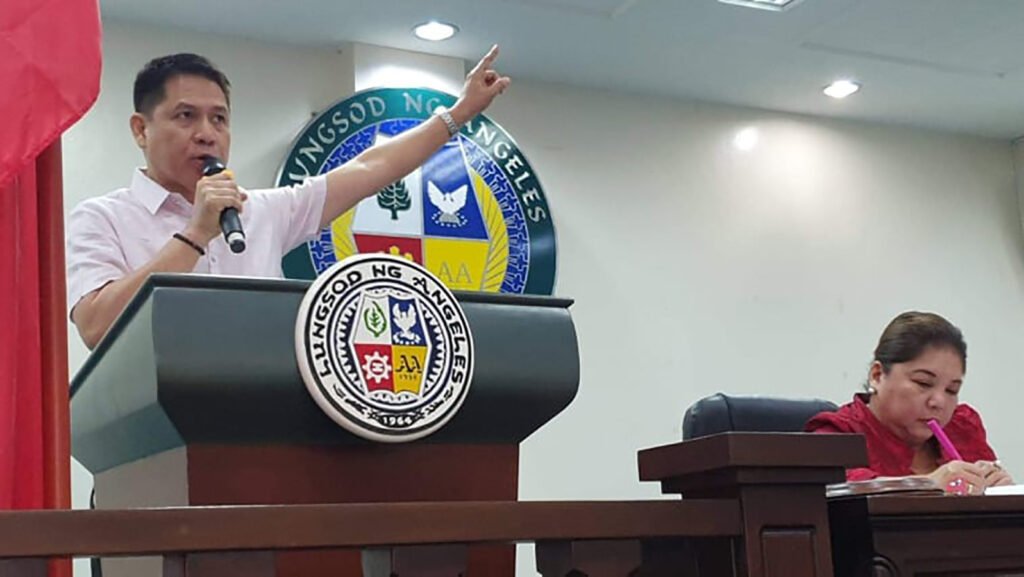 ANGELES CITY – A journalist-turned-politician seeks a fresh mandate at the Sangguniang Panlungsod here, aligning it with convictions for truth, justice, fairness in public service.
Re-electionist Councilor Jesus "Jay" Sangil is on his 6th term to once again bring to the City Council key programs and projects that are aimed at helping improve socio-economic condition of Angelenos.
Topping his priorities are adequate employment and livelihood opportunities as well as protection of labor workers and OFWs and continuing assistance for indigent families affected by the Covid-19 pandemic.
Sangil, a topnotcher in accomplishments with about 300 legislative measures filed and approved in the SP in previous terms, also vows to help bring about social services and health programs of Mayor Carmelo "Pogi" Lazatin.
"I am thankful to our fellow Angelenos who had given us the chance to serve them. They deserve even better service in the coming years with the trust and confidence they manifest to this humble representation," Sangil said.
Aside from much-needed services, he has also vowed to help ensure availability and sustainability of vital utilities such as internet, telecoms, water and power supply in wider parts of this city.
Sangil completed his first three terms as topnotch councilor in 2004, 2007 and 2010. He is now on his 5th term after making a comeback in 2016 and 2019.
The journalist-turned-politician also wrote for The Philippine Daily Inquirer, MASA, Agence France Presse, Kyodo News Service, and The Angeles SUN.
Sangil chaired the Committees on Labor, Cooperative, Special Economic Zone, Public Works and Engineering, and Ways and Means.
As Labor Committee chair, he was able to solve various labor-management disputes such as the Golbon garment factory involving more than 700 workers who got their unpaid salaries and other benefits. Hundreds of workers in two companies in Clark Freeport Zone also got their benefits and delayed salaries due to his mediation role.
At least 50 employees of a restaurant and pub also won their case through his intercession while a Japanese manager accused of maltreatment by Filipino workers was deported when Sangil took the cudgels for the affected workers.
In the Public Works and Engineering bench, he exposed the substandard construction of several housing units at Northville 15, Barangay Cutud where hundreds of families from eight barangays (Pulungbulo, Sto. Cristo, Lourdes Sur, Lourdes Sur East, CM Recto, Sta Teresita, Malabanas, Balibago) have been relocated. This prompted the NHA to institute corrective measures for the safety of thousands of residents.
Sangil also supported the building of classrooms, multi-purpose halls, barangay halls, roads and drainage, lighting projects for the city's 33 barangays. As Ways and Means committee chair, he also supported the city government's special programs and projects to help generate funds for the city's coffers.
"Sa tulong po ng ating mga kababayan, mga kapwa konsehal mula 2004, tayo po ay nakapag pasa ng mga ordinansa at resolusyon na nakatulong sa ating mga kababayan at sa pag unlad ng ating lungsod Angeles," said Sangil.
Dozens of cooperatives, NGOs and other people's organizations were accredited when he assumed the committee on cooperative.
"Minsan po ay hindi naiiwasan na merong hindi pagkakaunawaan, debate sa mga issues, pero at the end of the day kami rin po ang magtutulungan para isulong ang kabutihan ng ating mamamayan at Lungsod Angeles," he added.
Some of the approved ordinances and resolutions spearheaded by Sangil involved measures on public safety and order such as requiring CCTV cameras on banks, pawnshop, malls, supermarkets, and other businesses, major streets and requiring telcos to install underground cabling to eliminate spaghetti wires along major thoroughfares.
Some measures called for granting of privileges and additional benefits such as the percentage share of Persons with Disability in the city's annual budget. Other measures include:
Resolution urging the City Executive to grant Php1,500 increase on top of the regular monthly honorar ium of Day Care workers, Barangay health workers, BSPO, BNS and additional allowances to all traffic aides and bantay bayan volunteers;
Resolution requiring operators/ owners of all business establishment in Angeles City to accord their employees with mandatory privileges benefits and guaranteeing the provision of minimum wage as required by PD 442;
Resolution urging business owners in Angeles City and Clark Special Economic Zone to consider qualified applicants aged 30 years old and above in their hiring of personnel, so as not to be discriminated in their selection process