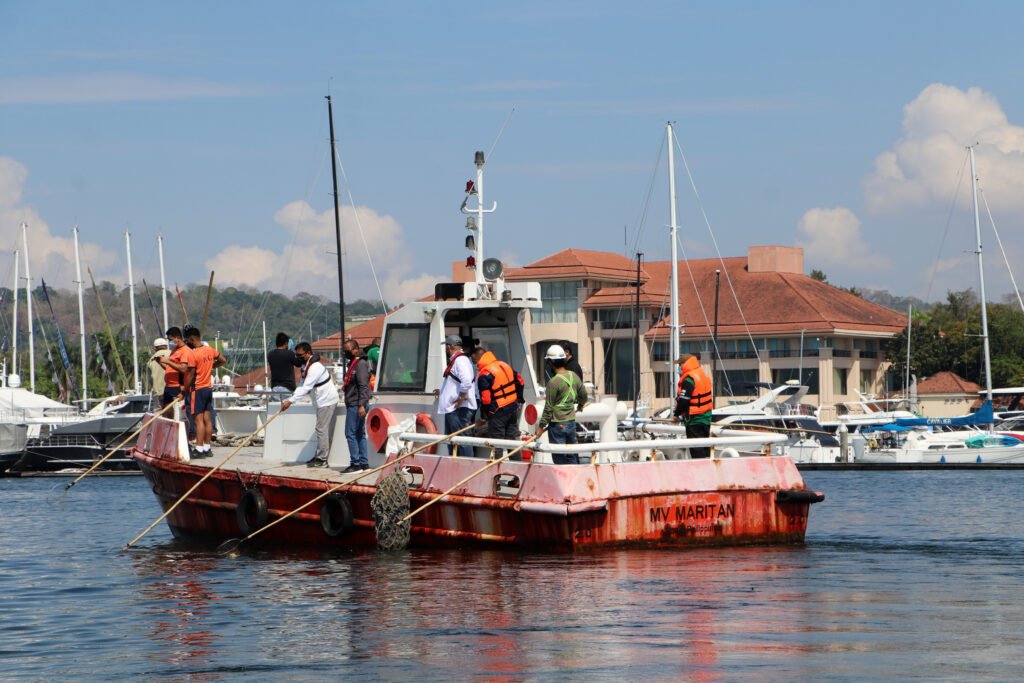 SUBIC BAY FREEPORT – The Subic Bay Metropolitan Authority (SBMA), along with other authorities in the Port of Subic, used three SBMA watercrafts and two PNP Maritime patrol boats to scoop plastics and other non-biodegradable litter from the water as part of the 1st Quarter Off Shore Clean Up 2022.
Newly installed SBMA Chairman and Administrator Rolen Paulino lauded personnel from SBMA Seaport Department, Philippine Coast Guard (PCG), PNP Maritime Group, and Philippine Coast Guard (PCGA) who participated in the activity.
An hour into the clean-up activity, which is in response to the call for a cleaner and safer Freeport, the group proudly shared that only a few plastic trash and soda bottles and were collected.
"This is the result of our regular clean-ups around water bodies of the bay," said Diego Aviles, chief of Maritime Safety Branch of the Seaport Department.
"This activity will serve only as an exercise for the group. We expect that the real work will come during the rainy days when bulks of trash will be directed to areas surrounding the ports by strong winds and waves," Aviles added.
Earlier this month, in his first appearance as SBMA Chairman, Paulino appealed to employees, locators, residents and stakeholders to help in maintaining cleanliness and safety in the Freeport to attract more tourists and investors.
As part of the strategic measures to revitalize the business climate, the SBMA Seaport Department launched the off-shore clean-up drive which kicked off on Friday, March 18.
"The objective of this off shore clean-up is to engage people to remove trash and debris from beaches, waterways and other waterbodies," said Jerome Martinez, manager of the Seaport Department.
The project also aims to identify the sources of litter that come to the bay, to change behaviors that cause pollution and raise awareness on the extent of the marine debris problem.
Meanwhile, said the SBMA has launched several activities that have safeguarded and protected Subic Bay's marine and coastal resources such as information and education campaigns, oil spill and fire exercises, and off shore clean-ups.
Aviles explained that the offshore clean-up drive will be held every quarter, and may extend farther offshore with the added participation of more individuals and organizations who may wish to join in this environmental protection campaign.