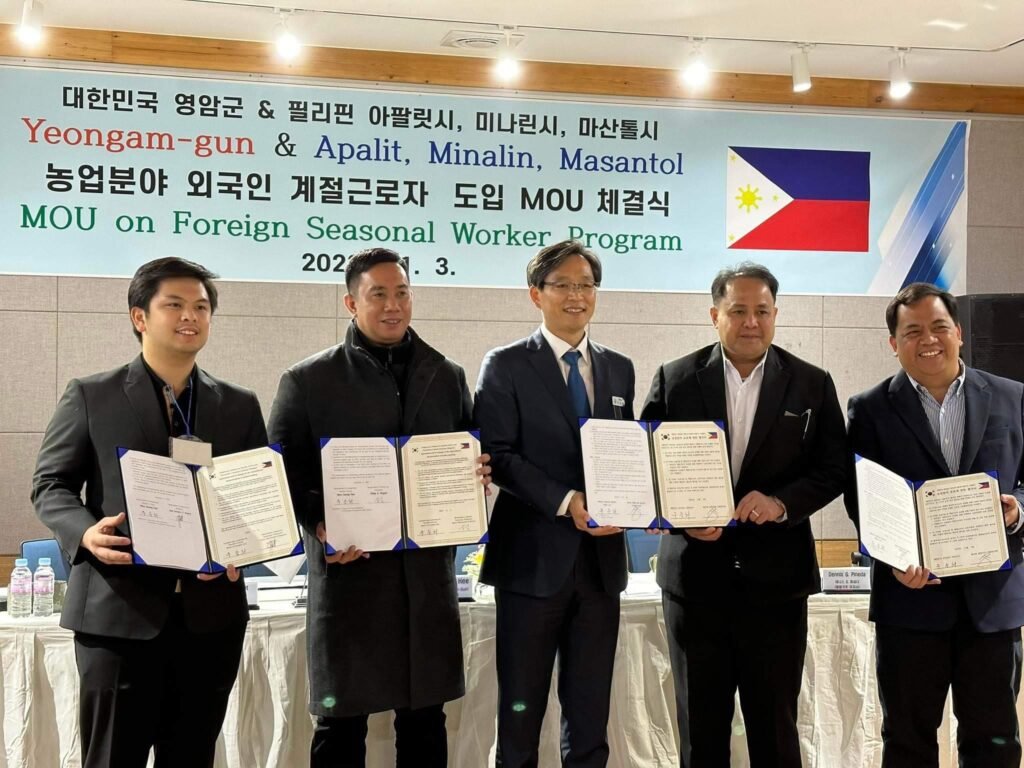 CITY OF SAN FERNANDO — Three mayors from Pampanga signed a memorandum of understanding (MOU) on Nov. 3, 2022 that provides agricultural workers to a South Korean city dealing with labor shortage.
Mayors Oscar Tetangco Jr. of Apalit, Jose Antonio Bustos of Masantol and Philip Naguit of Minalin towns signed the MOU on Foreign Seasonal Workers Program with Mayor Woo Seung-Hee of Yeongam City in Jeollanam-Do province. It was the first fruitful outcome of the trade, labor and agricultural mission initiated by Gov. Dennis Pineda.
"Through this agreement with three local governments in Pampanga, I hope that the problem of labor shortage in Yeongam-gun will be resolved and that it will serve as a good opportunity to provide high-quality jobs to workers in Pampanga," Woo said before the signing ceremony.
Bustos also signed an agreement on agricultural exchanges between Yeongam and Masantol town.
The mayors are among the officers of the League of Municipalities of the Philippines-Pampanga chapter who joined the mission, which the governor hopes will start to help the province recover from the economic slowdown resulting from the COVID-19 pandemic since March 2020.
While Woo described the coronavirus to be "unprecedented," an aging and declining population led his city to be "experiencing difficulties due to shortage of manpower."
According to him, the signing of the MOU would be "of great help to Yeongam-gun."
Tetangco guaranteed that Apalit would provide "the best workers who will be your partners in the development and cultivation of agriculture."
Bustos said the "synergized and collaborative exchanges are essential in determining our ways forward towards the realization of our people's common desire for a sustainable future."
Naguit said "opportunities like this MOU may bring about progress and innovation in our agriculture industry."