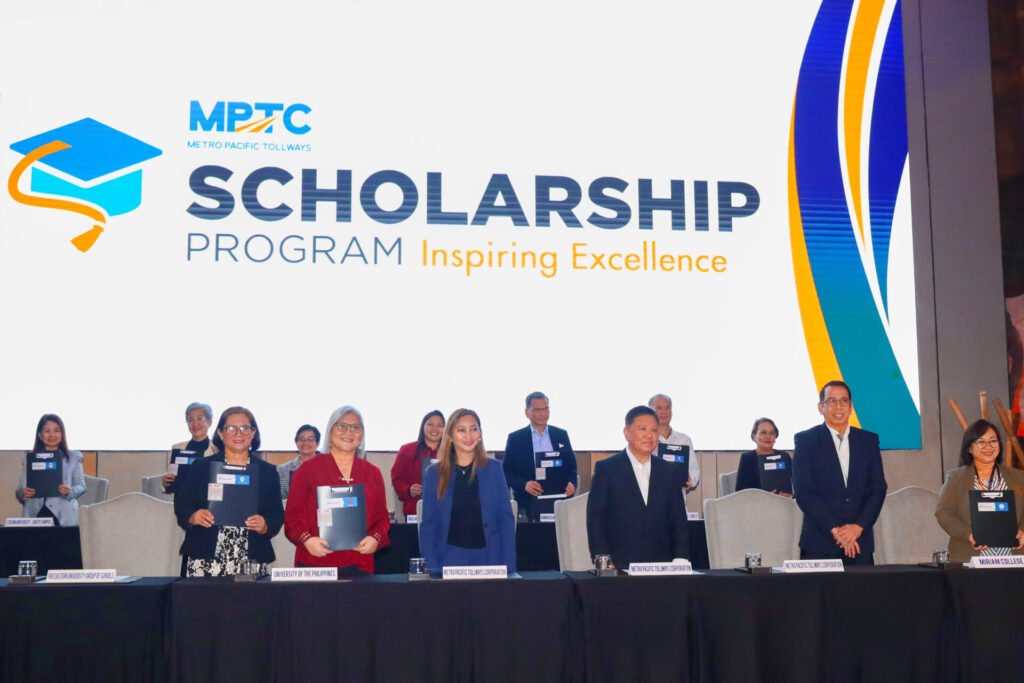 After signing a memorandum of agreement with 14 universities from all over the country recently, the Metro Pacific Tollways Corporation (MPTC) will be granting scholarship grants to some 70 students this year.
Aimed at providing educational assistance to students from low-income households, MPTC –the leading mobility infrastructure and solutions provider in the Philippines — kicked off its scholarship program for the academic year 2023-2024 together with its subsidiaries NLEX Corporation, MPT South, and Cebu-Cordova Link Expressway Corporation.
Launched in 2012, the MPTC scholarship program provides full tuition, monthly allowance, and financial assistance for internship, board review and examination. In addition, job opportunities in the MPTC group upon graduation are offered to the scholars.
"We solidify our commitment to innovation and excellence by empowering students to pursue their careers and pave their way to success. We believe our nation's youth will uphold our company's values in their lives as students and as future professionals," said MPTC Chief Human Resources Officer Lea Wong.
Through the participation of its three subsidiaries, the MPTC opens more opportunities for deserving students from low-income households to pursue their careers in the fields of Accounting, Engineering, and Education without any financial hindrance.
NLEX Corporation President Luigi L. Bautista said, "the scholarship program signifies MPTC's strong desire for public service and firm commitment to nation-building, specifically one that will provide unparalleled opportunities for outstanding students whose personal circumstance might otherwise deny them the chance to study and pursue their dreams."
He added that the program is designed to foster the value of malasakit or caring for others, a value that "our company has always been passionate about as we have this innate sense of responsibility to serve others and contribute to the greater good."
For his part, MPTSouth President Raul L Ignacio said, "We hope that this MPTC scholarship, together with the very abled guidance of our partner colleges and universities, enable the deserving students to reach their full potential and help create with them the future that they want. Develop the students into competent professionals. And as important, inspire them to pay forward and give back to the community to be able to create a cycle of gratitude between scholars and education."
In 2012, the primary aim of the program was to increase the number of engineering practitioners that will assist in addressing the infrastructure requirements of the country. It was also limited to only three universities in Metro Manila, Pampanga and Bulacan.
Starting academic year 2023-2024, the program was expanded to cater to more deserving students and increase the number of partner schools not just in Luzon, but in Visayas and Mindanao as well.
These schools include University of the Philippines – Diliman, Far Eastern University, Miriam College, Pamantasan ng Lungsod ng Maynila, Bulacan State University, Don Honorio Ventura State University, Polytechnic University of the Philippines – Parañaque, Technological University of the Philippines – Cavite, Cavite State University System, Emilio Aguinaldo College – Cavite, Lyceum of the Philippines University – Cavite, Southern Philippines Institute of Science and Technology, Cordova Public College, and Mindanao State University.