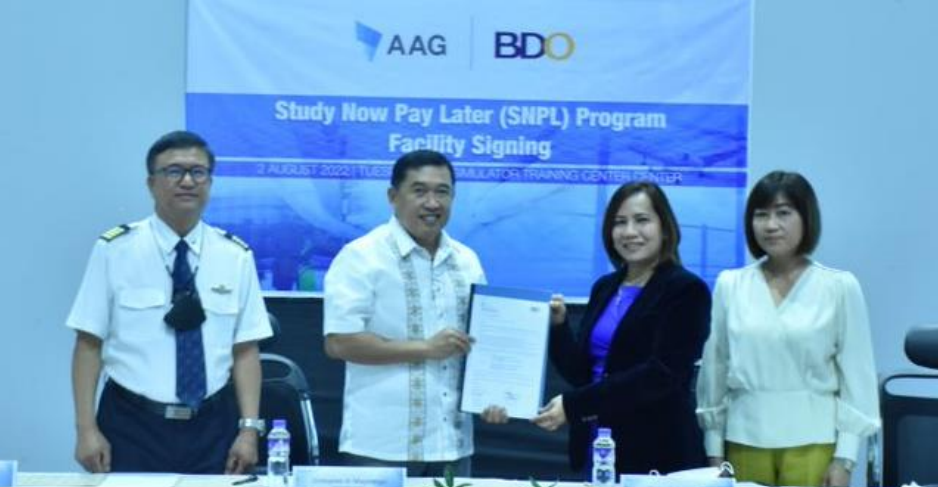 CLARK FREEPORT – Pilot training academy Alpha Aviation Group (AAG) has tied up with BDO for a 'Study Now, Pay Later' (SNPL) Program designed to assist AAG's trainees in funding their pilot training program.
AAG, a globally-recognized pilot training solutions provider that operates in line with the international standards and best practices, continues to partner with banks and other institutions to expand its financing support facilities for aspiring pilots.
The AAG recently sealed the partnership through a MOA signing held at the AAG Simulator Training Center attended by key people from both organizations.
Representing BDO were Grace Lastimosa, First Vice President and the signatory on behalf of BDO, and Cecilia Liwanag, Senior Assistant Vice President. On the other hand, AAG's Regional Director for Asia Pacific, Cristopher Magdangal was joined by AAG's Accountable Manager, Capt. Vicente Casibang, who also signed as one of the witnesses.
Magdangal underscored how the SNPL Program has emerged from the continued partnership between the two organizations.
"The SNPL Program is a product of our growing and continuing partnership with BDO. In 2016, we worked together in bringing the first wide-body aircraft simulator in the Philippines. Now, I am delighted that this partnership is set to expand its reach," he said.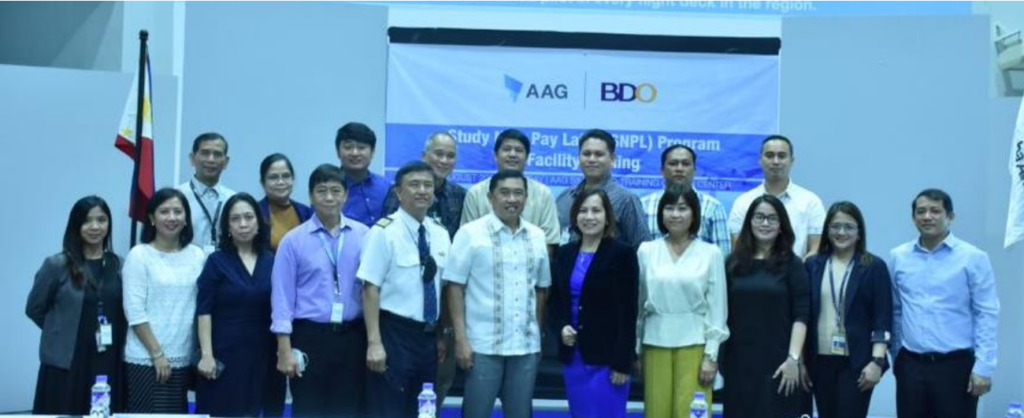 According to Magdangal, the partnership is no longer just about supporting AAG in building its assets and capabilities, but to a greater extent, it now includes helping the next generation of pilots fulfill their dreams.
"That, for me, is an affirmation that AAG's partnership with BDO is a kind of partnership that truly creates value and contributes meaningfully to the bigger community and aviation industry," he said.
Magdangal added that pilot training programs usually require significant amount of resources, and a lot of aspiring pilots find that a hindrance.
"We want to bridge that gap. We want to open more opportunities for aspiring pilots for them to be able to pursue their passion and dreams, and see them take part in the industry's recovery. AAG is grateful and privileged to partner with BDO in carrying out this advocacy," he added.
The SNPL Program is an exclusive offer to AAG's Airline Pilot Program (APP) and First Officer Transition (FOT) trainees. Trainees may take advantage of the flexible loan term, light payment option, and built-in insurance features of the loan program. To qualify, applicants are first required to pass the screening and assessment process of the training program they are applying for.
AAG, as an organization that sees itself as part of a bigger community and industry, is set to continue to strengthen its partnership with institutions and key industry players in developing and introducing programs and initiatives that will help aspiring pilots realize their dream, and support the aviation industry in its recovery.