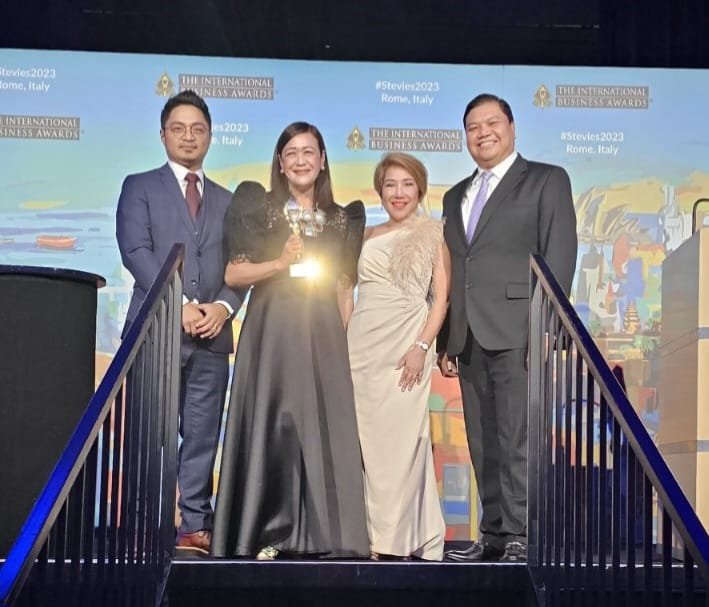 The Bases Conversion and Development Authority (BCDA) bagged its fourth major international communication awards this year, the prestigious Gold Stevie Award for its innovative annual report publications from 2019 to 2021.
By conveying human stories behind financial data and technical reports as well as pushing innovation in the creative design to make traditional annual reports more appealing to the public, the "One Nation, One Legacy" BCDA annual report series from 2019 to 2021 met the high standards of the International Business Awards (IBA), taking home the highest accolade, the Gold Stevie status, for the category Best Annual Report – Government Agencies.
The BCDA was celebrated during a gala banquet event at the Cavalieri Waldorf Astoria Hotel in Rome, Italy in October, which was attended by BCDA Director Atty. Larry Paredes, Vice President for Public Affairs Leilani Barlongay-Macasaet, Head Executive Assistant Atty. Elvira Estanislao, and Vice President for Engineering and Social Support Engr. Mark Torres. The globally attended event hosted more than 350 guests, including many of the world's top companies and Stevie winners.
"I am so ecstatic to bring to the world's stage the talent, creativity, ingenuity, and innovativeness of the Filipino. Thank you to IBA for recognizing BCDA as one of the world's best communicators," said Macasaet.
The BCDA's "One Nation, One Legacy" series deviated from traditional government reports by including human interest stories and eye-catching infographics and visuals anchored on corporate governance, business development, project management, and corporate social responsibility efforts to communicate BCDA's role as a catalyst of national growth and provider of economic opportunities for Filipinos.
"We Win As One" (2019) featured New Clark City's world-class sports complex completed in record time for the 2019 Southeast Asian Games. "We Heal As One" (2020) focused on BCDA's role in the whole-of-nation approach in dealing with the pandemic. And lastly, "We Build As One" (2021) highlighted how BCDA exercised political will amid a crippling health crisis to push for the completion of big-ticket infrastructure projects.
Only 250 out of over 3,700 nominations across the globe were selected as finalists of wide-ranging categories at The Stevie Awards. The 250 finalists were then judged in their respective category, wherein the finalist with the highest average score received the Gold Stevie Award. Finalists with a final average score of at least 8.0 were designated as Silver Stevie winners, while those with a score of 7.50 or higher received the Bronze Stevie Award.
Aside from the Gold Stevie Award from the IBA, the BCDA also bagged Gold and Silver Quill Awards from the International Association of Business Communicators and the Gold Stevie Award from the Asia-Pacific Stevie Awards this year for its "One Nation, One Legacy" annual report series.