GUAGUA, Pampanga – The Department of Health (DOH) is targeting at least 17, 000 girls in Pampanga for the massive human papillomavirus (HPV) vaccination campaign.
This was according to Corazon Flores, DOH's Director IV of the Central Luzon Center for Health Development.
In an interview on Friday, Flores said the HPV vaccination is seen to combat human HPV infections and cervical cancer among the youth. She added there are targeting to administer HPV vaccines on 774 girls in Guagua.
Flores disclosed that the cervical cancer is the 2nd most common cancer among Filipinos, and the 4th most common cancer in the whole world.
Various stakeholders from the government and private sector have joined forces in Guagua to combat HPV infections and the dreaded disease.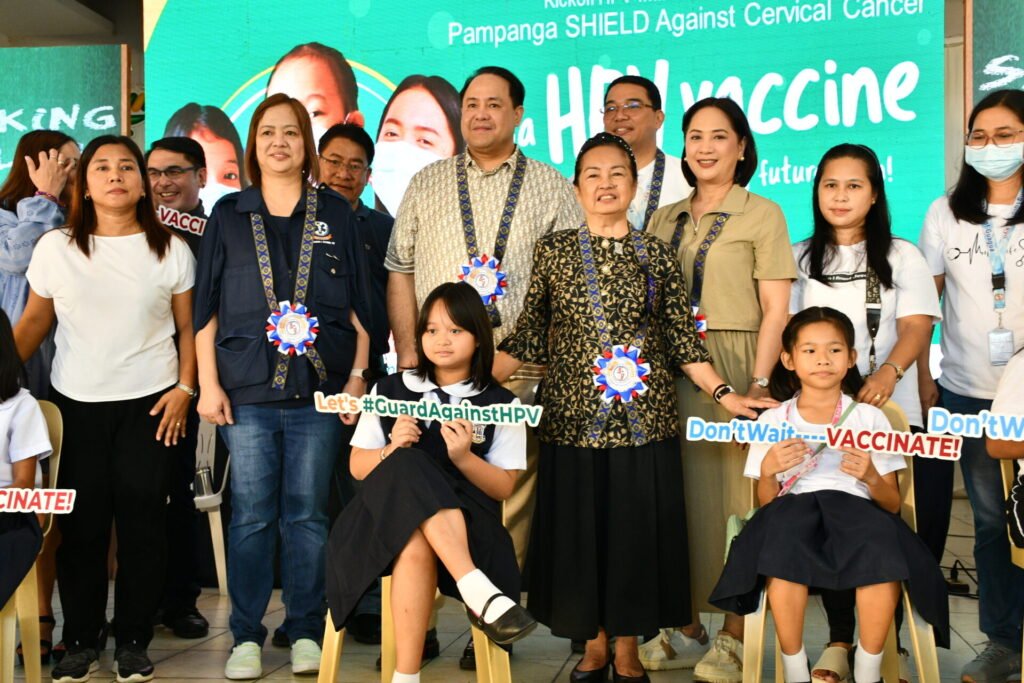 Pampanga Gov. Dennis Pineda, Pampanga 2nd District Rep. Gloria Macapagal-Arroyo, Guagua Mayor Anthony Joseph Torres and Board Member Fritzie David-Dizon attended the event on Friday to support the campaign.
In his speech, Torres said Arroyo pushed for the HPV vaccination and cervical cancer awareness for the past 12 years.
In a concerted effort to protect young girls from HPV and cervical cancer, the DOH, the Department of Education (DepEd), and the Local Government of Guagua have teamed up with healthcare company MSD in the Philippines to organize a large-scale school-based vaccination event at the Guagua National Colleges here on November 10.
The event, aptly named "Sa Aking Paglaki, Walang HPV," marks a significant step towards fortifying the community's defenses against vaccine-preventable diseases.
This initiative aligns with the DOH's commitment to promoting "Kalasag ng Kalusugan" (Health Shield) which calls for a collective action to protect every Filipino woman from the burden of cervical cancer by making healthcare services and vaccines accessible to all communities.
The event also features an educational forum where medical experts provided relevant health information that could help parents and guardians make sound health decisions for their children.
Under the DOH's School-Based Immunization Program, Grade 4 students are eligible to receive the two HPV vaccine doses, six months apart, to safeguard against cervical cancer. 
Immunogenicity studies have shown that two doses provide better protection for the younger age group. Early vaccination before HPV exposure is also more effective.
Parental consent is mandatory for eligible female learners to receive the free vaccines.
The DepEd  has instructed all schools conducting face-to-face classes to resume the delivery of school-based health services, including immunization. Health services will be preferably administered to students attending in-person classes, and arrangements can be made for those in the home-based learning modality.
The Fight Against HPV and Cervical Cancer
In general, HPV is thought to be responsible for more than 90% of cervical cancers.
This disease is largely preventable through vaccination and screening, and also manageable through early detection and appropriate treatment.
Despite this knowledge, cervical cancer ranks as the second most common cancer among women in the Philippines and the second most prevalent cancer among women aged 15 to 44. Shocking statistics reveal that 7,897 women are diagnosed with cervical cancer annually, leading to over 4,000 deaths, or roughly 11 Filipinas succumbing to this disease daily.
This is why the DOH, DepEd, and their partners are actively working to expand the reach of HPV vaccination across the country. In 2023, the Health Department secured a supply of 1 million HPV vaccine doses, intended to provide protection to approximately 500,000 girls aged 9 to 14. This coverage represents approximately 38% of the targeted school-aged children nationwide.
During the recent budget deliberations for the 2024 national budget, the DOH is appealing for an additional Php 400 million in funding to strengthen the agency's anti-cervical cancer immunization program and expand the vaccination coverage among 4th-grade public school girls across the Philippines.
Striving for a Cervical Cancer-Free Future
The objective of eliminating cervical cancer is to achieve an incidence rate low enough for the disease to be considered controlled as a public health issue, with fewer than 4 cases per 100,000 women annually, according to the World Health Organization.
To realize this vision, every country must meet and sustain three key targets within the current generation's lifetime. First, 90 percent of girls should be fully vaccinated against HPV by age 15. Second, 70 percent of women should undergo high-performance screening tests at ages 35 and 45. Lastly, 90 percent of women with pre cancerous conditions should receive treatment, and 90 percent of women with invasive cancer should receive appropriate care.
To achieve these goals, a multi-sectoral approach is required, with individuals, families, communities, civil society, and government agencies all playing a role in raising awareness, education, and social support.
At this critical juncture, it is imperative to empower women and rally the support of communities, leaders, and governments to save countless lives. If widespread, high coverage of these interventions can be achieved by 2030 and sustained, cervical cancer could be eliminated in most countries by 2120, sparing over 63 million women from needless suffering and death.
Expanding vaccine doses is not merely a health initiative; it is an investment in the future well being of our nation. The prevention of cervical cancer not only spares individuals from physical and emotional suffering but also alleviates the societal and economic burdens associated with this disease.