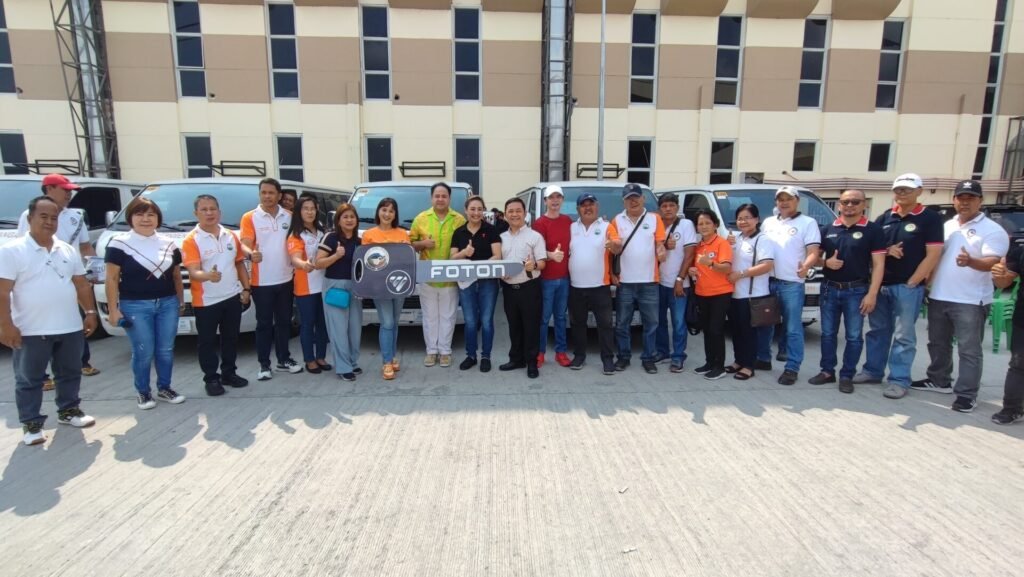 TURN-OVER. Governor Dennis "Delta" Pineda, along with some local public officials, leads the ceremonial turn-over of fourteen service vehicles to some barangays in Magalang and Lubao on Tuesday at the BZGCC. (Pampanga PIO)
CITY OF SAN FERNANDO – Fourteen transvans were turned over to some barangays in Magalang and Lubao during ceremonies at the Bren Z. Guiao Convention Center on Tuesday, April 4.
Governor Dennis "Delta" Pineda led the ceremonial turn-over of 14 transvans, which cost ₱1,229,800 each, with a seating capacity of up to 15 passengers per vehicle.
During the ceremony, Governor Pineda told the barangay officials to take good care of the vehicles because they will be their partners in providing transportation services to their constituents.
"Ingatan ninyo itong service vehicles na 'to, kailangan 24/7 ang serbisyo sa mga kababayan, lalo na sa mga may-sakit. Mahalin ninyo ang mga 'to, dahil ito ang magagamit ninyo sa serbisyo. H'wag ninyo itong gagamitin sa inyong pansariling interes," said the governor.
Governor Pineda personally handed over the symbolic key to barangay officials of Barangays Don Ignacio Dimson, San Matias, Sta. Tereza 1, Del Carmen, San Pedro Palcarangan, San Francisco, Baruya, and San Pablo 2nd in the Municipality of Lubao; and Barangays Dolores, Ayala, Navaling, San Agustin, Sto. Niño, and San Vicente in the Municipality of Magalang.
The Governor was accompanied by 2nd District Board Members Fritzie David-Dizon and Sajid Khan Eusoof, 4th District Board Member Pol Balingit, ex-officio Board Member Cherry Manalo, Magalang Mayor Malou Lacson, Special Assistant to the Governor Angelina Blanco, and General Services Office OIC Francis Maslog during the turn-over.
According to the agreement reached between the provincial government and each benefiting barangay, the service vehicles should be used only for disaster response, transporting individuals in need of medical assistance, maintaining peace and order, attending official business, and other legal public duties.
To date, 213 out of 505 barangays in the province have already received service vehicles. The provincial government is constantly working to purchase additional vehicles for other barangays.