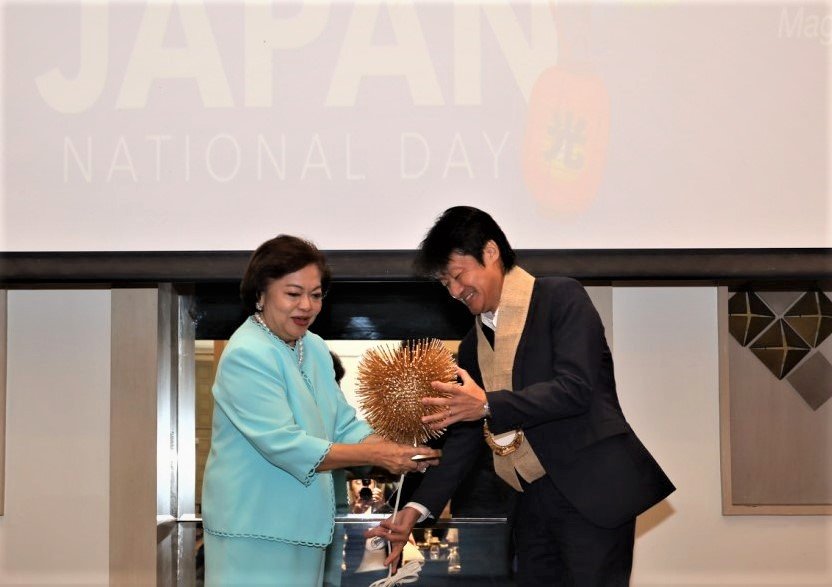 CLARK FREEPORT – The Clark Development Corporation (CDC) hosted a celebration of the Japan National Day inside this Freeport on Monday, February 20, 2023, at the Quest Plus Conference Center-Clark.
CDC President and CEO Atty. Agnes VST Devanadera, before various Japanese locators in Clark, thanked the Japanese firms for their continuous support and partnership with the state-owned firm.
"This is our way of recognizing the people who started with us, and the people who have been with us for so long. For this, we have nothing but gratitude and the commitment to move with you, as you move CDC further. We hope to be able to improve our services, even at the forefront of our advocacies," she said.
Japan Embassy in the Philippines Minister for Economic Affairs Daisuke Nihei also graced the said event. In his speech, he cited and lauded the enduring relationship between Japan and the Philippines.
"I'm so excited to be here today and it's my first time to be here and visit Clark. This event is the beginning of bigger and better things to come. It is very important to promote people-to-people ties and mutual understanding between countries and I believe that the core strength of our countries' relationship lies in our people. As long as we continue to focus on our shared priorities and our many commonalities in our relationship based on mutual respect, and honesty, we can achieve much more together," he said.
There are currently 42 Japanese-led businesses in this Freeport with total investments amounting to US$714.49 Million. This represents 13.18 percent of the overall investments in Clark. Meanwhile, a total of 9,995 workers, or 7.87 percent of this Freeport's overall workforce, are employed by these companies. Their service exports brought in US$35.57 Million, while their product exports generated US$616.31 Million.
Other key officials who are present during the celebration are CDC- Business Development and Business Enhancement Group Vice President Atty. Noelle Mina Meneses, Assistant Vice President for Business Development Department I Thelma Ocampo, Investment Promotions Division I Manager Maricris Gepte, Trade Facilitation Division Manager Marigrace Gutierrez, Health and Sanitation Division Manager Dr. Ma. Clemencita Dobles, and CDC Operations Administrator Ma. Zoraida Camello.
Meanwhile, some of the Japanese-led companies in Clark who attended the said event include Yokohama Tire Phils., Inc., Sumidenso Automotive Technologies Asia Corporation, Tanitec International Corporation, SMK Electronics (Phils.) Corp., Tanika Philippines Corporation, Technowood Manufacturing Corporation, NP Global Machine Technologies, Inc., Yokoisada Philippines Corporation, Nippon Express Philippines Corporation, Nanox Philippines, Inc., Meisei Electric (Phils.) Corporation, Leathex Phils., Inc., L & K Industries Philippines, Inc., Kosmic Clark Medical Company, Inc., Kintetsu World Express Clark Inc., JTA VMI Corporation, JTA Electronics Phils. Corporation, Jamco Philippines, Inc., GNGN Eikaiwa Phils. Inc., GLTEK Corporation, Fujitsu Philippines, Inc., Fuji Plastic Industry Phils. Inc., FRP JHK Corp., Eliteclean Inc., Elematec Angeles Inc., Blue Solution Networks Phils. Corp., Aritake Estates, Inc., Androbotics Clark, Inc., and Aderans Philippines, Inc.