CLARK FREEPORT — The Clark Development Corporation (CDC) has renewed its partnership with the local government of General Santos City (GenSan) to continue developing trade, investment, and tourism opportunities that will stimulate mutual economic benefits.
In a virtual signing ceremony held on Wednesday, CDC President and CEO Manuel R. Gaerlan and GenSan Mayor Ronnel Rivera signed a Memorandum of Understanding (MoU) reinforcing their commitment to pursue collaborative undertakings for this Freeport and GenSan.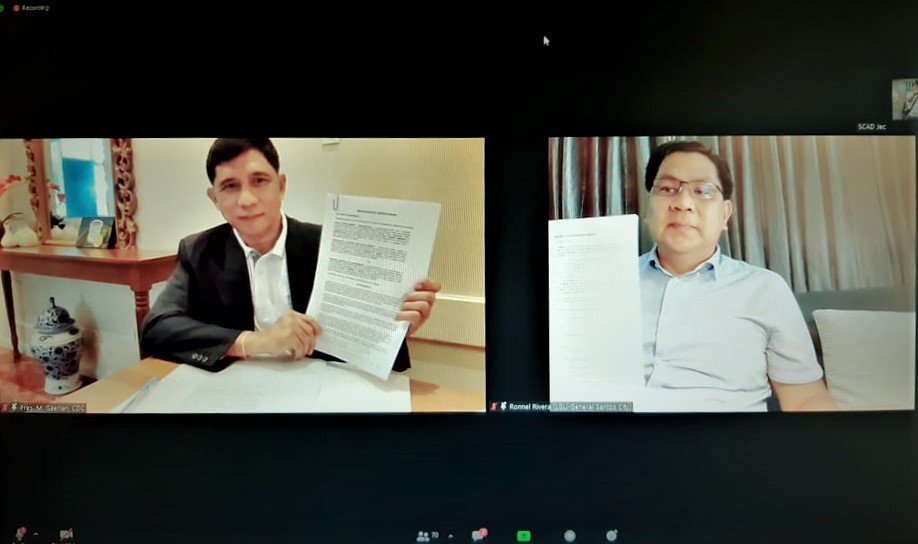 The Subic Clark Alliance for Development (SCAD), who spearheaded the said virtual ceremony, has pledged support for the said partnership along with the United States Agency for International Development (USAID).
During his event, Gaerlan underscored the significance of their partnership, especially during the pandemic.
"This signing ceremony for the memorandum of understanding between CDC and GenSan is very significant, especially at this time that we have an invisible barrier among us which is the COVID-19. It is very important that during these times, we renew the connectivity between not only Clark Freeport Zone and GenSan but also between Central Luzon and SocSarGen," Gaerlan said.
He also mentioned that their collaboration will be beneficial in helping their areas to recuperate from the effects of the global health crisis.
"We also need to revive the tourism between the two areas," Gaerlan said.
As the chairman of the Metro Clark Advisory Council, Gaerlan said he is also representing the cities of Mabalacat and Angeles as well as the municipalities of Porac, Bamban, and Capas in the provinces of Pampanga and Tarlac.
"They are also your partners and we hope to strengthen our relationships despite of the barrier that is hindering the development, hindering the economic activities at this time. We hope to promote tourism and generate more economic and business activities so that our country, Clark Freeport Zone, and General Santos City would be able to come up stronger after this pandemic," he added.
Meanwhile, Rivera vowed to continuously cooperate with CDC to further promote this Freeport and their city.
"Indeed, our working relationship has created a great impact to the people. We continue to facilitate sustainable mechanisms that will support the vision of the local and national for continued regional cooperation and development," he added.
Bases Conversion and Development Authority (BCDA) Vice President for Corporate Planning Department Jocelyn Caniones conveyed the message of BCDA President and CEO Sec. Vivencio Dizon on the renewed collaboration of CDC and GenSan.
"With the completion of the new Clark Airport terminal, we reiterate our commitment to promote General Santos City as a premier economic hub in Mindanao. We look forward to seeing you all with the doors of the new Clark Airport Terminal formally opened this year," Dizon said in his message.
In 2019, CDC and GenSan signed a joint intent to collaborate and strengthen linkages between their areas. Their partnership aims to promote air connectivity of both areas through their airports, organization of trade and business missions that focuses on tourism and investments, and exchange of best practices on areas such as agro-industrial development and environmental protection.