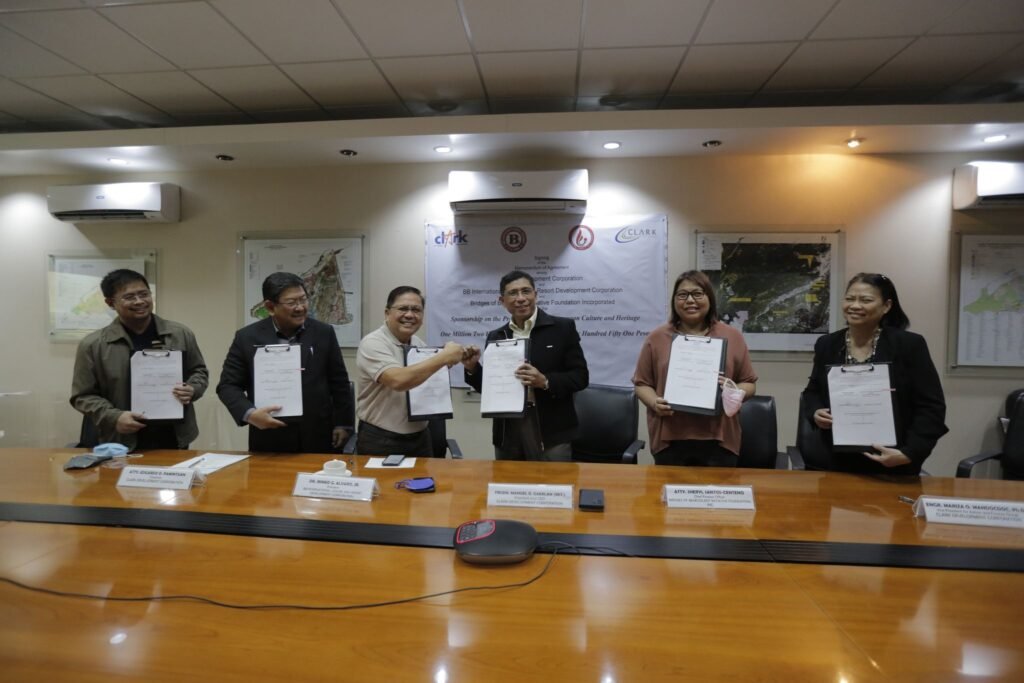 CLARK FREEPORT – The Clark Development Corporation (CDC) will be putting premium on the promotion of Kapampangan Cultural Heritage (KCH) in this Freeport to preserve its rich history, rebuild the culture, revitalize the language and promote it to the global community.
This was gleaned after the signing of a Memorandum of Agreement (MOA) between the CDC, BB International Leisure and Resort Development Corporation (BBI) and Bridges of Benevolent Initiative Foundation, Inc. (BBIFI) for a sponsorship amounting to P1.2 million.
Under the MOA, the CDC – through its Corporate Social Responsibility and Placement Division (CSRPD) – shall ensure that the equipment and materials have a location within CDC and are readily available for research and education of KCH.
The state-owned corporation shall also accept the completed project and execute the corresponding certificate of acceptance. Upon acceptance, CDC will certify the project cost or the actual amount spent disbursed by the licensee and the foundation.
During the ceremonial signing, CDC Chairman Atty. Edgardo D. Pamintuan delivered his special message and expressed his elation as the project is seen to help revitalize the Kapampangan Cultural Heritage (KCH).
"My fellow Kapampangans who knew me back when I was the mayor in Angeles City are aware of my deep passion in the preservation of heritage, history, tradition and promotion of our local culture. That is why I am elated to be here because I know that through this MOA, we can continue that advocacy for the Kapampangan culture," he said.
Pamintuan also thanked the partners for making the project possible.
"I thank BB International Leisure and Resort Dev't Corp., and Bridges of Benevolent Initiative Foundation, Inc., and Philippine Amusement and Gaming Corporation (PAGCOR) for helping in this noble project," he added.
According to Pamintuan, CDC's CSRPD will see to it that the equipment and resources necessary for research and instruction on Kapampangan culture and history will be kept on-site and will be readily available to researchers and students.
He also mentioned that the said project may be a source of motivation and encouragement to every Filipino and foreigners to learn more about the Kapampangan culture and the practices that are still being observed nowadays.
Meanwhile, CDC President and CEO Manuel R. Gaerlan expressed his appreciation for the partnership which will be entrusted to the Aguman Sinupan Singsing, Inc. and will benefit the public – Kapampangans and non Kapampangans alike.
"As president of CDC, we fully support this project – our chairman, our board of directors, and the management. Thank you very much for partnering with us and we assure you that we will support this project. Ang makikita nating resulta nito it's not one or two years from now, it's beyond. So this is a very worthy project which transcends given our lifetime," Gaerlan said.
Apart from the messages given by CDC executives, BBI President Dr. Irineo G. Alvaro, Jr. conveyed his message of support to the state-owned firm.
"I believe this project would give life to all of these – our roots, of the Kapampangan and the rich culture of the Kapampangan. We are happy to be part of this very important undertaking. Thank you for giving us the opportunity to be part of this project," he said.
Also present during the said activity are CDC Vice President for Admin and Finance Engr. Mariza O. Mandocdoc, CDC Assistant Vice President for External Affairs Rommel C. Narciso, BBIFI Chief Finance Officer Atty. Sheryl Santos-Centeno, and Aguman Sinupan Singsing, Inc. Executive Director Alegria Cruz.
For his part, Aguman Sinupan Singsing, Inc. Program Director Michael Pangilinan emphasized how the said project could help in supporting their programs.
"It's about time that Kapampangans look back into their culture and promote it, not just to themselves but also to the world. And I believe that CDC is the perfect avenue for that – it being a global gateway to the world and to the Kapampangan culture," Pangilinan said.
PRESERVING CULTURE AND HERITAGE. Clark Development Corporation (CDC) Chairman Atty. Edgardo D. Pamintuan (2nd from left) together with CDC President and CEO Manuel R. Gaerlan (3rd from right) recently led the signing of a Memorandum of Agreement (MOA) with BB International Leisure and Resort Development Corporation (BBI) President Dr. Irineo G. Alvaro, Jr. (3rd from left), and Bridges of Benevolent Initiative Foundation, Inc. (BBIFI) Chief Finance Officer Atty. Sheryl Santos-Centeno (2nd from right) for the sponsorship on the promotion of Kapampangan culture and heritage in Clark. Also in the photo are CDC Vice President for Admin and Finance Engr. Mariza O. Mandocdoc (rightmost) and CDC Assistant Vice President for External Affairs Rommel C. Narciso (leftmost). (CDC-CD Photo)