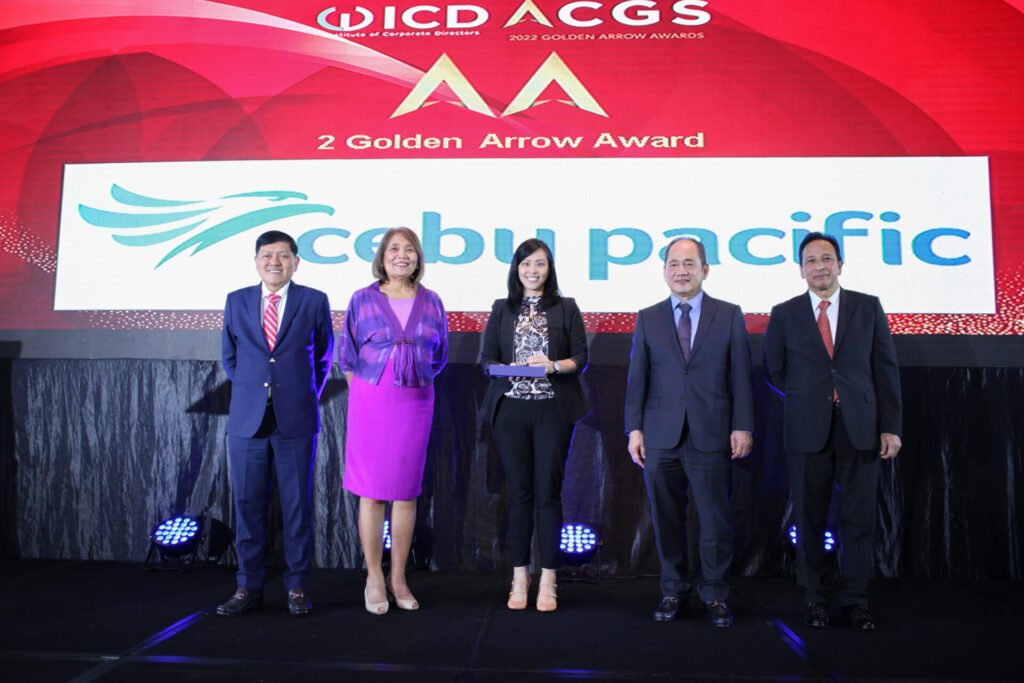 CEB, the Philippines' leading carrier, was one of the 86 companies that won the Golden Arrow Award for garnering at least 80 points in the ASEAN Corporate Governance Scorecard (ACGS) Assessment, a globally-benchmarked scoring system that aims to improve the corporate governance performance of companies and make them attractive to investors.
The ACGS evaluates companies in key corporate governance areas such as facilitating the rights and equitable treatment of shareholders, recognizing the role of stakeholders, and ensuring transparency and accountability within their organizations. The annual assessment is conducted by the Institute of Corporate Directors as the Security and Exchange Commission's authorized ranking body in the Philippines.
"We are honored to be one of the recipients of the Golden Arrow Award. This will serve as a reminder for Cebu Pacific to remain committed to the best corporate governance practices as we strive to be the airline of choice of every Juan," said Atty. Anne Romadine Tieng, Cebu Pacific General Counsel, who accepted the award on behalf of the company in a ceremony held on January 20.
CEB has constantly been improving its systems to ensure that its operations and services are relevant to the needs of its customers and the Filipino society as a whole.
In November 2022, CEB received the award for Asia Environmental Sustainability Airline / Airline Group of the Year from the Centre for Asia Pacific Aviation (CAPA) for leading efforts to make the aviation industry more fuel-efficient and environment friendly by incorporating the use of sustainable aviation fuel (SAF) in its operations.
CEB was also named Airline of the Year for 2021 in the Philippine Sports Tourism Awards for supporting the country's sports tourism industry.